I need to get access to Apple Music on Linux as I just abandoned the Windows OS. But it appears that iTunes is in no way supported for Linux yet? I've searched around but didn't find a very simple nor clear step-by-step guide to get iTunes installed on Linux. Could you advise please?
Did you have the same question as to the user above? Nowadays, many people are using Apple Music to stream songs, playlists, and podcasts. It has gained millions of active users globally. Sadly, Apple Music has not supported Linux OS now. Are you looking for an easy solution to listen to Apple Music on Linux too? Read on this article and we'll introduce the best ways in detail to enable you to play iTunes and Apple Music in Linux quickly and easily.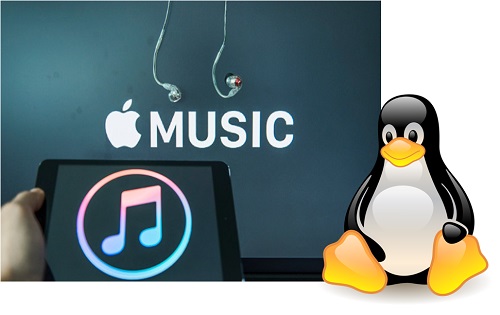 Part 1.

Can I Play Apple Music on Linux?

Linux, known for its power and flexibility, is the operating system of choice for many users. However, there's a notable gap when it comes to Linux users. Unlike its competitor Spotify, which introduced a native Linux client, Apple hasn't yet extended its support to iTunes on the Linux platform. This absence has left Linux users seeking ways to enjoy Apple Music on their preferred operating system.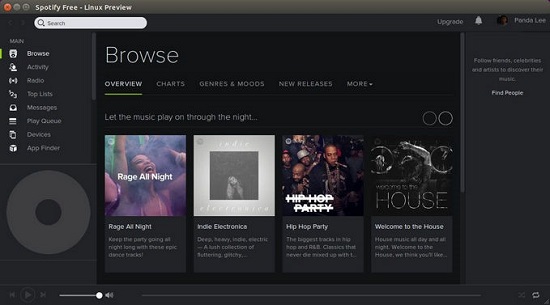 In the following guide, we'll walk you through the most popular and convenient methods of installing and playing Apple Music on your Linux system. With these methods, you can bridge the gap and experience the world of Apple Music on Linux, even without official support. Let's get started.
Part 2.

How to Play Apple Music on Linux

Apple Music, with its vast collection of music and user-friendly interface, has captured the hearts of many music enthusiasts. However, for Linux users, enjoying Apple Music has historically presented a unique challenge. Unlike Spotify, which offers a native Linux client, Apple hasn't officially extended its support to Linux for iTunes. But don't worry; where there's a will, there's a way.
Method 1: Play Apple Music on Web
You can access Apple Music directly from your favorite web browser, such as Firebox, Chrome, or Chromium.
Accessing Apple Music in Your Browser:
With no additional software required, here's how to access the Apple Music web app on popular web browsers.
Launch Mozilla Firefox. If you're using Google Chrome or Chromium, open it instead.
Go to the App Music website by typing "music.apple.com" in the address bar.
Sign in to your Apple Music account.
You can now enjoy browsing, searching for music, creating playlists, and listening to the extensive Apple Music library directly from your Firefox browser. If you have an active Apple Music subscription for full access to Apple Music's features on the web.
Method 2: Transfer Apple Music to Linux
While Apple hasn't officially introduced iTunes for Linux, you can still enjoy your Apple Music collection on your Linux system by transferring music files from Windows or macOS. The ViWizard Apple Music Converter is a powerful tool that allows you to download your Apple Music tracks and convert them into widely supported formats, making them accessible on Linux and other platforms. With ViWizard, you can enjoy Apple Music on your Linux system without relying on a direct iTunes installation.
Why Choose ViWizard Apple Music Converter?
If you wish to enjoy Apple Music offline on your Linux system without relying on the Apple Music or iTunes app, ViWizard Apple Music Converter is the best solution that allows you to play Apple Music songs on Linux offline by removing DRM (Digital Rights Management) protection from Apple Music tracks. You can them stream DRM-free music files on your Linux system without the need for iTunes or any proprietary software, making your music accessible across platforms.
ViWizard is available for both Mac and Windows OS, it empowers you to seamlessly and losslessly convert DRM-locked Apple Music songs into widely supported formats, including MP3, AAC, WAV, FLAC, and more — all compatible with Linux.

Key Features of ViWizard Audio Converter
Free Trial
Free Trial
* Security verified. 5, 481,347 people have downloaded it.
Convert songs, albums, and playlists from Apple Music to MP3
Remove DRM protection from Apple Music, iTunes, and Audible
Save the converted audios with the original quality and ID3 tags
Support the conversion of up to 100 audio formats to others
Converting Apple Music on Your Windows/Mac System:
Step 1

Add Apple Music Tracks to ViWizard

Firstly, launch ViWizard Apple Music Converter on your Mac or PC. Then click the Load from Library button at the top center to load the your Apple Music library to the converter. Or you can directly drag the downloaded Apple Music files from local folder to the conversion window.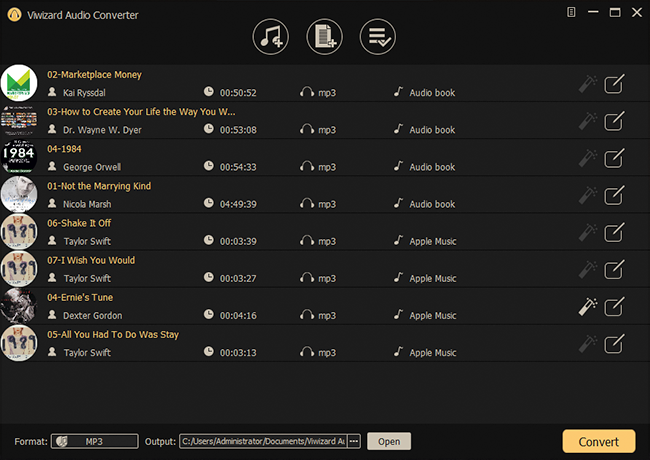 Step 2

Set Output Format for the Apple Music

Then click the Format option at the bottom left to select the output format according to your requirements. Here we recommand you to set MP3 as the output format. You can also adjust the parameters like codec, channel, sample rate or bit rate if you like. Tap the OK button to save.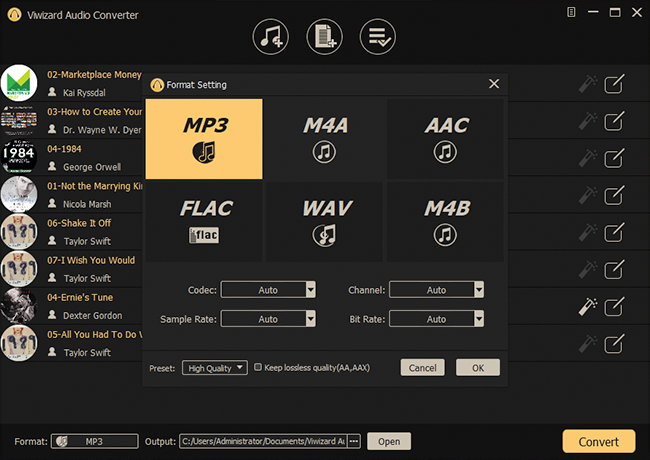 Step 3

Start to Remove DRM Lock from Apple Music

Now click the Convert button and let it to convert the DRM Apple Music streams to non-DRM formats at up to 30X faster speed. Once converted, you'll locate the DRM-free Apple Music songs by tapping the History icon.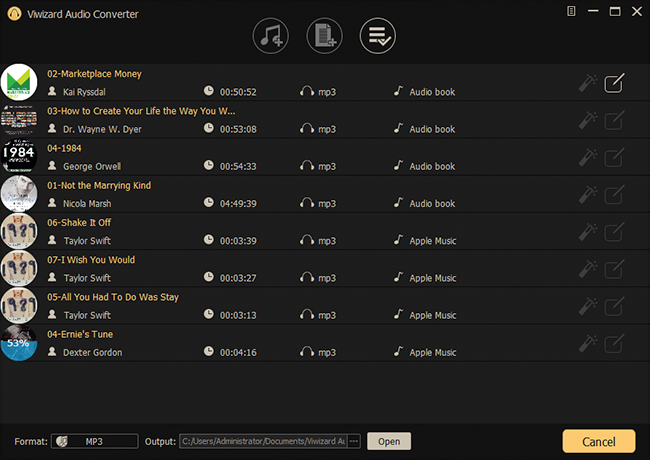 Transferring Apple Music to Your Linux System:
Use familiar methods like USB drives, cloud storage, or network sharing to transfer the converted music files from your Windows or macOS computer to your Linux system.
Part 3.

How to Install Apple Music on Linux

The most direct route to bringing Apple Music to your Linux desktop involves installing iTunes through a virtual machine, such as WINE or VirtualBox. But now if you want to install Apple Music on your Linux system, you must check Cider first.
Method 1: Install Apple Music via Cider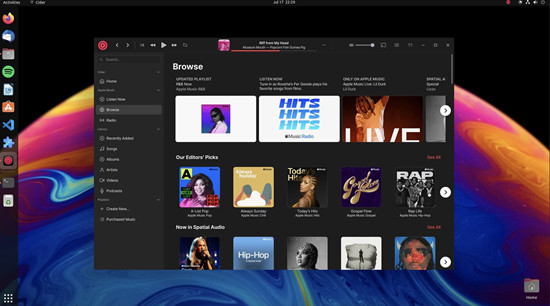 Meet Cider, your new best friend for enjoying Apple Music on your Linux system. Cider is an open-source application designed by a passionate community to bring the Apple Music experience to Linux, alongside Windows and macOS (although Apple already has their official app for the latter).
Why Choose Cider?
Cider isn't just a copycat; it's a unique, performance-oriented Apple Music client tailored specifically for Linux users. With Cider, you can:
Explore your favorite songs, artists, albums, and even Apple Podcasts, all within the Apple Music catalog.
Make Cider your own with themes, accent colors, window effects, and different user interface layouts.
Fine-tune your music with an equalizer that offers presets to make your tunes sound just right.
Seamlessly switch between a compact mini-player and a stunning full-screen view with synchronized lyrics from Musixmatch.
Getting Cider on Your Linux System:
Here's how to get Cider on your Linux machine. If you're on Windows, Cider's got you covered! You can install it from the Microsoft Store, use the Winget tool, or grab an installer from the GitHub project page.
Visit the Cider GitHub page, and choose the package that matches your Linux distribution (e.g., .deb for Debian-based systems, .appimage for universal use, or .snap for snap package users).
Once you have the Cider package downloaded, follow the simple installation instructions for your Linux distribution.
Note: Remember, to use Cider as intended, you'll need an active Apple Music subscription. Cider isn't just about Apple Music; it can also play your local music files.
With Cider, you're not just getting an Apple Music player; you're getting a polished, Linux-friendly experience that lets you enjoy your music your way.
Method 2: Install Apple Music via Wine
Wine makes it possible to run Windows applications, including Apple Music, on your Linux machine. Figure out whether your system is using a 32-bit processor or a 64-bit using the following command, and we'll guide you through the simplest method of installing Wine and setting it up for Apple Music.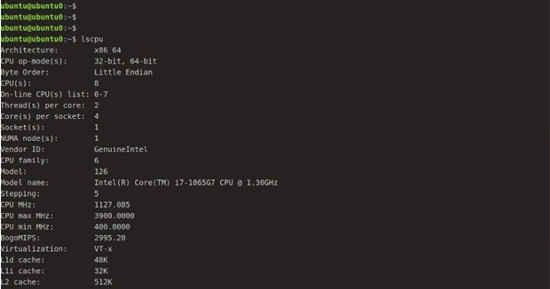 Getting Wine on Your Linux System: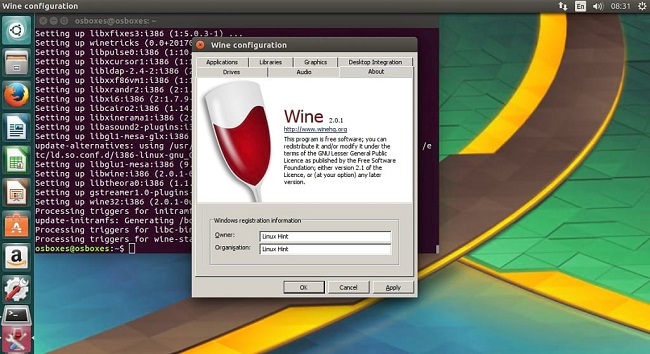 For the simplest installation, use the Ubuntu repository:
Launch your terminal by searching for "Terminal" in your application menu.
Enter this command to install Wine:

sudo apt-get install wine64

When prompted, type your password (it won't be visible as you type) and press Enter.
Alternatively, you can install Wine from WineHQ Repository, which provides newer versions of Wine.
Setting Up Wine and Installing Apple Music:
Before installing Apple Music, type this command:
Click "Install" to complete the Mono installation.
Next, click "Install" to install Gecko.
Wine creates a simulated "C:" drive for Windows apps.
Now you're ready to install Apple Music using Wine. Follow the prompts during installation, and soon, you'll be enjoying your Apple Music.
Once done, click "OK." You're all set to enjoy Apple Music on your Linux system via Wine!
Note: Remember, Wine creates separate environments for each Windows app, so you can install other Windows software in a similar way. Further Wine settings can be adjusted in the configuration window.
Method 3: Install Apple Music from Snap Store
The Snap Store is your one-stop shop for hassle-free software installation on Linux. You can discover the easiest way to install Apple Music with automatic updates and added security through sandboxing.
Installing "Apple Music for Linux" in Your Linux System: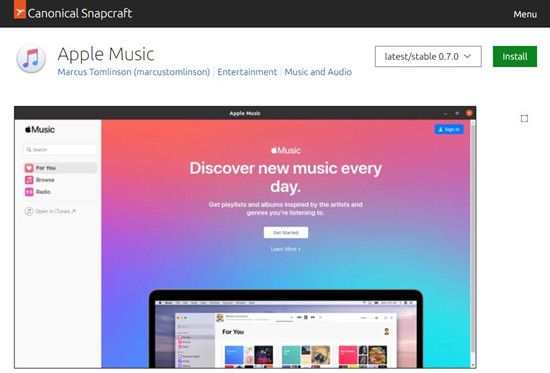 Open your web browser and visit the Snap Store.
In the top search bar, type "Apple Music for Linux" and press "Enter."

Click on the Apple Music Snap package to view its page. On the Apple Music Snap page, you'll see an "Install" button. Click it to begin the installation.
If prompted, log in with your Linux users credentials or enter your password using the "sudo" command to confirm the installation.
Relax as the Snap Store including any required components.
Once the installation finishes, you'll receive a confirmation. Apple Music is now ready to use.
Method 4: Install Apple Music via VirtualBox
Running iTunes on Linux may seem like a puzzle, but with VirtualBox, a powerful virtualization tool for Linux, it becomes as straightforward as playing your favorite song. Set up VirtualBox to create a virtual Windows environment where you can run iTunes seamlessly alongside your Linux operating system.
Getting VirtualBox on Your Linux System:
Open your web browser and visit the VirtualBox website.
Find the download section and select the version compatible with your Linux distribution. Click on the download link to begin.
Once the download is complete, locate the installer file and double-click it to start the installation process.
Follow the on-screen instructions to install VirturalBox. You may need to enter your password to complete the installation.
Downloading Windows ISO:
To create a virtual machine, you'll need a Windows ISO file. You can download it from the official Microsoft website.
Visit the official Microsoft Windows 10 download page at Windows 10.
Follow the prompts to download the Windows 10 ISO, making sure to select the 64-bit version.
Creating Virtual Machine and Installing Windows:
Launch VirtualBox from your applications menu.
Click "New" to create a new virtual machine.
After creating your new virtual machine, select it and click "Start."
In the pop-up window, locate the Windows 10 ISO file you downloaded earlier and select it.
Follow the Windows installation prompts, including entering your product key.
Once Windows is installed, you'll have a fresh Windows environment ready for use.
Installing iTunes on Your Linux System:
Within your virtual Windows machine, open the web browser.
Visit the official iTunes download page.
Download and install iTunes as you would on a regular Windows PC.
Now that iTunes is installed, you can use it within your virtual Windows machine just like you would on a Windows computer.
Conclusion
By using ViWizard Apple Music Converetr, you can successfully eliminate DRM protection from your Apple Music tracks and transfer them to your Linux system. This allows you to relish your favorite tunes offline without the need for iTunes or DRM constraints, enhancing your Linux music experience.