As a series of small single-board computers originally developed for the purpose of programming teaching, Raspberry Pi never expected to be so popular that even selling outside its target market. Raspberry Pi's sales have been growing steadily year after year. As of May 2021, more than forty million boards have been sold. In 2021 Raspberry Pi produced 7 million units.
If you are one of the Raspberry Pi users, you must have known that the Pi MusicBox is capable of streaming music such as Spotify, Last.FM, Google Play Music, SoundCloud, YouTube and so on. Pitifully, Apple Music is not on its support list. But don't worry, in this article, we will show you how to play Apple Music on Raspberry Pi.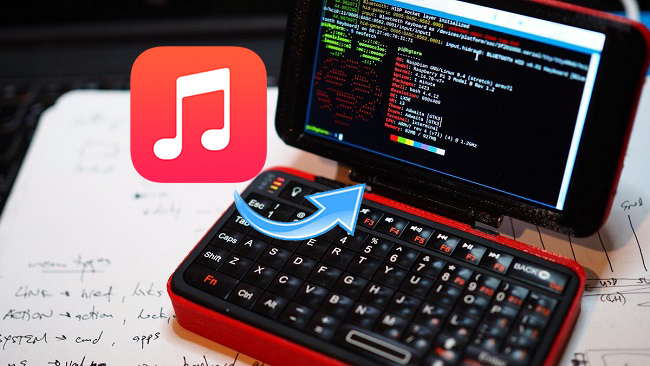 Listen to Apple Music on Raspberry Pi through AirPlay
Preparations Before Starting
Raspberry Pi is basically a single-board computer with no peripherals such as keyboard and mouse, so besides Raspberry Pi with an Ethernet Port you should prepare: a USB Keyboard or mice, a blank 8GB SD card, an Ethernet cable and an HDMI cable, and power supply. If there are a 3.5 mm stereo audio cable and stereo speaker, Wi-Fi USB adapter will be better.
How to Set Up AirPlay on Raspberry Pi
1. Download NOOBS Lite from the official Downloads site on you computer.
2. Connect the SD card to your computer, unzip the files and copy them (not the folder) to the SD card.
3. Remove the SD card from the computer and insert it to the Raspberry Pi.
4. Connect the Ethernet cable, HDMI cable, USB keyboard and mouse, power supply to the Raspberry Pi.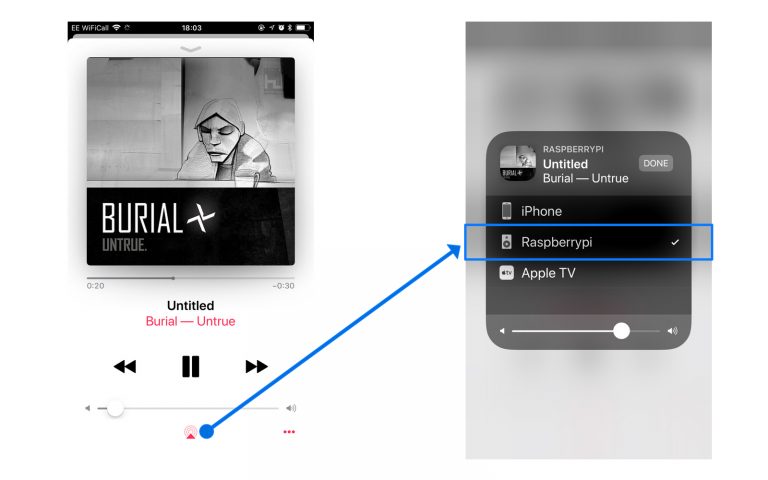 5. The Raspberry Pi should boot up and display a list of operating systems to install. Then select OpenELEC from the list and click Install.
6. Navigate to System > Settings > Services > AirPlay, and then check the option Allow Kodi to receive AirPlay content.
7. After the latest version of OpenELEC has been downloaded and installed, the Pi should automatically restart and launch Kodi.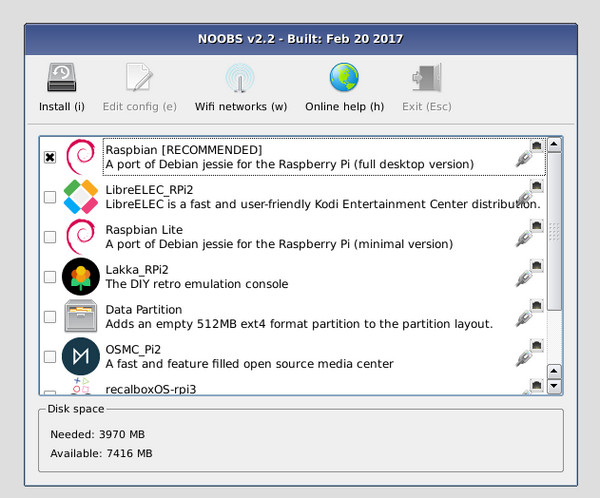 Listen to non-DRM Apple Music on Raspberry Pi
Apple Music can't be used on other non-iOS devices due to the DRM. So, if you want to play Apple Music on other devices, you need to convert Apple Music to a supported format of the device. Here you'll need the help of an Apple Music converter. The only tool you'll need is ViWizard Audio Converter, which is a powerful and professional audio converter for Apple Music.
ViWizard Audio Converter is designed for converting Apple Music with high output quality. It supports converting Apple Music into multiple formats, including MP3, AAC, WAV, FLAC, etc. You can select the correct format for your device. Moreover, the ID3 meta tags will be saved and editable. With advanced technology, the conversion speed can reach 30x faster.

ViWizard Audio Converter Key Features
Convert Apple Music to MP3, AAC, WAV and others for Google Home
30x high conversion speed
Preserve and support editing ID3 tags
Maintain lossless output quality for Google Home
Tutorial: How to Convert and Download Apple Music for Raspberry Pi
To play Apple Music on Raspberry Pi, the first step is to convert Apple Music to MP3. Let's see how to use ViWizard Audio Converter to finish the conversion.
Step 1

Import Apple Music Songs to ViWizard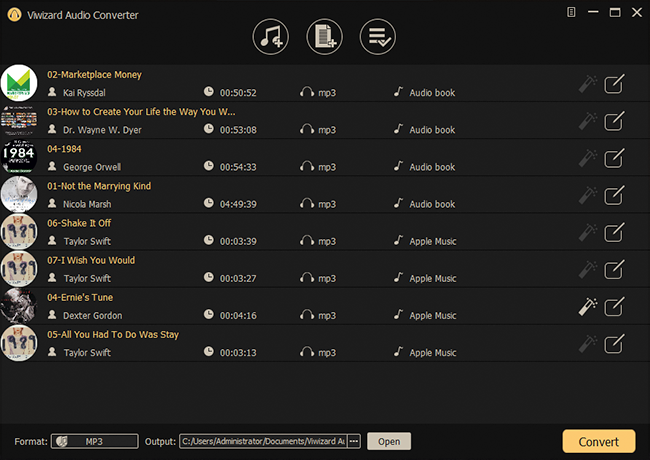 Before you start everything, preparation needs to be done. Download and install ViWizard Audio Converter. Please ensure that the Apple Music songs can well-played on your PC. Then, you can run the converter and drag the files to the main interface. Wait for a few moments till the loading finish. To import songs to ViWizard, there's another way. The Music Note icon on the top of the window can import DRM-protected audios.
Step 2

Select Audio Output Format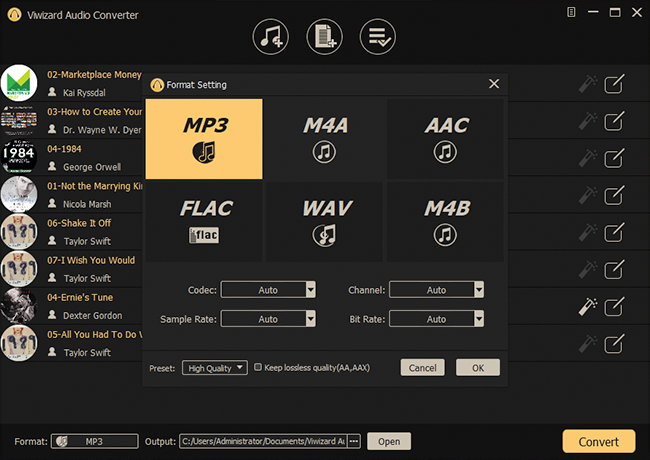 After all songs are loaded into the converter successfully, you can start to choose the output settings as your demand. Click and open the Format panel and select MP3 as the default output format since MP3 is the most common audio format. You can also adjust some parameters here, such as channel, sample rate and bit rate.
If you use ViWizard purely as an audio converter, you can convert 20+ input formats to 6 common output formats. The Effect and Edit icon at the end of each column of the audio track are designed to adjust volume, speed, and pitch of the audios. It's fun to try these features. When all the settings are decided, please click on OK to save the changes.
Step 3

Eliminate DRM and Convert Apple Music Songs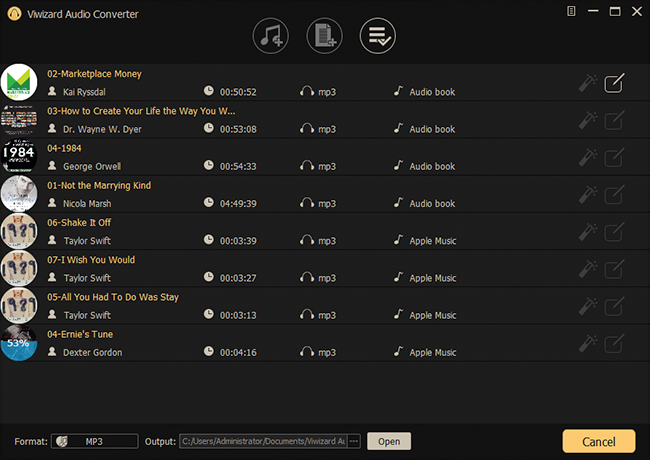 Now you're one step to acquire the DRM-free Apple Music songs. Reconfirm where you like to place the output files before you hit on the Convert button. After the conversion is finished, you can locate the converted files in the folder you chose or find them through Converted history.
Step 4

Transfer Converted Apple Music to Raspberry Pi

In this step, a helping hand from a USB is needed. Simply copy and paste all the converted songs to a USB. Insert the USB into the Raspberry Pi and you will be able to stream Apple Music to Raspberry Pi.
Q&A about Raspberry Pi
What Is Raspberry Pi and How Does it Work?
The Raspberry Pi is a little computer that is roughly the size of a deck of cards. It employs a system on a chip, which combines the CPU and GPU onto a single integrated circuit, with the RAM, USB ports, and other components soldered onto the board for an all-in-one packaging.
Can Raspberry Pi Run Windows?
The Raspberry Pi 4 can run Microsoft Edge, the calculator software, and other applications thanks to the strength of Windows 11. It can even run Minecraft in an unfavorable state.
Why Is It Called Raspberry Pi?
The name Raspberry Pi was inspired by fruit pies. And at that time, most computer companies in their neighborhoods were named after fruits, such as Apple.
Verdict
To draw a conclusion from the above passage, obviously play Apple Music on Raspberry Pi via AirPlay is a lot more cumbersome and time-consuming than Method 2. On top of that, Method 2 enables you not only to stream Apple Music to Raspberry Pi but to back up your favorite Apple Music songs and listen to them on any other devices offline. To be honest, Method 2 can help you accomplish many things in one time, without hassle. So don't miss ViWizard Audio Converter. Click the link below to listen to Apple Music playlists on any devices.
More iTunes music DRM removal tips