"Sometimes back I almost knocked my iPhone against the wall. Not that I was angry with someone, but I couldn't enjoy my favorite music. It was frustrating and inconvenient. Each time I tried to access my Apple Music, there was a popping notification or rather message reading "Item Not Available! This item can't be played". I search on the internet and found that quite a number of iPhone users are experiencing the same problem. Is there any good way for this complicated problem?" – User from the internet.
Do you also have the same question as to the user above? Are you still searching why Apple Music won't play on the internet but can't find a good way? Don't worry, here we'll show you how to fix Apple Music playing issues within easy clicks. Well, this article will provide you with an insight into the probable causes and the top 10 well-researched tips on how to fix Apple Music won't play on iPhone easily.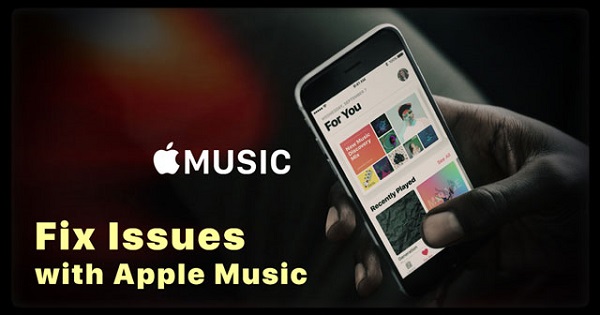 Part 1. What to Do When Apple Music Won't Play
There're many reasons behind Apple Music won't play songs on iPhone. But the most common reasons are as below.
• Network connection
• Syncing an iPhone
• Recent iOS update
• App running error
Though there are many other reasons but don't worry, we have collected 10 useful methods to fix Apple Music playing errors. Just follow the guides below to fix the issue.
Solution 1. Make Sure Your Apple Music Subscription Is Active
This may seem so obvious but making sure that your music subscription is active is a crucial step to solving this problem. There may be chances that your subscription is expired or someone accessed and canceled it. So, how do you check your subscription status?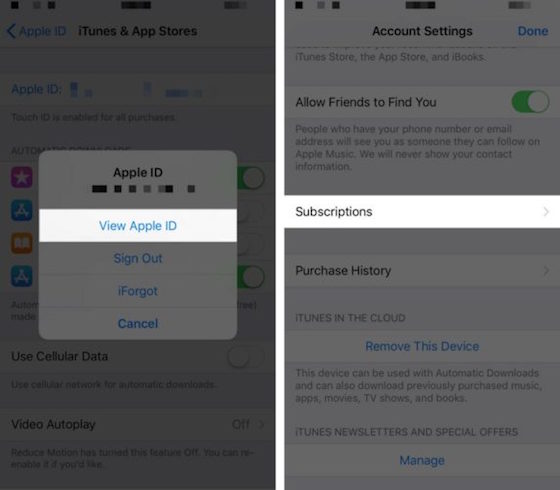 Step 1. Go to Settings and proceed on your name at the top of the screen. Tap iTunes & App Store > Apple ID.
Step 2. Click View Apple ID and use your passcode, biometric ID, or Face ID to access. Finally, scroll down and tap Subscriptions. Here you'll see the current status of your Apple Music subscription.
Solution 2. Close and Reopen Music App
Apple Music not playing may be a temporary problem and can be easily solved by rebooting the music application. It is the most common trick used to fix software glitch on iOS devices. How do you go about it?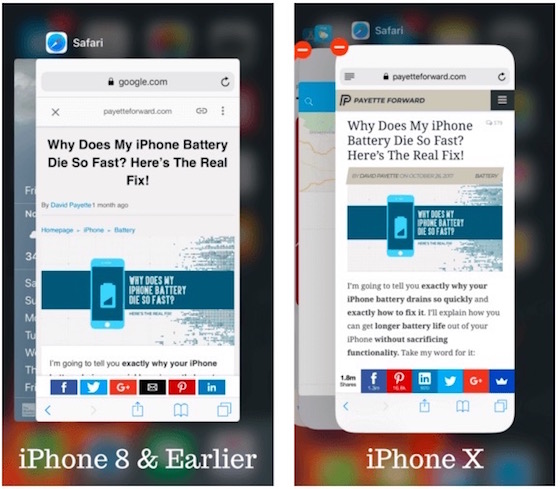 For iPhone 8 and earlier models, open the app switcher. After that, double-tap the Home button and then drag the Music app up and off the top of the screen.
For iPhone X and later, open the app switcher from swiping up from the bottom to the center of the screen Hold your finger in the center of the screen for a second, then swipe right to find the review of Apple Music. Now swipe up the review to close the app.
Solution 3. Enable iCloud Music Library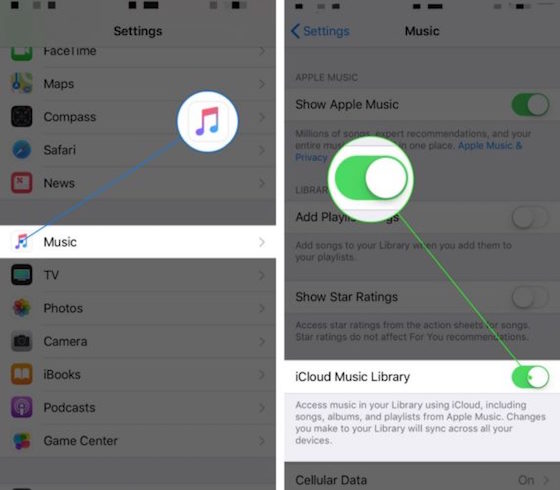 Always make sure that your iCloud Music Library is working/ enabled. This is to ensure that you can access your music library from the Apple Music application. It may be the main reason why your Apple Music won't play songs.
Step 1. Simply Go to the Settings app.
Step 2. Proceed to Music and drag the switch to your right hand to turn on iCloud Music Library. It will turn green.
Solution 4. Enable Automatic Music Downloads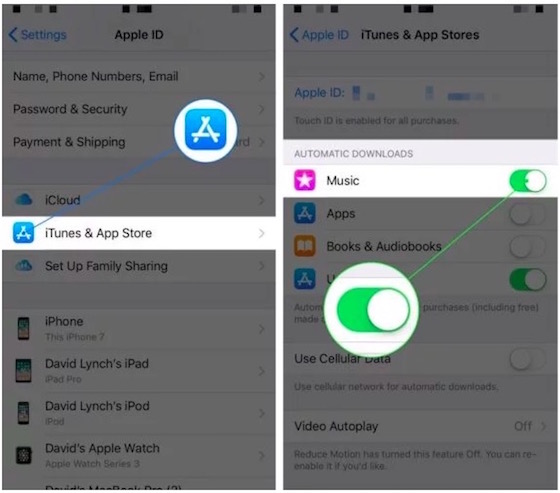 In case that you have new song additions on your Apple Music account, it vital that you turn on the automatic music downloads.
Step 1. Open the settings menu and then proceed to Apple ID at the top of the list.
Step 2. Go ahead to click on iTunes & App Store and the switch next to Music. It will turn green.
Solution 5. Restart Your iPhone
If at this point nothing has worked, you can proceed to restart your iPhone. It is a common fixing method for temporary glitches on iPhone. It will give all application a fresh start, i.e. including the Apple Music application.
For iPhone 8 & Earlier
Step 1. Press and hold the power button and then slide to power off on the screen.
Step 2. Drag the power icon to your right to shut down.
For iPhone X & Later
Step 1. Simultaneously press and hold the side button and the volume up/down button.
Step 2. Swipe right to power off on display.
Solution 6. Update iTunes & Your iPhone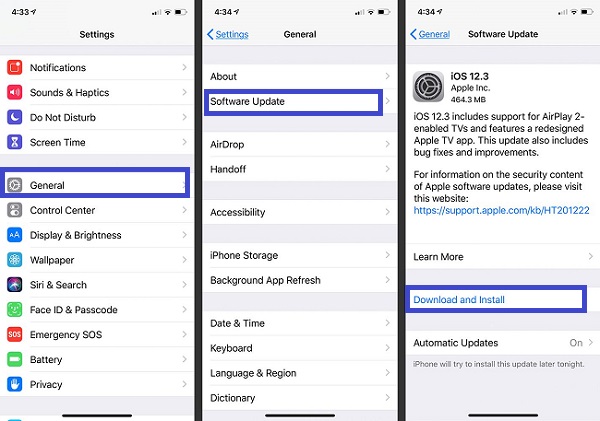 If the Apple Music is still not working after rebooting your iPhone, you can proceed to resolve the issue through updating iTunes and iPhone. Proceed to check for iTunes updates on your iPhone. Typically, Apple does frequently release iTunes and iPhone updates to enhance their services and at the same time help resolve application issues. So how do you check for iTunes updates?
Update iTunes on Mac
Step 1. Open the App Store and click on the Updates tab.
Step 2. If updates are available click on the Update button.
Update iPhone
Step 1. Go to the Setting app.
Step 2. Proceed to General then scroll to Software Updates and click on Download and Install.
Solution 7. Re-sync iPhone to iTunes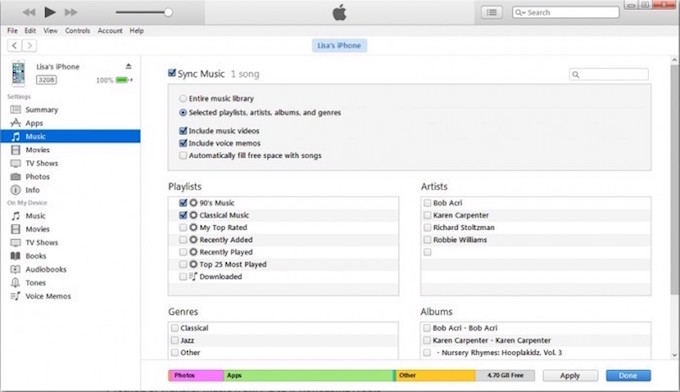 After updating your iTunes, you can now try to re-sync your iPhone to iTunes. At this point, we are hoping that the iTunes issue that was deterring Apple Music from playing.
Step 1. Plug your iPhone into your computer using a USB cable and open iTunes. The sync is usually automated and will start as soon as you plug.
Step 2. If it does not automatically sync, click on the Phone icon on the left-hand corner of iTunes then hit Sync.
Solution 8. Check Apple Music Servers
You may consider checking the Apple serves to establish whether they are down. The situation usually is rare. It only happens when Apple Music is under maintenance. If you notice a green circle near the Apple Music app, then it means that the servers are up and effective.
Solution 9. Troubleshoot Wi-Fi and Cellular Data
Streaming songs on Apple Music you must have wireless or cellular data internet connection. If you notice any problems with the connections, you can reset your iPhone network settings. Make sure you write down the passwords before doing the reset.
Solution 10. Restore to DFU Mode
It should always be the last option to solve the problem. DFU restore erases all the codes on your iPhone.
Part 2. Best Way to Backup Apple Music on Your Computer
After the Apple Music subscription is expired, you may not be able to listen to Apple Music songs unless to renew it. So, how can you back up your Apple Music playlists before the subscription ends? The answer is to save Apple Music playlists in MP3 with an Apple Music Converter.
As a leading audio converter, ViWizard Apple Music Converter has cumulated millions of users all over the world. The converter supports converting Apple Music into MP3, AAC, FLAC, WAV, and other universal formats. It can maintain the ID3 tags and original audio quality after the conversion. And you are able to rewrite the ID3 tags and info data of Apple Music for better organizing your local library. Moreover, you can also use it to convert Audible audiobooks and iTunes audio.

ViWizard Apple Music Converter Key Features:
Convert Apple Music to MP3 for backup your Apple Music playlists
Remove DRM from Apple Music, iTunes audio and Audible audiobooks
Convert DRM audio at 30X fast speed with high quality
Preserve ID3 tag and metadata information
Guide: How to Backup Apple Music Playlists Using ViWizard Audio Converter
If you would like to know to backup Apple Music songs, just follow the guide below step-by-step.
Step 1

Select Apple Music for the Conversion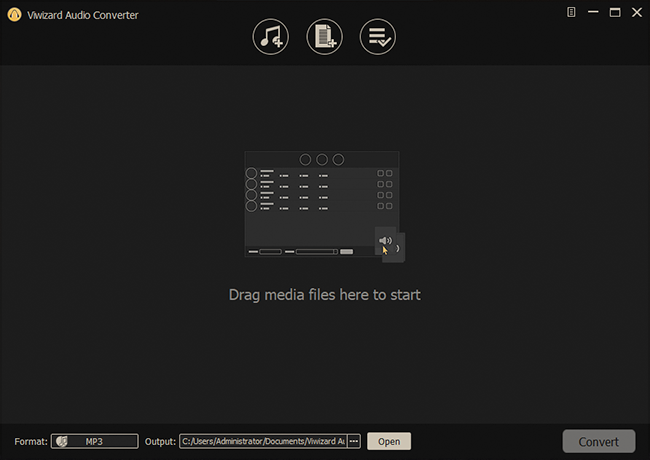 The iTunes app will be launched immediately after you launch the ViWizard Audio Converter tool. Navigate to your Apple Music library and click the Load iTunes Library button in the upper-left corner to import it for conversion. You can also drag and drop Apple Music files from your computer into the converter.
Step 2

Alter the Audio Parameters of Apple Music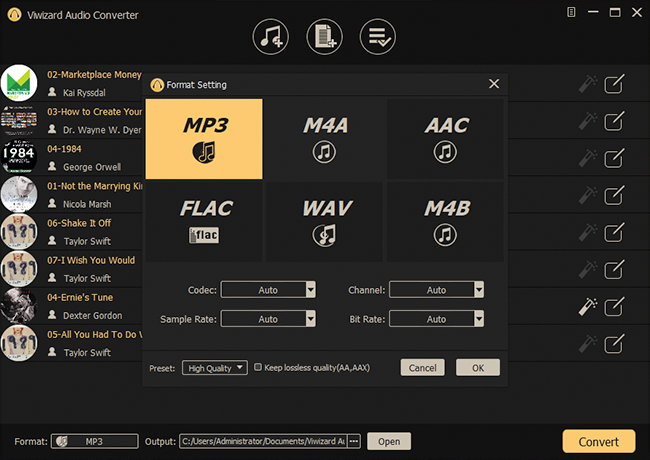 Once you've finished importing music into the converter. Then, navigate to the Format panel. You can select the desired output format from the list of options. MP3 can be selected as the output format for use with other devices. The audio editing feature in ViWizard allows users to fine-tune some music settings for better sound quality. In real time, you can, for example, change the audio channel, sample rate, and bit rate. By clicking the three-dot icon next to the Format panel, you can change the audio output path.
Step 3

Begin Converting and Obtaining Apple Music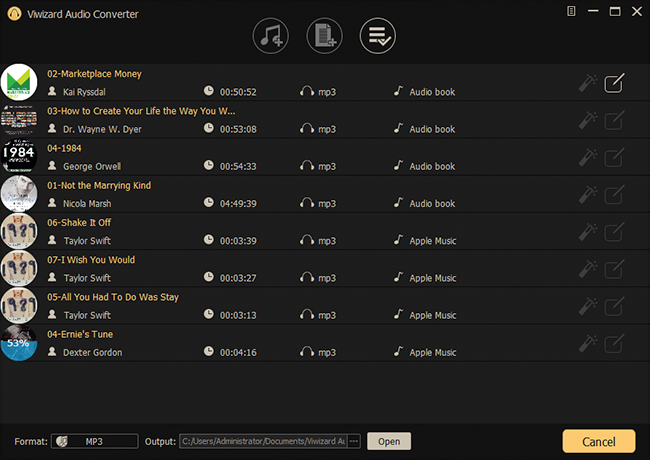 When you've finished configuring everything, click the Convert button to start the Apple Music download and conversion process. When the conversion is complete, click the Converted History icon in the upper-right corner of the window to see all of the MP3 Apple Music files.
The Bottom Line
The above procedure will help resolve Apple Music won't play songs, and you can now continue listening to your favorite tracks on Apple music. In order to prevent such issue from happening again in the future, you are highly suggested to make a backup of Apple Music library on your device. In this case, the tool like ViWizard Audio Converter will be great assistant as it can easily remove DRM from Apple Music and then download the songs onto your iPhone as MP3 or other common formats. Thanks to this tool, you will be able to enjoy any Apple Music track without any problem on iPhone and other popular devices.
More Apple Music Troubleshooting Tips