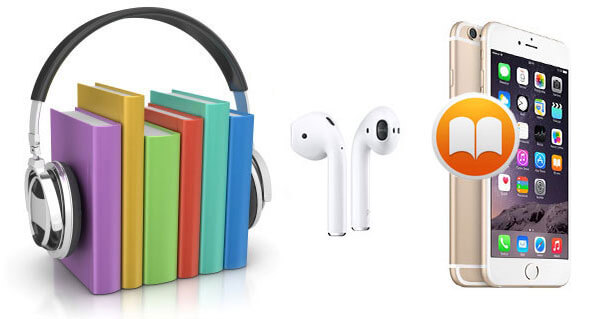 Listening to iTunes audiobooks on IOS devices has been a delightful experience to relax and acquire new knowledge everywhere in the fast-paced society today. It can free your eyes and help to immerse yourself into the audio world. Apart from the iTunes audiobooks, some audiobooks fans also like to get audiobooks from other different sources such as the Amazon Audible etc. However, audiobooks companies may add different DRM protection to their audiobooks, so you will need to install multiple players to play the corresponding audiobooks. If you are new to auiobooks or you are interested in listening to different sources of audiobooks, you can follow me in this article to find out the ways to play audiobooks on iPhone/iPod/iPad.
How to Play Different Audiobooks on iPhone/iPod/iPad with the Specific Apps
iTunes audiobooks. In the past, iTunes audiobook can be played via the Apple Music App. In IOS 8.4, Apple has started to change the strategy to put the audiobooks on the iBooks app together with other e-books. User are able to play iTunes audiobooks on the iBooks player in a simple way now. What you need to do is download the audiobooks to the IOS devices after purchasing from iTunes, they will be automatically put on the audiobook tab of iBooks. Or if you don't want to download it from IOS devices directly, you can also sync from the computer where you have already downloaded before. What is more, you can manage the chapters, adjust the speed and even set a timer etc., all these things make it much comfortable to listen to iTunes audiobooks.
Audible audiobooks. Similar to iTunes audiobooks, after downloading and installing the Audible Manager to your IOS device, you should be able to locate all the Audible audiobooks you have purchased previously. Simply tap the download button, they will start to download from the cloud. If you have downloaded Audible audiobooks on your other computers, you can also sync them to your iPhone/iPod/iPad with iTunes. Compared to the iBooks app, Audible Manager has a more succinct interface looks more intuitive. Personally I am more inclined to use it. You can select the exact chapter you want to play and the Audible app will automatically remember where your left off and continue to play next time, this is really nice for the users who listen to audiobooks in the fragmented time everyday.
Besides these two audiobook sellers, there are many other audiobook providers like the Audiobooks, Bookmobile websites etc. and you can use the special players they provided to listen to these audiobooks. Since they are more or less the same, I will not enumerate them here one by one. Nevertheless, iTunes and Audible audiobooks are the two mainstream sources. It is better to get started with the iTunes and Audible audiobooks and then decide which one works best if you are a new user.
How to Remove DRM to Play Audiobooks on IOS Devices by Any Other Players
With these audiobook players, users can listen to different audiobooks from multiple media sources, but sometimes there maybe still problems. Take the iTunes and Audible audiobooks users for example, they might face the problem such as can't listen to audiobook whenever some errors occurred on the iBooks app or Audible Manager on iPhone and it would not be so convenient to switch between different players. Someone may think if there is a way to remove the DRM restriction to put both the Audible and iTunes audiobooks together and play them on any players easily. Good news is that ViWizard has developed a remarkable Audiobook Converter, it offered a seamless solution to remove DRM as well as converting audiobooks to other common formats like MP3 for both iTunes and Audible audiobooks. Users who want to eliminate the hassles of iBooks player and Audible Manager are welcomed to download the ViWizard Audiobook Converter for Mac/Windows to have a try.
Foolproof Guide to Remove DRM from iTunes and Audible Audiobooks:
1

Import audiobooks to the software

Before importing, you need to download both audiobooks to iTunes first, then you can click 'Add Files', the Audiobook Converter will detect the files automatically and you can choose your desired files.
2

Customize the output audiobook settings

After loading the files to the software screen, please click the gear icon in adjacent with the imported files and change the output format as 'MP3' etc. which is compatible with IOS devices perfectly.
3

Remove DRM and export the audiobooks

Next you can hit 'Convert' button to start to convert and remove DRM, the audiobooks will be converted fast and the output DRM free files will be supported by any players such as Apple Music app, iTunes or other third party players like VLC player.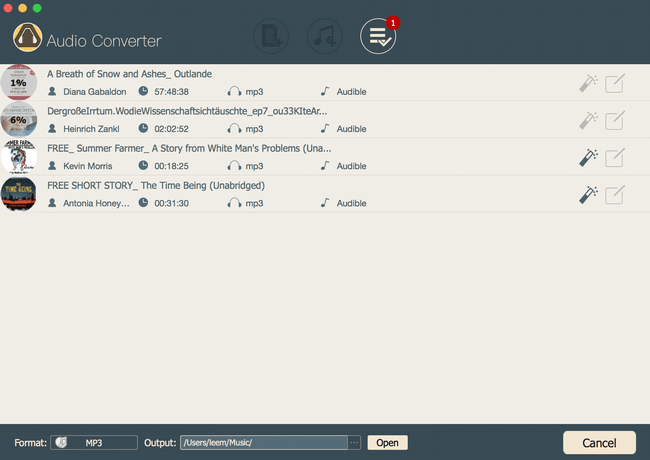 By removing DRM and converting audiobooks to common files, you can get full control over the audiobook files you purchased and you will be able to listen to audiobooks in a more flexible way on iPhone/iPod/iPad. Currently the Audiobook Converter with the DRM removal feature is only available for iTunes and Audible audiobooks only. For other media sources of audiobooks, we don't see such a tool yet, really hope some new tools will be released in future considering that DRM is not liked by any users.