Before we get started, let's take a look at the scenarios below:
You purchase a movie from iTunes store and would like to put it on your new bought Samsung Galaxy S5 for watching. But after several repeated attempts, you just fail to do that. It continuously displays errors and won't allow you to transfer the movie.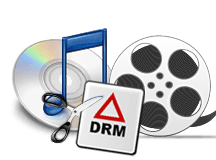 Worse still, the same problem happens to the e-book you get from Amazon. You can only read it on Kindle instead of any other e-readers. You can't even print a chapter of it even though you have already paid for the book and it is written by Ernest Hemingway century ago.
Why is that? Have you ever encountered such situations before? If so, you may have heard of something called DRM. But what does DRM actually mean? Why would it restrict the use of certain digital contents? In order to make things clearer to you, we are about to explain in the following article what DRM technology is, how it really works, and what solutions can be applied to bypass DRM.
What does DRM mean
Generally speaking, DRM (also known as Digital Rights Management) is an anti-piracy technology adopted by digital copyright owners to restrict the use of their digital materials and works, including software, movies, music, etc by others. The particular purpose of DRM is to prevent people from accessing, duplicating, and sharing copyrighted digital files in ways that the owners don't like them to. But ironically, DRM, the way to protect the right of copyright owners, actually infringes the users' right on fair use of these digital contents in the mean time. Since consumers do not really own the file after they buy it, why do the copyright owners get paid for every copy of their work?
How DRM really works
Although DRM has always been controversial and arguable, it becomes increasingly widespread and being applied in a broader range of digital contents these days. Among the different forms of DRM, the most controversial one is called FairPlay, a DRM encryption created by Apple to prevent the piracy of its iTunes media.
Being encoded with FairPlay, iTunes movies, TV shows and music videos are all formatted as .M4V files which llimit iTunes users to use these contents on Apple's devices only. Because of FairPlay, they can't copy, re-encode or share the video files even though they have already get them paid.
More severe restrictions are applied to iTunes rentals. Users only get 30 days to keep and watch the movie or TV episode from the day they rented the file and 24 hours (in US) or 48 hours (other countries) to finish watching once started. The rented file will be taken back by iTunes when it expires.
Don't like DRM? Get rid of the lock now
While more consumers are seeing DRM methods as overly restrictive, the demands of removing DRM from protected movies are growing constantly. Therefore, exclusive DRM removal software are developed to liberate users from the annoyances. DRM tools like Aimersoft and TuneBite could be listed on the top priorities to bypass DRM from numerous types of copy-protected videos and audios. But when it comes to remove DRM from iTunes movie rentals and purchases, ViWizard is definitely the solid choice.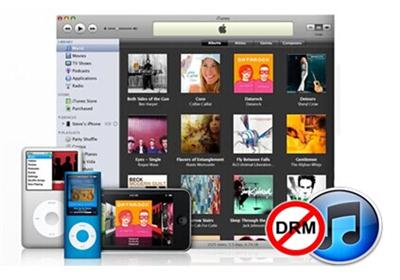 This iTunes DRM remover comes in both Mac and Windows versions. ViWizard for Mac is one of the best DRM media converter to strip DRM from purchased and rented iTunes movies. It works at 20x faster speed than any other similar DRM software to convert iTunes DRM-ed M4V to DRM-free MP4 while preserving the original subtitles and audio tracks with high quality.
Although ViWizard for Mac only supports MP4 as output format, ViWizard for Windows remedies this disadvantage with a number of output formats provided. With ViWizard for Windows, you are able to not only remove DRM control from iTunes M4V rentals and purchases, but also convert iTunes movies to various video formats, such as MP4, MOV, AVI, FLV, MPEG, WMV, etc.
Download the needed tool for free

Dave Henry is a long-time ViWizarder who loves all technological things. In his free time, he likes reading about science and technology, writing for his blog, watching sci-fi films, and meditating.