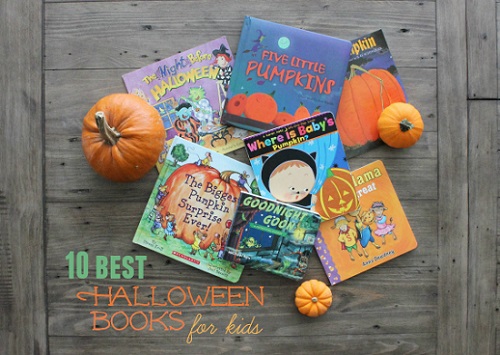 Halloween is not only a time for ghouls and witches, black cats and pumpkins, but also the holiday to enjoy great stories especially with the kids. Just imagine how amazing it would be to read spooky books with children after a long night of trick-or-treating. So if you are just looking for children's Halloween ebooks that will entertain younger kids, here are 10 free Halloween children's books you can get from Amazon that your kids will definitely like to read in the Halloween evenings before going to bed.
The Biggest Halloween Pumpkin (Halloween Bedtime Story for Kids)
The Biggest Halloween Pumpkin is a book that any child will love, especially at bedtime. It's almost Halloween and our little bird friend has decided to get a pumpkin for this special day. But not just any pumpkin will do! The red bird wants to get the BIGGEST one of all—which he happens to find. But there is only one problem...how will the bird transport the huge pumpkin back home? Once again, the bird needs your help!
Happy Monsters (Bedtime Story for Kids Ages 4-8)
Happy Monsters is a fun storybook about a few friendly monsters! This is an excellent read for beginning and early readers. Each story is easy to read and exciting. Cute and bright illustrations for younger readers and a free coloring book.
Jingle All the Way
Jingle All the Way is the tale of a loveable, obedient pup who wants nothing more than a place to call home for the holidays. Little ones will love hearing this story as a narrator reads to them, page by page. And if he's nearby, the Jingle Story Buddy stuffed animal will respond when you read key phrases from the story.
Rosco The Rascal Visits The Pumpkin Patch
On a sunny autumn day, brother and sister James and Mandy head to the pumpkin patch with their friendly dog, Rosco, to choose a pumpkin for Halloween. Join the kids and their rascally dog in this wholesome family adventure, a wonderful autumn read for kids. 
Halloween Stories (Spooky Halloween Stories for Kids)
This Halloween book includes 10 spooky stories and adventures about Halloween. It will be an excellent read for early and beginning readers.
Scary Halloween Short Stories for Kids
Read 10 bone-chilling Halloween stories from the best-selling author, Arnie Lightning! These Halloween short stories are quick and easy to read and enjoy.
The Boo Club Book 3: The Witches Hollow
Another Halloween night has arrived in Hauntsville. Spider, Milly, Jan, and Max pedal on their bicycles to meet a new friend who's name is Jack. After following careful directions to reach Jack's house they can't seem to find him. The Boo Club encounters someone completely unexpected after being lured into the house. They find themselves in a spooky situation on another night filled with adventure.
Bed Monster
Bed Monster is very good for children. The story is very interesting, entertaining, scary and it also gives lessons. The chemistry between David and the monster is great. At first, the story seems to be scary but later on it's very good bonding between David and Turvin.
Children's Halloween 3: Ghost Goes Trick or Treating
It's a great story book for children! This book is a educative and good for bedtime story. It will entertained your child and sure to be one that is requested night after night and highly entertaining.
Children's Halloween 4: The Witch Next Door
Children's Halloween 4 is a very interesting story. It incorporates lessons and ethics about minding and love. There's nothing like a good children's book full of pumpkins, witches, goblins and ghouls to get you in the spooky spirit. And this book is the one.
Where to Get & How to Read those Free eBooks on Any eReader
All those books are free to download from Amazon.com. If you got Kindle eReaders, it would be much convenient. But if you don't have Kindle devices but other eBook readers that don't support the Amazon eBooks format, don't worry. You can use some smart eBook conversion tools to convert the Amazon eBooks from DRM-ed AZW to common eBook formats, such as PDF, EPub, Mobi, etc. In this case, ePubor eBook DRM Converter will help you get rid of the DRM completely with a few clicks. What's more, if you have found some other eBooks for Halloween from other resources, such as Apple's iBooks Store whilst need to read those iBooks on Kindle or other non-Apple devices, you should have a look at TunesKit DRM iBook Copy for Mac. It's specially developed to help iBooks users easily remove DRM from the locked ePub books in iBooks. For the complete guide on how to kill DRM from iBooks, please read: How to Remove DRM from iBooks >>

Matt Smith is an amateur writer engaged in Tuneskit in 2013. He is a movie lover who write a lot of movie reviews for many websites and blogs.