Headquartered in Toronto, Kobo Inc. is a Canadian enterprise, dedicated in selling e-books, audiobooks, tablets and especially for e-readers. From 2010 to now, Kobo Inc. has continued to innovate the technologies to produce several e-readers with e-paper screen, such as Kobe eReader with an expandable memory, Kobo Aura One with a 7.8-inch Carta HD waterproof display, and the latest e-reader, Kobo Aura H₂O Edition 2 with a 6.8-inch E Ink HD Carta waterproof IPX touchscreen at 265 ppi. No matter which Kobo e-reader you have, you are able to read kinds of e-books. However, just like other eReaders, such as Amazon Kindle, Nook, Moon+, Adilko, Kobe eReaders is not available for reading eBooks purchased from iBooks store directly. Therefore, is there a great way to convert purchased e-books from iBooks to Kobe eReader for reading? Here, in this article, you will find out the best solution to do that.
Why We Can't Read iBooks eBooks on Kobo eReaders
Generally speaking, e-books purchased from iBooks are encoded in .epub or .ibooks format, and just like iTunes digital content, such as movies as well as TV shows, these eBooks are protected by FairPlay DRM technology, which prevents you from reading iBooks e-books anywhere but on Apple-approved platform. On the other hand, although Kobo eReaders is able to support multiple common formats, including MODI, PDF, EPUB and EPUB 3, as for protected DRM eBooks, it can only support Adobe DRM with using Adobe Digital Editions and social DRM. Obviously, FairPlay DRM created by Apple is not included in it. In order to make it possible to read iBooks e-books on Kobo eReaders, the most important thing yet the only thing you should do is to remove DRM restriction from eBooks sold on Apple iBooks store.
iBooks to Kobe Converter – Sync iBooks eBooks to Kobo eReader
When it comes to the best iBooks DRM removal tool, you might have noticed that there are only a few softwares existing in the market. Here, we will meet TunesKit iBook Copy for Mac, the most professional iBooks DRM cracker on Mac OS X. By adopting extraordinary DRM decryption technology, iBook Copy for Mac is specialized in removing DRM protection from iBooks ePub files with nearly 100% original quality retained. That is to say, all meta information can be preserved in the DRM-free ePub files, such as cover, book author, publisher, date, and more. Once the conversion process finished, you can enjoy eBooks purchased from iBooks store on any non-Apple eBook reading devices.
Step-by-step Tutorial to Remove DRM Protection for iBooks eBooks
Before you start to follow this complete guide to get rid of DRM lock from iBooks, please make sure that you have downloaded and installed the free trial version of this smart iBook Copy for Mac on your computer.
Step 1

Import iBooks e-books to TunesKit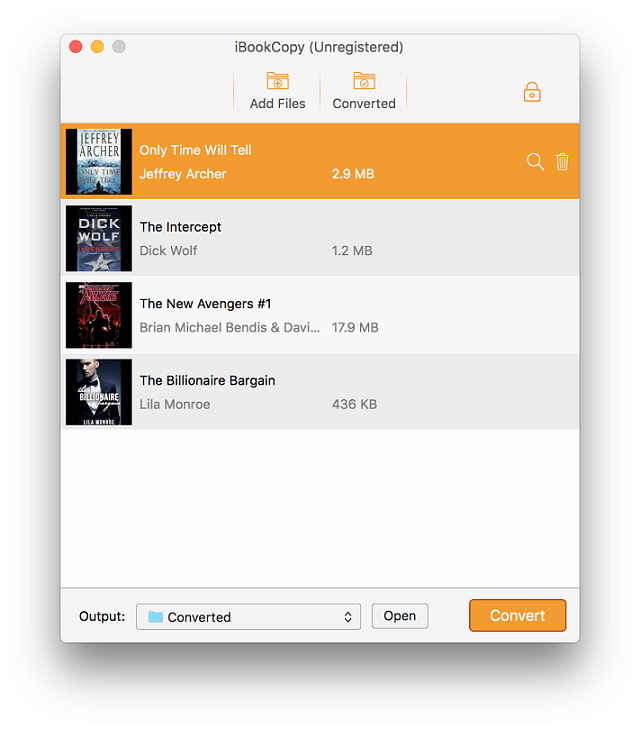 Double click to open TunesKit iBook Copy, and then you can import iBooks eBooks to this smart iBooks to Kobo Converter by touching the "Add File" button at the main interface and via drag&drop action directly.
Step 2

Set the output format and target folder

Once you have completed to import protected iBooks files to TunesKit iBook Copy for Mac, you can customize the converted eBooks, including cover, book author, publisher, date, etc. Besides, you can also set the destination folder according to your need by tapping the "Output" at the bottom of TunesKit.
Step 3

Start to get rid of DRM from iBooks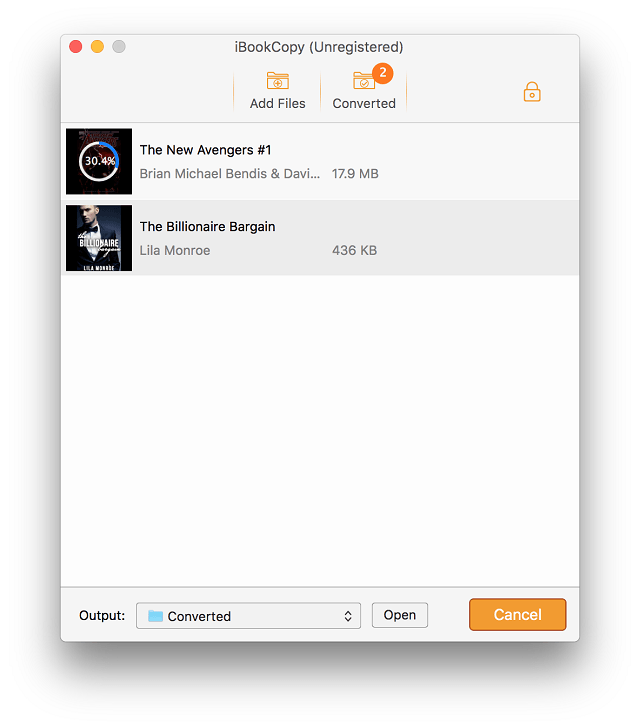 Now, you just need to click the "Convert" button, and iBooks to Kobe Converter will start to transfer protected iBooks eBooks to common DRM-free e-books at 30X faster speed.
How to Read iBooks eBooks on Kobo eReader
Congratulation! You can discover the iBooks DRM-free eBooks on the target folder that you set before. Now, you are able to sync iBooks ePub files to your Kobo eReader for reading via USB flash drive freely. By the way, if the Kobo eReader can't recognize the unprotected iBook eBooks, you can use some free eBook converter to convert DRM-free iBook ePub files to Kobo eReader. Calibre, the free eBook Converter, is a smart choice for you free eBook Converter and you can download it from its official website: Calibre-ebook.com.