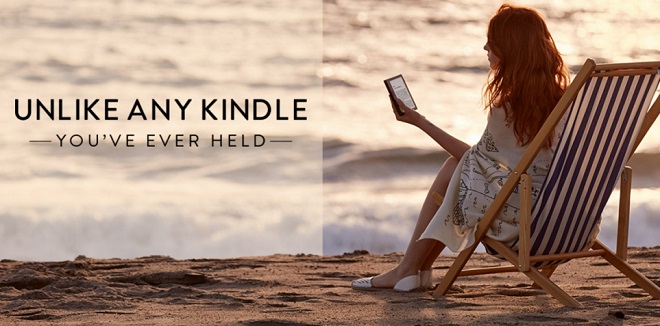 It has been nearly 10 years now since Amazon introduced its very first Kindle e-ink e-reader to the world. From then on, every couple of years, Amazon will release a new Kindle e-reader successor that's smaller, lighter and faster. Recently, Amazon just pulled back the curtain on its new premium Kindle reader, the Kindle Oasis, the slimmest and sleekest model Amazon has ever made. Starting at $289, it's also the most expensive Kindle e-reader in years, almost four times the price of the entry-level Kindle. Besides, the new Amazon Kindle Oasis is also the first Kindle included a leather charging cover, which brings longest battery life beyond its predecessors.
Now all the changes and improvements made to the new Kindle Oasis raise interesting questions for book lovers: what do we really need in an e-reader, and how much should those elements cost us? Amazon tells it, all the decisions were made with one goal in mind: to let the hardware itself almost disappear from view so that readers can lose themselves in their stories. Will Kindle Oasis finally get it done? Is it really worthy of such a high price? In order to help you figure it out and get a closer look at the redesigned Kindle Oasis, we made a deep review of this new e-reader in the following article by introducing the key features and major tech specs that you may like to know.
Key Features & Tech Specs of Amazon Kindle Oasis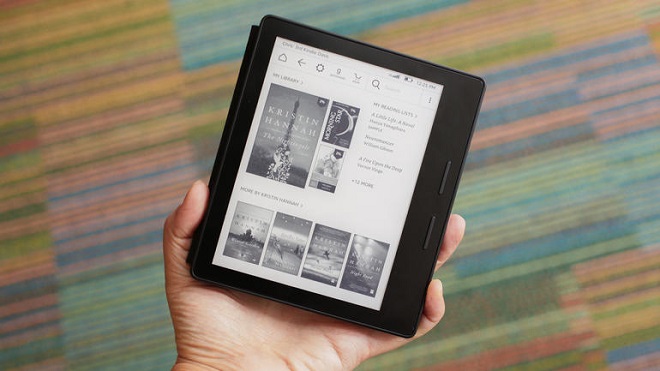 We are listing some of the biggest improvements and new features of the reimagined and high-end Kindle Oasis as below for your reference.
1. The thinnest and lightest Kindle e-reader
To get the Oasis as light and sturdy as it is, Amazon took a plastic chassis and electroplated it with a special metal alloy. The remainder of the Oasis' 4.6-ounce frame is encompassed by a 3.4-millimeter metal-plated slate, giving it the thinnest body of any Kindle to date. In result, it is over 20% lighter and 30% thinner on average than any other Kindle. With the new design, you can read the eBooks with Kindle Oasis comfortably for hours.
2. All-new ergonomic design for reading
The new Kindle Oasis adds a tapered ergonomic handgrip that will shift the center of gravity to your palm, makes the e-reader rest in your hand like your are holding the spine of a real book. Besides, its dedicated page turn buttons located on the front of the handgrip enables you turn the pages more comfortably and flexibly. And thanks to a built-in accelerometer, the screen automatically rotates the page and page turn buttons to match the hand you have the device in.
3. 300 ppi high-resolution display
Kindle Oasis features a high-resolution 300 ppi display for crisp, laser-quality text—all on the same 6" display size as Kindle Paperwhite and Voyage. That's to say, the text on the touchscreen e-ink display of the new Oasis looks very close to what you get with the other two models.
4. Enhanced built-in adjustable light
Another significant change on Kindle Oasis is to the lighting scheme. Amazon says the built-in front light of Kindle Oasis has 60 percent more LEDs than any other Kindle and they're embedded in the side of the display, not the bottom. With the enhanced lighting, it increases the consistency and range of screen brightness for improved reading in all types of lighting, so that you can read comfortably for hours without eyestrain.
5. Longest Kindle battery life
The purchase of the e-reader comes with the choice of a leather charging cover in three colors — brown, black, and red — for its external battery. Once locked in via magnets, the Kindle Oasis' multi-week battery life extends to months of standby time, much longer than other Kindles. When plugged in, the Oasis and its cover will both charge simultaneously. When unplugged, the cover's battery will be zapped first before the device switches to its internal one. Plus, Amazon is also introducing a new hibernation mode when the cover is attached, meaning the Kindle Oasis will start to use the bare minimum amount of juice required to stay powered on after one hour of inactivity.
6. 4GB of built-in storage
According to Amazon, Kindle Oasis offers storage for "thousands of books", the same as Kindle Paperwhite and Voyage. For most of the eBook readers, a 4GB storage on a eReader could be totally enough to store almost all your book collections. If you are a new reader of eBooks, you can increase your book collection by getting the eBooks from Amazon Kinde store, one of the largest online eBook services in the world. You can also purchase eBooks from other providers, like iBooks store. But one thing to be notified is that, eBooks bought from iBooks are not allowed to open on Amazon Kindle devices due to the FairPlay DRM protection. In order to make the iBooks readable on Kinde eReaders, you need to remove the DRM protection from the books with the help of some special iBook DRM removal tools, such as Requiem or ViWizard iBook Copy. You can follow the simple guide listed below to see how to easily remove DRM from eBooks purchased from iBooks store and read the iBook files on Amazon Kindle by using ViWizard.
Compare Amazon Kindle e-Readers
Kindle
Kindle Paperwhite
Kindle Voyage
Kindle Oasis
Price
Starting at $79.99
Starting at $119.99
Starting at $199.99
Starting at $289.99
Weight
6.7 oz (191 g)
Wi-Fi: 7.2 oz (205 g)
Wi-Fi: 6.3 oz (180 g)
Wi-Fi: 4.6 oz (131 g)
Dimensions
6.7" x 4.7" x 0.40"
6.7" x 4.6" x 0.36"
6.4" x 4.5" x 0.30"
5.6" x 4.8" x 0.13-0.33"
Screen Size
6"
6"
6"
6"
Built-in Light
No
4 LEDs
6 LEDs
+ adaptive light sensor
10 LEDs for
enhanced page consistency
Page Turns
Touchscreen
Touchscreen
Touchscreen + PagePress
Touchscreen
+ page turn buttons
Resolution
167 ppi
300 ppi
300 ppi
300 ppi
Charging Cover
No
No
No
Included
Battery Life
Weeks
Weeks
Weeks
Months
Connectivity
Wi-Fi
Wi-Fi or 
Wi-Fi + Free 3G
Wi-Fi or 
Wi-Fi + Free 3G
Wi-Fi or 
Wi-Fi + Free 3G
Conclusion & Suggestion
Apparently, with a new and improved design, Oasis is the closest Kindle to paper yet. It all adds up to the nicest e-ink e-reader that Amazon's ever produced. In another way, its high price puts it into luxury territory and will primarily appeal to Kindle devotees who don't mind paying extra money to have the slimmest, lightest Kindle available so they can take advantage of the Oasis' perks. But for longtime book readers, the new Kindle Oasis may be a tough sell. When positioned against the Kindle Paperwhite, arguably the best e-reader you can buy today, the Oasis is asking an extra $170 for perks that seem secondary to the act of sinking in with a good book.

Nick Orin is a review writer, software geek and Mac OS enthusiast. He spends all his free time in searching useful software and gadgets to share with others.