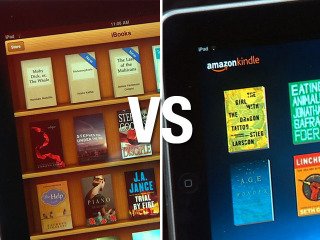 Apple iBooks and Amazon Kindle are two largest online eBook service providers in the world where you can get a big amount of eBooks to read on portable eBook reading devices. No matter you are a newcomer to eBooks or an avid e-book reader for a while, you'll ultimately have to deal with the issue: Which eReader should you pick? Amazon Kindle or Apple iBooks? That would always be a difficult decision since they both have their own strengths and weaknesses for reading eBooks. In order to help you make a better decision, we'll give you a little insight by comparing the differences between those two best eBook services mainly from the design of the eReaders, price of eBooks, key features of the eBook reading apps, different eBook reading experience, etc. in the following article.
iBooks vs. Kindle Comparison: What's the Difference
Design & Interface
From the beginning, the two eBook reading apps have had different goals although both apps are free to download. Kindle was made to let you read your Kindle books on your iPad, with almost no considerations for aesthetics. iBooks has always looked good, and has changed a lot less than Kindle. It launched with a bookshelf view that Kindle waited years to get, and it has the advantage of a built-in bookstore. In general, iBooks always looks better than the Kindle app. For example, it has more font choices than Kindle. And in the "sepia" mode, iBooks is a little less brown and a little more contrasty. It wins if you're taking screenshots, but when reading, there's really no difference.
eBook Subscription Service
Amazon's Kindle Store offers users a subscription option as well as a traditional e-store. For $9.99, Kindle Unlimited gives the user access to more than 4.3 million e-books available to download on any device. The Kindle Store also offers the ability to purchase e-books without the subscription, offering best sellers and book deals. The Apple's iBooks store offers more than 2.5 million books. Some are free, while others will cost you. There is no subscription service option for iBooks, making this the option for people who are light readers and don't want to pay for a service they won't use often.
Compatible eBook Readers
The Kindle app is a free universal app that you can run it on any iOS device, Mac, PC, Android as well as Amazon's own Kindle eBook reading device. However, unlike the Amazon Kindle app that could be accessed via multiple popular eReaders, iBooks app is only authorized to be installed on Apple's iOS devices and Mac OS X 10.9 or later due to the FairPlay DRM protection applied to the iBook files by Apple. That's to say, you will not be able to read any iBook file on non-Apple devices if you purchase the eBooks from iBooks store. That sounds unfair and annoying not to obtain the full ownership of the book even if you've already legally purchased it. But don't worry. There's still way out if you prefer to read the DRM-protected iBooks on more user-friendly Amazon Kindle, Nook, PC or other non-Apple-approved devices. In order to get it done, you'll have to use a specific iBooks DRM removal tool, such as Requiem or TunesKit DRM iBook Copy for Mac to bypass the DRM restriction once and for all. You can find more details on how to remove DRM lock from iBooks with TunesKit iBooks DRM remover from this tutorial: How to Crack DRM from iBooks >>
eBook Formats
The supported e-book formats by iBooks are EPUB and PDF. As of version 2.0, iBooks also supports a proprietary iBook format (IBA), generated with the iBooks Author tool. The Kindle store offers e-books in Amazon's proprietary e-book formats: AZW, and, in fourth generation and later Kindles, AZW3, also called KF8. One thing to be notified here is that due to FairPlay DRM as mentioned above, both iBooks store and Kindle store forbid transferring the DRM-protected EPUB and AZW3 format e-books to another user or a different type of device for reading. But the good news is that there's also effective solution if you want to read the AZW3 eBooks downloaded from Kindle store on other eReaders except Kindle devices. You can try ePubor DRM eBook Converter to bypass the DRM from protected Kindle eBooks completely with ease.
Readability & eBook Reading Experience
Both applications support landscape view with two columns and a built-in dictionary as well as syncing of bookmarks, highlights and notes. But for general reading purposes, Amazon Kindle works better than iBooks. It allows for the filtering of annotations by highlight color, notes, bookmarks and starred annotations which is great for reviewing the contents of a book. You can easily see what other people have highlighted, quotes or whole passages. Besides, Kindle supports Whispersync for Voice, which allows you to switch from reading your book to listening to it - all without losing your place. But when talking about the reading experience offered by both apps, iBooks wins on this side. For example, if you're reading in low light, iBooks automatically switches the text to white on a black background, making it easy to read - a feature you would have to manually adjust on non-Apple devices. What's more, iBooks also offers a better and smooth page turn feature and always pays more attention to details of the app.
Conclusion: Which eReader Should You Use
Generally speaking, Kindle really is the better choice for content while iBooks is a much better app. So it largely depends on your own requirements to decide which eBook service you should choose. If you consider more about the books you can actually read, Kindle should be put on the top list. But if you want to enjoy more about the reading experience, the iBooks app can't be missed. In the end, since both Kindle and iBooks are free downloads, you are encouraged to download and try them both by yourself to see which works better for you based on your eBook reading habits and needs.