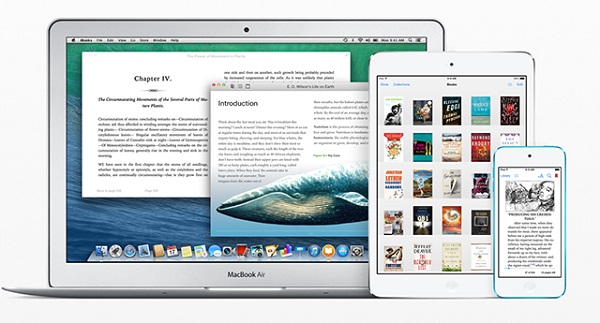 iBooks is a built-in app on iOS devices since iOS 8 and Mac machines running OS X 10.9 or later. For Apple users, iBooks app is probably the most preferred option when reading eBooks since it's well-designed and perfectly integrates into the Apple ecosystem. No matter you are new to iBooks or not, it's necessary to know about some important facts about iBooks and iBooks store so that you can get the most out of iBooks and use it better. In the following article, we are listing the top 6 secrets of iBooks that you may not know yet, including its compatible eBook formats, supported platforms, iBooks alternatives, etc.
Everything You Should Know about iBooks
iBooks and iBooks Store are available for Apple devices only
iBooks app is included by default (and not removable) on every Apple device including iPhone, iPad, iPod Touch with iOS 8 or later, and Mac with OS X Yosemite or later. Currently there is no way to install iBooks on non-Apple platforms. If you decided to use iBooks as your ebook-reading app, make sure that you will never want to get the books you bought from the iBooks Store to non-Apple devices since you won't access the books as easily as expected. The good news is that it's not the end of the story yet. Thanks to some special iBooks tools, such as TunesKit iBook DRM Remover, you can now enjoy any protected eBook you got from iBooks Store on non-Apple e-readers by cracking the DRM lock from the iBooks completely. Once the DRM is removed from the iBooks eBooks, you can transfer the DRM-free iBooks files to any e-book reading device as you wish. To find out how to crack DRM from iBooks, you can read this tutorial: How to Easily Remove DRM from iBooks >>
How to Check if the Book from iBooks Store has DRM
To check out whether the books in your iBooks library is DRM-protected or not, you should select the book, and choose "File" > "Get Info". Then you'll probably find:
"Book" - It's the book you added to iBooks by yourself
"Purchased Book" - The book downloaded from iBooks Store, but DRM-free
"Protected Book" - The book from the iBooks Store, and with FairPlay DRM
iBooks can play audiobooks purchased in the iBooks Store
With iBooks, you can also play audiobooks purchased in iBooks Store or imported from other sources. To listen to an audiobook preview, firstly you should find the audiobook that you want to preview in iBooks Store. Then tap the Preview under the book's price. Then iBooks will play an audio clip from the book. One thing you should be well noted is that unlike book samples, audiobook previews are not saved to your library. Besides, when playing audiobooks, iBooks will remember where you are in the book when you stop playing so that you can pick up where you left off later.
iBooks Store is not available in all countries
Unlike Apple's iTunes Store that is available in more than 150 countries in the world, iBooks Store is available only in about 50 countries currently. Besides, some features of iBooks aren't available in certain countries. In the countries where you can't access iBooks Store, you can use the iBooks app without the iBooks Store. But in this case, you'll have only a rather symbolic selection of free ebooks. You will have to rely on other sources of ebooks outside of iBooks Store. As for those eBooks, you must make sure they are in iBooks compatible formats, including ePub and PDF. And they need to be DRM-free as well. Otherwise you won't be able to import the books to your iBooks.
You can gift a book from the iBooks Store
For a rather long time, we are not able to gift books from iBooks store. But now everything changed. It becomes easily for us to gift a book using iBooks or iTunes to our friends or family. To gift a book from iBooks Store, you only need to find the book you want to gift and then click "Gift this Books" under the price tag. For the complete guide to gift iBooks, you can follow this tutorial: How to Gift Books from iBooks Store and iTunes >>
iBooks Store does not have a web store
If you think you can access the iBooks store from a web browser like Google, then you are totally wrong. iBooks store doesn't have a web version yet. Currently you can only access iBooks Store via iBooks app or iTunes. Don't get cheated by some domains, such as "ibookstore.com." They have nothing to do with iBooks or Apple at all. If you dig deeper, usually you'll find they actually sell stuff from Amazon or other sources.
iBooks is not the only eBook Reader on Mac
Although iBooks app is well-designed for reading eBooks on Mac OS X, it doesn't mean it's an all-round solution for all Mac users. For users with Mac OS X 10.8 or lower, iBooks is not available for installation at all. In this case, finding an alternative to iBooks for Mac is necessary and important. Fortunately, apart from iBooks, there are a lot of other cool and useful eBook reading apps worth trying on Mac OS X, such as Kindle, Google Play Books, Kobo, Nook, etc. Some of them are free, while others are paid apps. Wanna find out the best iBooks alternatives for Mac? Here we go: Top 3 Best Free eBook Readers on Mac OS X >>