On August 22, 2019, Spotify has announced that it is extending its free-trial period for Spotify Premium to three months, up from the previous one month. Users across the globe will gain access to the three-trial period, including Individual and Student Plans, all starting from that day.
Spotify launches different features for different users. Those Premium users (including Individual Plan, Family Plan, and Student Plan) can enjoy special features while those free users need to put up with boundless ads. Because Spotify's free version makes no profit off of users, the company relies on ads and paid subscriptions to make any money.
Needless to say, if you want to sound good, you need to join Spotify Premium Plan. Before you subscribe to Premium Plan, you have an opportunity to experience it in advance for free. Here we would talk about the new policy of Spotify Premium Free for 3 months.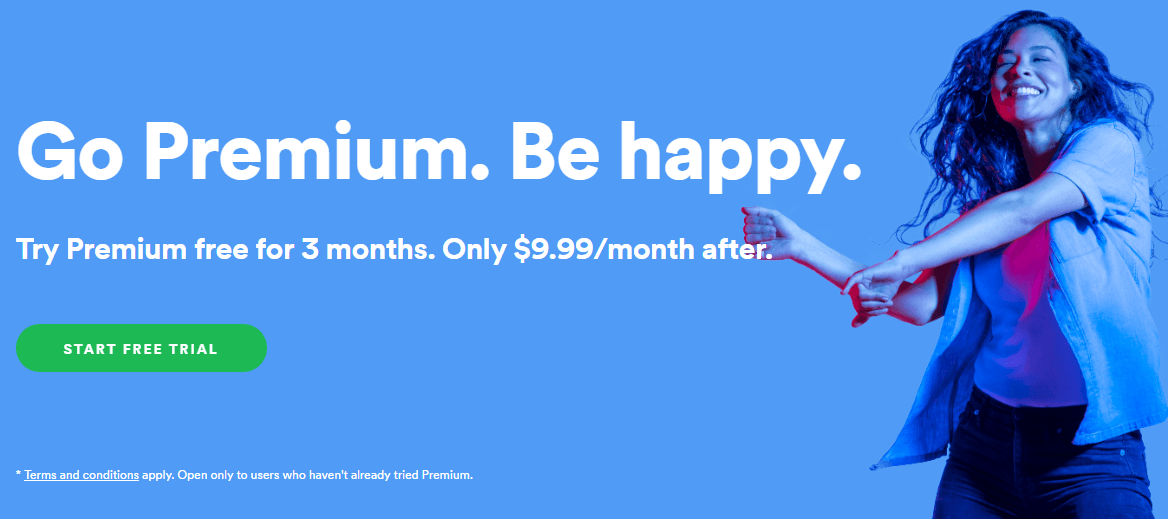 Why Spotify Extends Free Trial Spotify Premium to Three Months
The digital music industry has been gaining momentum over the last decade thanks to the consolidation and growth of a wide range of platforms for accessing and playing digital music including streaming services, downloads, and major digital players. As a result of this shift in music consumption, the demand for music streams is becoming larger.
Globally, the numbers of users put Spotify well ahead of Apple Music, its closest competitor, who reportedly had 50 million paid users worldwide. However, in the US Apple's music streaming service in winning with 28 million subscribers compared to Spotify's 26 million. Spotify wants more subscribers, especially with Apple Music growing as a threat.
Therefore, it is a good chance for Spotify to not only bring in more paid users but also keep those users coming back over the long term. On the one hand, the free trial extension to three months is to give listeners enough time to "fall in love" with the service. On the other hand, Spotify is fighting back against the threat of Apple Music to match its rival.
How to Get Three-month Spotify Premium Free Trial
The offer is the privilege of Spotify users who haven't tried Premium yet. Put it another way, there is also no soup for people who canceled Spotify Premium subscription. If you meet the two requirements, you can start to enjoy Spotify Premium for individuals and student plans.
When you navigate to Spotify's official website, you will see 'try Premium free for 3 months. Only $9.99 per month after' under the slogan 'Go Premium. Be happy'. Here are the detailed steps to start your free trial on Spotify.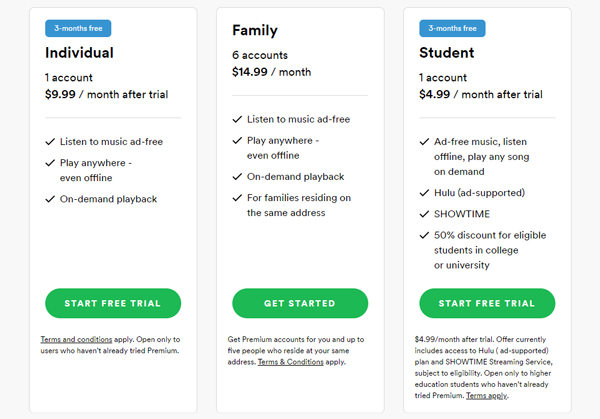 Step 1. Click the 'Start Free Trial' button to get started. In the next page, you can switch your present plan to other.
Step 2. Otherwise, you can scroll down to pick your Premium, and choose the right plan to get started.
Step 3. Now, please enter a series of personal information, including card number, expiry date, security code, zip code and other.
Step 4. After all things are set, please simply click the 'Start My Spotify Premium' button to enjoy free trial Spotify Premium with 3 months.
What You Can Get from Spotify 3 Months Free Trial
Through three months free trial, users can enjoy Premium's seamless listening experience and on-demand access to more than 50 million tracks, billions of playlists and 450,000 podcasts titles for free. It takes time to fully experience all of the features available with Premium, but you can enjoy most of the basic Premium features.
The following are the Spotify Premium features that await you.
1. No ad interruptions – enjoy unlimited music.
2. Download music and podcasts to your heart's desire.
3. Play any song, any playlist, any podcast, anytime, anywhere.
4. Easily toggle between any device.
5. Skip the songs you don't like and repeat the ones you want to sing along with.
How to Keep Spotify Free Premium Trial Free of Charge
As we all know, the free version of Spotify is ad-supported much like a radio station. So, unfortunately, to use free Spotify you should be prepared to either tolerate ads every few songs or shuffle playback mode. Once you subscribe to Premium Plan, all problems will be readily solved.
However, if you don't pony up for a monthly fee, you could turn to ViWizard Spotify Music Converter for enjoying these Spotify Premium features. With the help of this professional software, you also can download Spotify music to your device and listen to Spotify music without the distraction of ads. Just install the software on your computer and get Spotify Premium for free.
More Spotify Tips You May Also Like

Rick Lee has written about business and consumer technology for nearly 25 years. He is the author of more than a dozen books.