The streaming music industry has hummed along the development of the internet. While Spotify is not the only option for us, lots of alternatives like Google Play Music, Amazon Music, Apple Music and Tidal crop up. You can turn your attention to other music-subscription services.
If you prefer to listen to music on other streaming music services, or if you've had stomached Spotify long enough when listening to music with the distraction of ads, you could remove the Spotify app and delete your Spotify account. Make sure that you won't come back to use Spotify. In this post, we'd lay out the tutorials on how to permanently delete your account on Spotify.
How to Delete Your Spotify Account Permanently
It's only possible to delete Spotify account permanently if it's on our free, ad-supported service. If you have Premium, you first need to cancel Spotify premium. Just follow the steps below.
How to permanently delete Spotify account
Step 1. Navigate to Contact Spotify Support in your computer's web browser and enter your Spotify account and password to log in before proceeding.
Step 2. Select 'Account' near the top of the page and click on the 'I want to close my account permanently' option in the middle of the page.
Step 3. Click the 'Close Account button' near the lower-left side of the page and scroll down and click the 'Continue' button in the lower-right side of the page.
Step 4. Check the 'I understand, and still want to close my account' box and click on the 'Continue' button in the lower-right corner of the page.
Step 5. Open the email from Spotify after you are prompted to receive an email from Spotify and click the 'Close My Account' button in the middle of the email.
Note: Within 7 days of cancelling it, you can reactive your Spotify account by opening the 'This is our last goodbye' email from Spotify and clicking the 'Reactive My Account' button in the middle of the email.
Need to know if you close a Spotify account
If you subscribed to Spotify through However, you could delete your Spotify account at any time if you don't want to listen to music via Spotify any more. Once you close Spotify account, you won't have access to any of the following:
1. Your username, it can't be used with Spotify again.
2. Your playlists, followers, and everything saved in Your Library.
3. If you have the student discount, you won't be able to apply it to another account until 12 months have elapsed since you signed up for it.
How to Back up Spotify Music in Your Library
Closing your account will prevent you from accessing any of the information stored on it, including your preferred playlists and offline songs. You also won't be able to sign up again for Spotify with the same username. Before proceeding, you could export Spotify playlist to text or download Spotify tracks stored in Your Library for backup.

Key Features of ViWizard Spotify Music Downloader
Remove all DRM protection from Spotify music thoroughly
Convert Spotify music to MP3, AAC, WAV, FLAC, M4A, and M4B
Save Spotify music to phone, smartwatch, table, and mp3 player
No fear – if you have ViWizard Spotify Music Downloader on your personal computer, you can download Spotify music to computer for backup and then move them to other music players for listening. Just follow the steps below to get Spotify music before proceeding.
Tutorials on how to download Spotify music for backup
Step 1

Upload Spotify music to the converter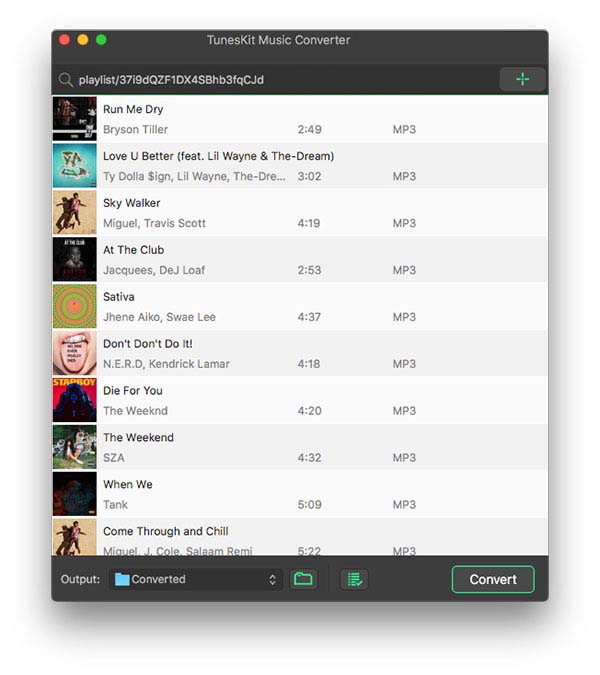 After you have Spotify music downloader installed on your personal computer, launch the software and Spotify will be automatically opened after several seconds. Then choose all your saved playlists or tracks in Your Library and directly drag them to the main screen of the software.
Step 2

Configure the output audio parameters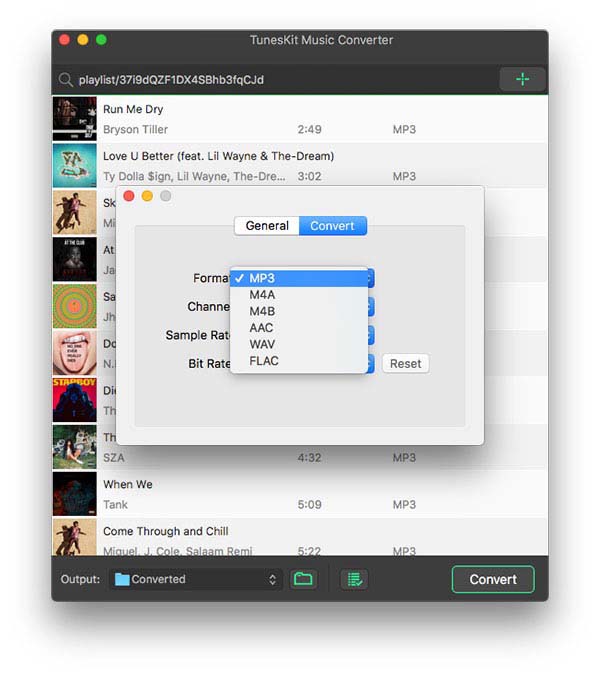 Then click on the menu button in the upper-right corner of the software and choose the "Preference" option. There are some settings including the output audio format, bit rate, sample rate and channel. You can set the output audio format as your device supported format.
Step 3

Start to download and convert Spotify music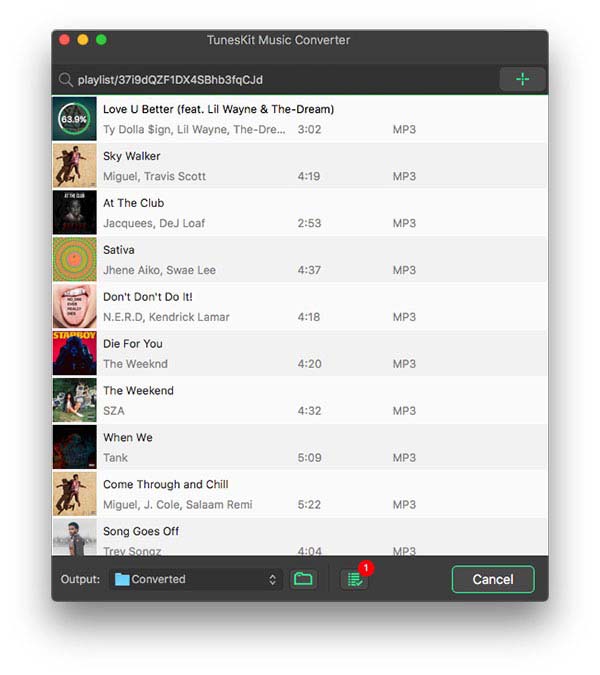 Click on the convert button and then all Spotify tracks will start to download. Keep in mind that it may take a little while depending on how large the playlist is. Once saved, the playlist will be accessible from within the "Converted" pane on the lower-right corner.
More Spotify Tips & Tricks