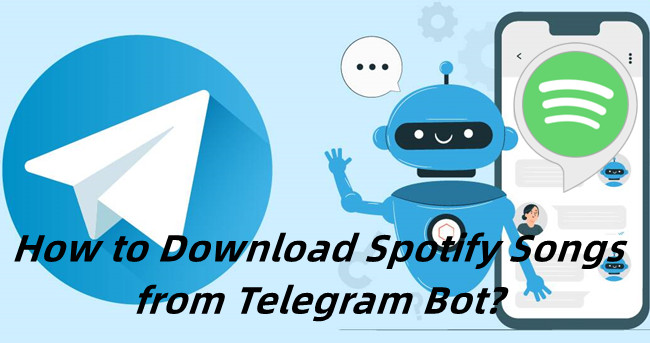 Previously, Telegram is thought to be a chat app for you to chat with your contacts. But now Telegram is much fun with the Telegram bots features. You may already saw it as links in Telegram and elsewhere. Embrace them, they are bots, and they're good to provide the services you asked for. Some can even help you to download music for free from your favorite music service, such as Spotify.
Those Spotify Download bots will provide the services you asked for -- you guessed it -- Spotify songs for free download. In this post, we'd like to share how you can take advantage of it. For starters we'd like to review Spotify Download bots for Telegram, and also the best alternative to them with the differentiated download service.
Part 1. What Is Spotify Download Bot for Telegram?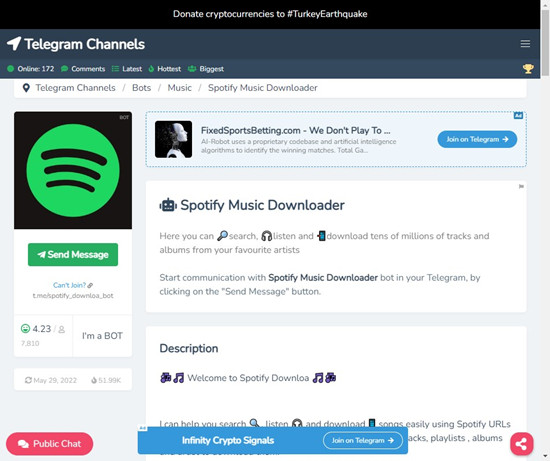 As you may know, Spotify Music has DRM protection, so you can only download on-demand contents with your music subscription to access them on Spotify's platforms. To take your favorite music to more places, you must need a third-party software to help, one of which is less known as the Spotify bot for Telegram.
What is the Spotify bot for Telegram?
For starters you should understand what bots are on Telegram. Added with the Telegram Bot feature, Telegram users continues to benefit from bots created by third-party developers. Telegram bots are simply Telegram accounts operated by software - not people - and they'll often have AI features. So speaking of Spotify bot for Telegram, it make senses if you listen to Spotify on your mobile device and wish to download some of your favorite songs you meet on it. Because the bot can help download it for you through commands passed to the Internet of things.
How the Spotify bot for Telegram works on YouTube?
Most Spotify bot for Telegram lets you make use of YouTube channels to find the same videos that contain tracks with matching name from most Spotify contents. There're tens of YouTube videos and what this bot do is to deliver the audio file for you. One limitation: if you really love high-quality music from Spotify, especially when you have Premium subscription, we do recommend using another third-party tool to download the originals for you, which is pretty straightforward. Go ahead to Part 3 to meet our ViWizard Music Downloader.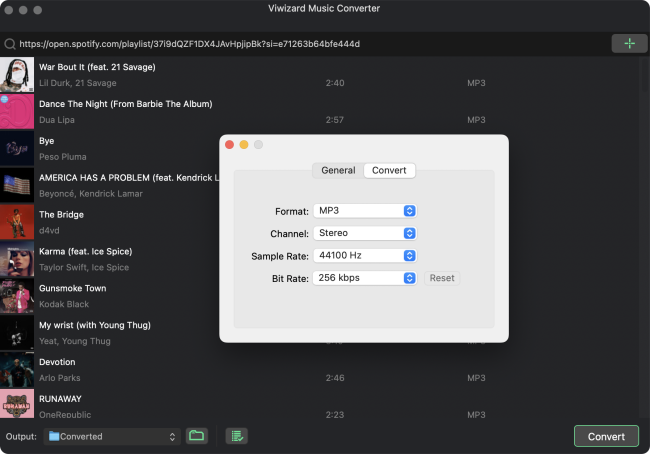 How the Spotify bot for Telegram works with Spotify Music?
Spotify bot for Telegram works for Spotify URLs available on Spotify's platforms from Windows, Mac, Android, iOS and web for http://play.spotify.com/ and https://open.spotify.com/. When you input a Spotify track link, which you can get easily by using the "Copy link to…" button on the options menu for the selected content on Spotify platforms above, the Spotify bot for Telegram will find a match on YouTube and then download the same audio its MP3 version.
Part 2. How to Use Telegram Bot to Download Spotify Songs
A Telegram account must be required to complete the whole process. So please ensure to prepare your device well with the Telegram app.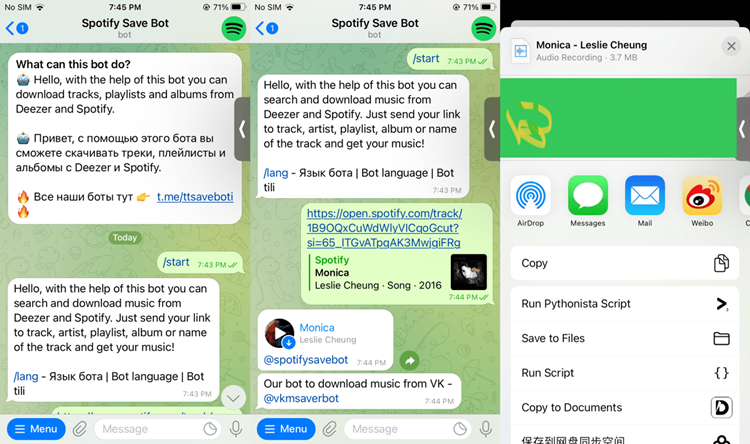 1. Open the Telegram app on your mobile device.
2. Head to Search at the top-left.
3. In the Search field, type "Spotify Music Downloader" or other Spotify bots for Telegram you want to use.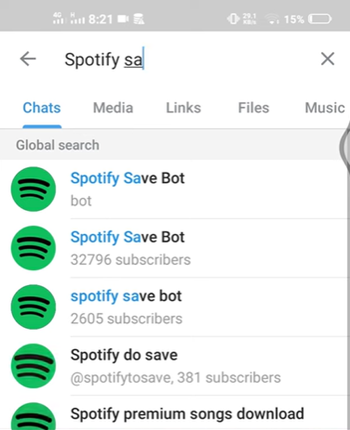 4. In a few search results, locate the one you want and select it.
5. When you enter the page for the first time, you can send "/start" from your message box to get started.
6. Now send your link to track, artist, playlist, album or name of the track to it.
7. By request on the link to the Spotify content you should see various tracks for you to select from. Just pick the one you want. You can also preview the song.
8. Tap on the More button (vertical 3 dots icon) on the right of the item and select "Save to music".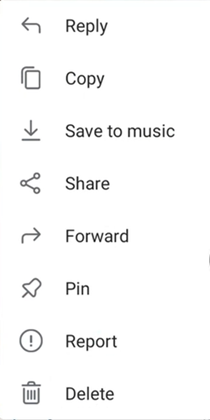 9. Now head to the music storage in a music app or the Files app and you should be able to find it.
However, one of the main frustrations that many users have with this Spotify bot for Telegram is the music quality is not as good as expected. Because it just downloads the tracks with matching name but not the originals from Spotify. If you wish to discover some best alternatives in this post to download some free Spotify Music, we'd like to introduce how our ViWizard software works for you.
Part 3. Best Alternative to Telegram Bot to Download Spotify Songs
ViWizard Music Downloader is designed for both Free and Premium users to download your favorites from Spotify and -- you guessed it -- the 100% original music tracks in various DRM-free formats. What this free software requires is an Spotify account and a computer for both Windows and Mac that runs the Spotify app. Then you just need to adjust some related format settings for your music tracks and ViWizard will start the conversion at a 5x super faster speed right after you click the Convert button. You'll also find your listening experience is improved greatly.

ViWizard Spotify Music Converter Key Features
Convert and download Spotify songs to MP3 and other formats
Download any Spotify contents at 5× faster speed
Play Spotify songs offline without Premium
Best Spotify Downlaoder Telegram bot alternative: download Spotify songs free
Save Spotify with the original audio quality and ID3 tags
For any media player on any device, you'll just need a USB cable to help finish the transfer manually. This is how you build your own music collection with the desired Spotify contents from artists, albums, playlists and more on all your devices. From here we'd like to show you how easy it is to download get the MP3 version of Spotify songs with lossless audio quality and full IDS tags.
Step 1

Select Spotify Music Songs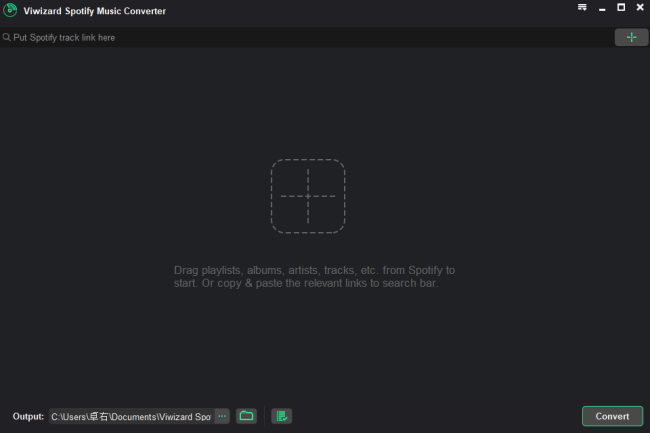 Configure the ViWizard Spotify Music Converter on your computer and then the Spotify desktop app will be opened up automatically on your screen. Head to your library or the desired contents on Spotify, then select the ones you wish to convert and download. You can drag and drop those music tracks to the interface of ViWizard.
Step 2

Adjust Output Formats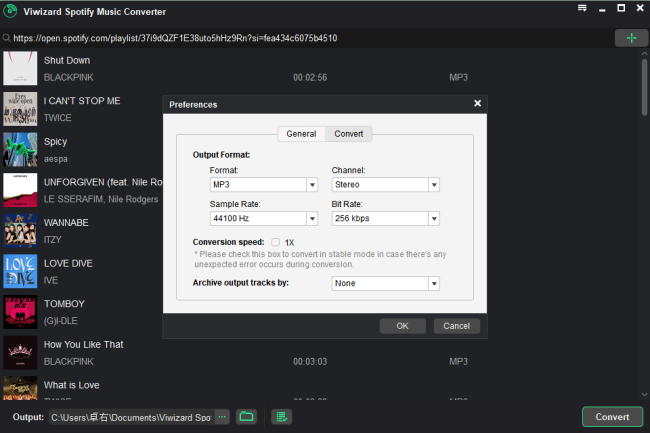 Once you've added those music tracks to ViWizard, you'll need to adjust some format settings here. Click the Menu icon at the top-left to open up Preferences. Choose the Convert tab and select MP3 in the extended menu for Output format. You can also adjust other parameters here such as channel, bit rate and sample rate to make a difference. Don't forget to click OK to save them.
Step 3

Download Spotify Music Songs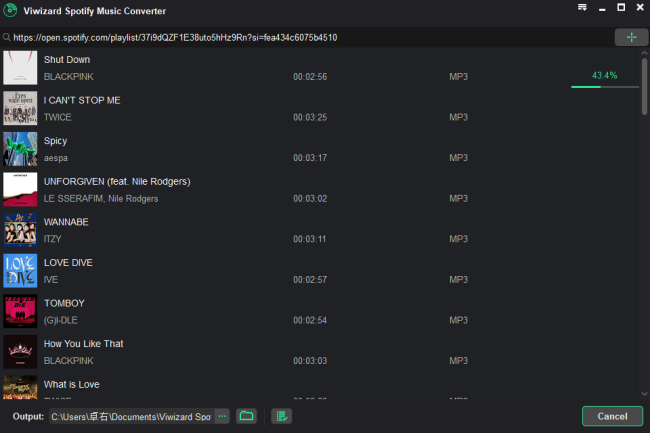 Go ahead to click the Convert button to start the conversion at a 5x speed. Once it's complete you should see the output folder appears on the screen and all the music files are stored on it.
Step 4

Transfer Spotify Music Songs to Your Devices

If you wish to play them beyond your computer, just transfer the actual files to your device storage. To transfer your Spotify Music files to your mobile devices, connect your mobile device to your computer via a portable USB drive and copy & paste them to the storage.