Spotify provides you with a variety of music genre, be it hip hop jazz, rock & roll, pop to mention a few. Its song library holds over 40 million different tracks, all for you! You can easily enjoy your favorite tracks from downloading and installing Spotify software on your Android phone, Windows, iOS, Mac OS and other recognized operating system. You can as well use search engines such as Google sign up and enjoy music online on Spotify Web player. It has to my attention that, in the recent past, a lot of people have encountered problems when signing in or rather logging in to their Spotify accounts.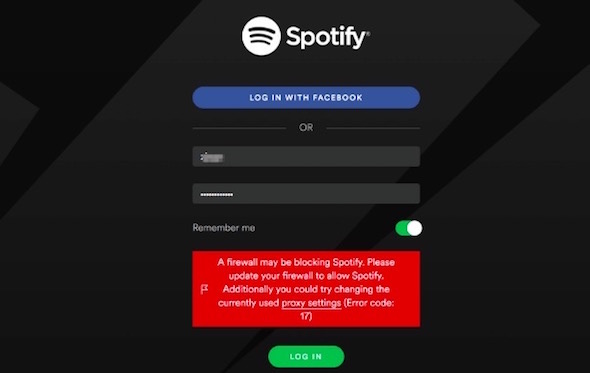 Instead of getting access to your account each time you log in, you get an error code 17 notification on your screen. Relax! Do not hit that screen; trust me it is gonna cost a fortune to fix it. This piece will provide you with clear and precise procedures on how to fix Spotify error code 17.
Before that however we will try to understand what is error code 17, why does it arise and finally how do we get Spotify error code 17 fixed on Mac.
Defining Spotify Error Code 17: What Is It?
Spotify error code 17 is an error that occur when one tries to log in to Spotify. Typically, the error is followed by software crashing. The pop-up notification reads:
"Spotify has encountered a problem and needs to close. We are sorry for the inconvenience."
"Spotify could not be started (Error code 17)."
The popping message is quite annoying; we all agree on that. Do not feel angry anymore. We are here to fix Spotify error code 17 for you.
The Reasons behind the Error Code 17 on Spotify
Understanding the root cause of the error is the beginning to solve it. Well, they are a number of reasons on why you are experiencing this error on Mac. They include:
• Incomplete installation of Spotify software
• Deleted Spotify-related files
• Malware action/infection
Equally, if you login into your account from a different country for more than 14 days you likely to encounter there error code 17. This commonly happens when you are using Spotify free account. A premium or rather paid account less affected by the place of login. You can travel across the world and enjoy your favorite tracks without getting intimidated by the error problem. This however does not guarantee that you will not encounter the problem again.
The Most Common Way to Get Spotify Error Code 17 Solved
Well before going into the depth of solving the predicament, you should try re-running the application. It is the most basic fix for the error code 17. In this case, the problem may be a temporary problem.
Step 1. Close all running software including the Spotify application.
Step 2. Proceed to delete all junk files using a trusted and effective cleanup tool.
Step 3. Then, delete the Spotify software's caches. Press Shift + Command + G, press Shift + Command + G and copy this path to the address bar: ~/Library/Caches/com.spotify.client/. Press Command + A to select everything inside that folder, and then move the items to the Trash. You can empty the trash later.
Step 4. Using antivirus software, scan your Mac to establish whether malicious programs induce the problem.
Step 5. Reboot your Mac and proceed to sign in to your Spotify account.
If unfortunately this does not work, you should proceed to more complicated troubleshooting which is provided as below.
More Possible Solutions to Fix Spotify Error Code 17
1. Change Your Location Settings
This is a solution for people who have been away from their home country for 14 days and are encountering this problem. Since you cannot log in through the software, you will have to use a browser to log in to your account.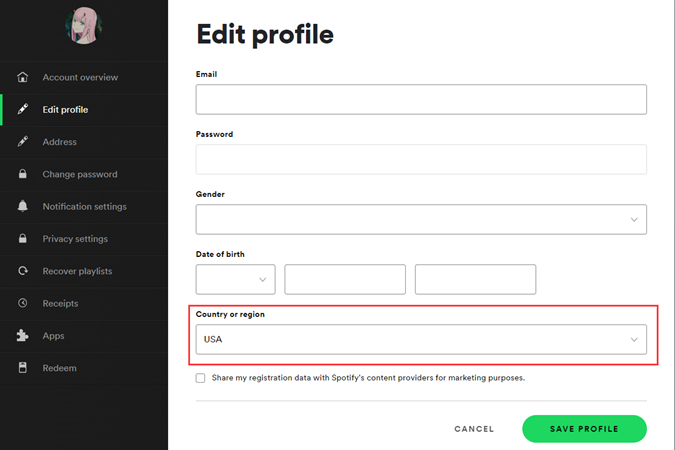 Step 1. Browse www.spotify.com.
Step 2. Click Log In and provide your credentials and proceed to hit the login button.
Step 3. Click Profile in the upper-right corner of your screen, and then select Account. Move on to select edit profile, scroll right down to the country section.
Step 4. Proceed to update your current location the hit the save profile button.
You can now proceed to login with the application. If for some reason that you cannot make changes on your profile, use reliable VPN services. Set to use your home servers so that Spotify does not detect that you are away from home.
2. Allow Spotify Through Your Firewall
If you haven't traveled abroad and still experiencing the error, then you may consider unblocking Spotify on your firewall. So, how do you fix Spotify error code 17 using this method? Read on.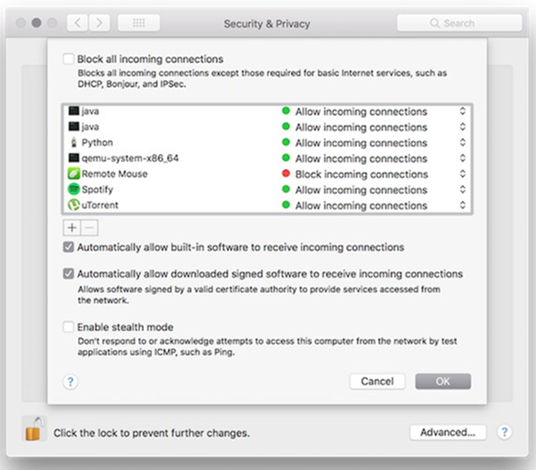 Step 1. Go to the 'Apple' menu, and then choose 'System Preferences'.
Step 2. Scroll to 'Security & Privacy' option, and click on the 'Firewall' button.
Step 3. Click the lock icon at the bottom to make adjustments to your Firewall settings. Provide your admin username and passwords credentials and then press Enter.
Step 4. Click on Firewall Options and proceed to the 'Add Application' option. Here, select Spotify software.
Step 5. Click the Add button, then OK and there you are!
Try to log now in and watch for the error.
3. Uninstall and Reinstall the Spotify Software
If you suspect that the error is caused by incomplete installation or corruption by malicious programs you can opt to uninstall and reinstall the software in question. Simply, go to Finder > Go > Applications, type in Spotify and drag the app to trash. It will automatically uninstall. Proceed to the Spotify site and download a new version of the application and Click the installer to install it. Allow for enough time for complete installation.
You can now log in to Spotify. This will fix Spotify error code 17 problems on your Mac.
Tips: Do not forget to back up your Spotify playlists before uninstalling the app!
To prevent your Spotify playlists from losing during the uninstalling, you are highly suggested to make a safe backup of the tracks before everything. For Premium users of Spotify, you can directly save the songs and playlist offline on your PC or mobile within Spotify app. For Free users, you can use a 3rd-party Spotify downloading software, like ViWizard Spotify Music Downloader to download and convert the protected Spotify songs to MP3 for offline backup.
Conclusion
In conclusion, you should not have to undergo the hustle to re-build your music data and playlist on other streaming audio streaming platforms just because of the error code 17 problem. The above procedures have proved effective in fixing the error for you and therefore ensuring that you continue listening to your favorite tunes on Spotify.
More Spotify Music Tricks

Matt Smith is an amateur writer engaged in ViWizard in 2013. He is a movie lover who write a lot of movie reviews for many websites and blogs.