Spotify provides you with a variety of music genre, be it hip hop jazz, pop to mention a few. As Spotify's library holds over 40 million songs, you can easily find your favorite songs and download them for offline listening on your device. You can as well use Spotify web player to enjoy music online. However, in the recent past, a lot of users have encountered problems when signing in or rather logging in to their Spotify accounts.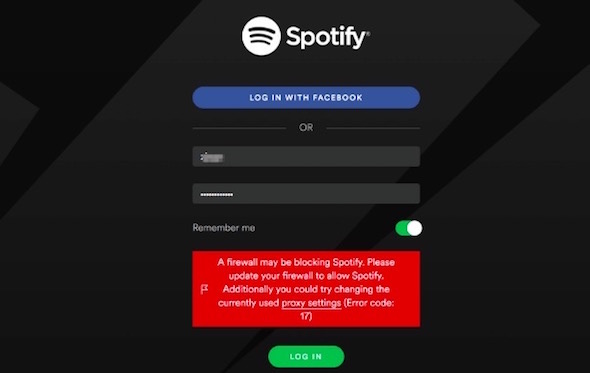 Instead of getting access to your account each time you log in, you get a notifications, displaying Spotify could not be started error code 17, on your screen. Don't hit that screen, or it is gonna cost a fortune to fix it. This piece will provide you with clear and precise procedures on how to fix Spotify error code 17 on Windows and Mac. Before that, however, we will explain what is error code 17 Spotify, as well as, the reasons behind Spotify error code 17.
Part 1. What Is Spotify Error Code 17?
Spotify error code 17 is an error that occurs when one tries logging in Spotify or installing the Spotify client. Typically, the error is followed by software crashing. Then there is a pop-window that reads:
"Spotify has encountered a problem and needs to close. We are sorry for the inconvenience."
"Spotify could not be started (Error code 17)."
Part 2. What Causes Error Code 17 Spotify?
Understanding the root cause of the error is the beginning to solve it. Well, there are a number of reasons on why you are experiencing this error on Mac and Windows. You would encounter this pop-up message in the following situations:
1. Install an incompelete Spotify on your computer.
2. Delete the related files of Spotify by accident.
3. Log into your Spotify account from a different country.
4. Use some malware on your computer to block Spotify.
Part 3. Common Ways to Get Spotify Error 17 Solved
Well, you have know what causes Spotify error 17. Now before going into the depth of solving this error, you can could do the following and run Spotify on your computer. Then check whether there still exists the error. Let's check out now.
1. Change Location Settings on Spotify
Equally, if you log into your account from a different country for more than 14 days, you are likely to encounter this error code 17. Since you cannot use Spotify with your account, you will have to use a browser to log in to your account then change your location settings.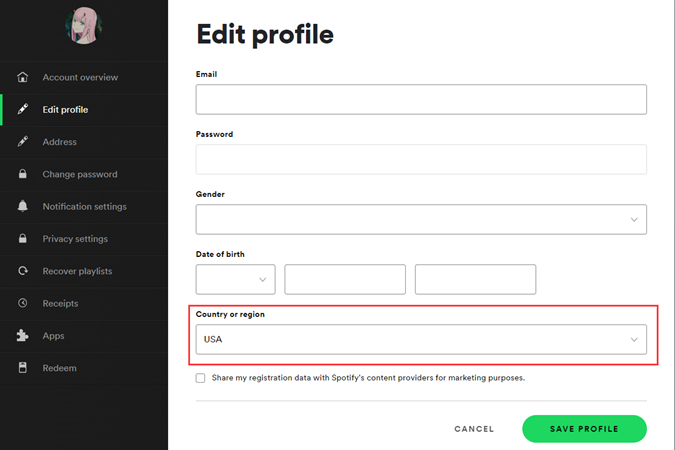 Step 1. Go to www.spotify.com and click Log In to enter your credentials then click the Login button.
Step 2. After successfully logging in your account, click Prefile in the upper-right corner on the screen and select Account.
Step 3. Move on to select Edit Profile at the left side of the screen and scroll down to change the country location.
Step 4. Proceed to update your current location then click the Save Profile button to refresh your location.
Now you can try signing in Spotify with your account again. If for some reason that you cannot make changes on your profile, use a reliable VPN service. Or set to use your home servers so that Spotify doesn't detect that you are away from home.
2. Update Spotify on the Computer
The new version is developed to resolve those problems happening in Spotify. So, you could try to upgrade Spotify to the latest version if you are using an older version on your computer. Go to the Spotify website and choose to install the latest version of Spotify.
Part 4. How to Fix Spotify Error Code 17 Mac
With the above solutions, if you still cannot use Spotify with your account, here are solutions that may help you to solve the issue on Mac.
1. Allow Spotify through Firewall
Chaning Firewall preferences on Mac can prevent unwanted connections from the internet or other networks. So, you may consider unblocking Spotify on your firewall. Go to fix Spotify error code 17 by turning off the firewall in macOS.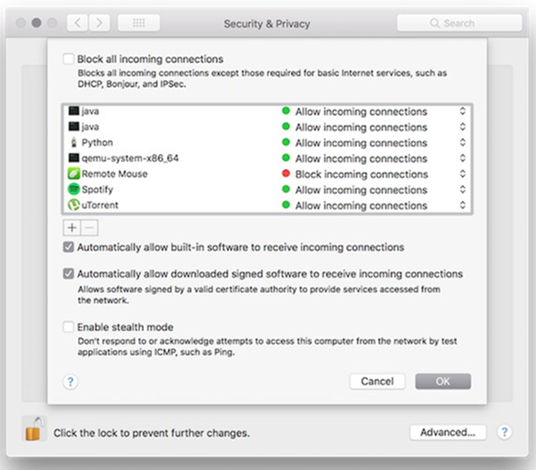 Step 1. Go to choose Apple menu and then choose System Preferences.
Step 2. Scroll to the Security & Privacy option and click on the Firewall button.
Step 3. If the lock at the bottom left of the pane is locked, click it to unlock the preference pane.
Step 4. You'll be asked to provide your account information. Then enter your username and passcode and press Enter.
Step 5. Choose Firewall Options and then click + to add Spotify for allowing incoming connections.
Step 6. Click OK and save your settings. Now try to log in and watch for the error.
2. Uninstall and Reinstall Spotify
If you suspect that the error is caused by incomplete installation or corruption by malicious programs you can opt to uninstall and reinstall the software in question. It's easy to uninstall the Spotify app and then reinstall the app on Mac. Here's how.
Step 1. Simply go to Finder and click Applications in the sidebar of the window.
Step 2. Find the Spotify app and directly drag the app to the trash then it will be deleted.
Step 3. Proceed to the Spotify site and download a new version of the application.
Step 4. Click the installer to install it and allow for enough time for complete installation.
This will resolve this issue on your Mac and then you can now log in to Spotify. Don't forget to back up your Spotify data before uninstalling the app.
3. Clear Cache Files from Spotify
When you have been using Spotify on your Mac for a long time, you could try clearing those temporary cache files from Spotify. It is the most basic fix for the error code 17. To delete Spotify cache, follow the below steps on your Mac.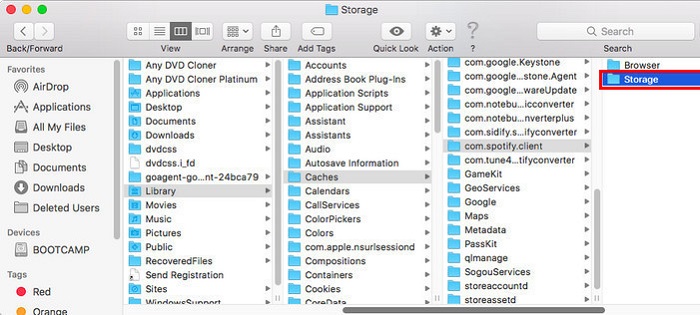 Step 1. Quit the Spotify app and close other running software on your Mac.
Step 2. Open Finder and then select the Go to Finder from the drop-menu of Go.
Step 3. Press Shift + Command + G and copy this path to the address bar: ~/Library/Caches/com.spotify.client/.
Step 4. Press Command + A to select everything inside that folder and then move the items to the Trash.
Part 5. How to Fix Spotify Error Code 17 Windows
For Windows users, you can try using the following solutions to solve error code 17 on Spotify if you is still annoyed by this problem.
1. Tweak Firewall Settings
In the case, you could go to check whether Spotify is blocked by the firewall on your computer. To change the firewall settings, then you can make sure that Spotify can run well on the computer.
Step 1. Click Start and type Control Panel in the search bar at the bottom left corner.
Step 2. After launching Control Panel, choose System and Security and then click Windows Defender Firewall.
Step 3. Choose Allow an app or feature through Windows Defender Firewall in the sidebar of the Windows Defender Firewall.
Step 4. Find Spotify.exe from a collection of applications and tick the corresponding box.
Step 5. Go to save the settings by clicking the OK button and close the window.
2. Delete and Reinstall Spotify
If you install an incomplete Spotify on your computer, you woule meet this problem. So, the best way is to completely delete Spotify from your computer and then try to install it again. Now follow the steps to uninstall this app first and then reinstall it.
Step 1. Launch Control Panel on your computer and click the Uninstall a program below Programs.
Step 2. Find the Spotify app in the list of available applications and right-click it to choose this app.
Step 3. Click Uninstall and make sure that you want to delete this app from your computer. Then it will be soon deleted.
3. Clear Spotify cache files on Windows
It is another method for you to fix this issue soon. That is to clear cache files from Spotify. While you are listening to songs on Spotify, some data will be saved on your computer temporarily.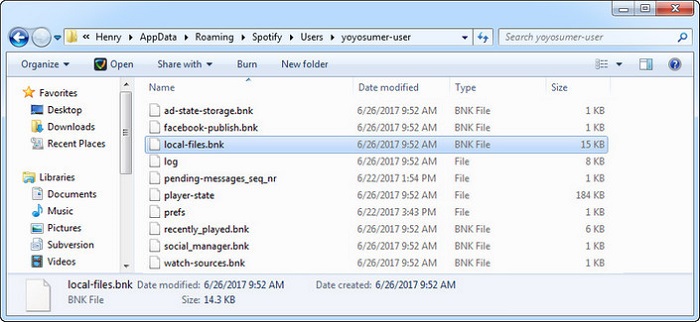 Step 1. Close all running software on your computer including the Spotify app.
Step 2. Select Users and find your username folder then click on AppData.
Step 3. Choose Local and click on Spotify in the Local folder.
Step 4. Delete the storage folder of Spotify and all files will be removed soon.
Part 6. How to Download Spotify Music to Computer
To avoid Spotify deleting downloaded songs when uninstalling this app, you are highly suggested to make a safe back up of your downloads before everything. In fact, Spotify allows you to download cache files for offline listening. Thus, you are not able to store those offline songs to other places for backup even with a premium subscription.
Here we do recommend a third-party tool to you, that us ViWizard Spotify Music Downloader. It is a great tool that can download songs from Spotify and convert them into MP3, AAC, M4B, and more unprotected files for offline backup. No matter you are using a free Spotify account or subscribing to any premium plan, you can use it to download Spotify music to computer.

Key Features of ViWizard Spotify Music Converter
Convert Spotify music to MP3, AAC, M4A, FLAC, WAV, M4B
Download Spotify music and playlist at 5× faster speed
Save Spotify with the original audio quality and ID3 tags
1

Add target songs to the conversion list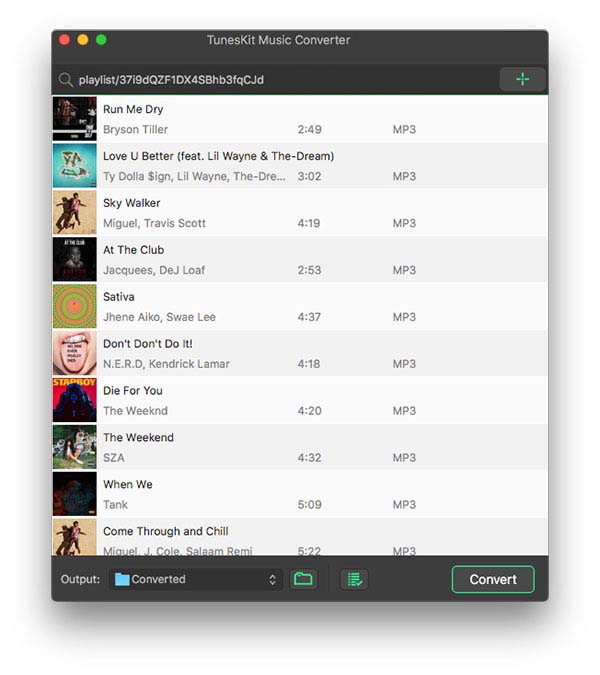 Start by launching ViWizard Music Converter then it will soon load the Spotify app on your computer. Then go to find any song or playlist you want to download in Spotify. For download, just drag those target songs to the main window of the converter. Also, you can paste the track's URL into the search bar for the load.
2

Set the output parameters for Spotify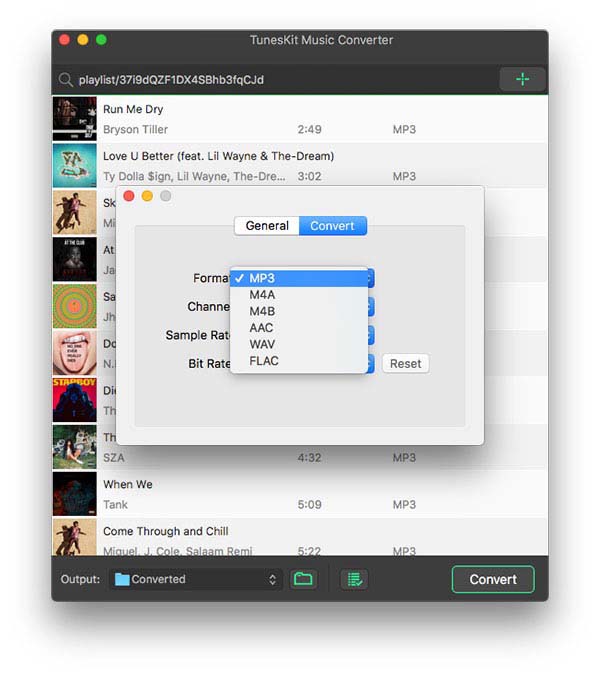 The next step is to set the output audio parameters before download and conversion. Go to menu bar and select the Preferences option from the drop-down menu. In the pop-up window, switch to the Convert tab and then set the bit rate, sample rate, channel, and audio format. There are up to six popular audio formats for you to choose from.
3

Start downloading Spotify music to PC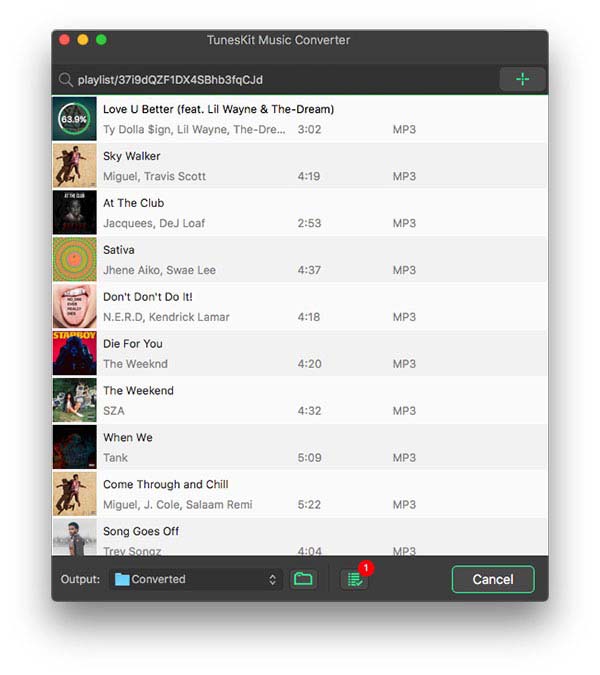 Now start downloading and converting songs from Spotify to your target format. Click the Convert at the bottom of the interface and ViWizard software will download and save your required songs to the computer. After conversion, you can browse all the downloads in the history folder by clicking the Converted icon.
Conclusion
In conclusion, the above procedures have proved effective in fix the error and therefire ensuring that you can continue listening to your favorite tunes from Spotify on your computer. Also, you should not have to undergo the hustle to download your music just because of the Spotify error code 17 problem. With ViWizard Music Converter, you can download all you want from Spotify to the computer for backup.
More Spotify Music Tricks

Matt Smith is an amateur writer engaged in ViWizard in 2013. He is a movie lover who write a lot of movie reviews for many websites and blogs.