I'm receiving this error message exactly: "A firewall may be blocking Spotify. Please update your firewall to allow Spotify. Additionally you could try changing the currently used proxy settings. (Error Code: 30)"
I've found multiple posts on the Spotify Forums with the solution to turn proxy settings to "No Proxy" (which I have) or to change your country. I can't change my country until cancel my premium services expire and it reverts back to the free version. What can I do now?
It's never a good thing when you are in the mood for some favorite tunes from Spotify but only to find the app just can't be accessed. Some Spotify users are running up against Error Code 30 issue and struggling to find the solution to fix it. No matter you're a Premium or Free user, this Spotify proxy error might come up on your device while you're trying to log in to your Spotify account.
In the following parts, we're going to analyze the causes of Spotify Error Code 30 issue and solve it with some solutions.
Causes of Spotify Error Code 30
There're several causes that will lead to Error Code 30, here's a list of them:
1. Spotify Proxy is Activated
Once you activate the proxy within the Spotify app, the error may appear. The easiest way is to set the Proxy option to No Proxy. But to reset this field, you'll need to log in to Spotify first, so you might need to reinstall Spotify to clean the user cache and settings.
2. You're Using Third-Party VPN
When you use the VPN at a system level, the Spotify app might think you're using the app in another country. So you'll need to close your VPN or change the IP address to your home country.
3. You're in A Different Country
Spotify will deny you from logging in to your account when it finds that you're in a different country. You can either change your Country in Spotify or use a VPN that has a server in your home country.
4. Overprotective Firewall
An overprotective firewall will block the Spotify connection. You can fix this by classifying the Spotify app to the white list of the firewall.
Fixes to Spotify Error Code 30
1. Disable Spotify Proxy Server
The most common Error Code 30 cause is that the Spotify Proxy server is accidentally activated. To disable Spotify proxy server:
1. Open Spotify on your computer, then go to settings.
2. Scroll down to Proxy, set the Proxy type to No Proxy.
3. Restart the Spotify app.
2. Change the Account Country
In many cases, if the user moves to another country, then the Spotify app can no longer be accessed. To change account country:
1. Log in to your Spotify account page
2. Click Edit profile
3. Click the Country bar below and select the country you're in from the dropdown list.
4. Click SAVE PROFILE
3. Disable Third-Party VPN
If you're using a third-party VPN, make sure to disable or route the Spotify app every time you log into your Spotify account.
But if you move to another country and don't want to change your account country, you'll have to do it in reverse. Apply the server of your own country in your VPN, then you can log into your Spotify account.
4. Exempt Spotify from Firewall
If you used to set an overprotective Firewall, it may block the Spotify app to connect. You'll need to allow Spotify through the Firewall:
1. Click the search icon on the left of the taskbar on your computer, then type in firewall to enter Firewall settings.
2. Click Allow an app through firewall.
3. Click Change Settings, then scroll down to find Spotify, then allow spotify.exe through both Private and Public connection.
4. Click OK to save settings.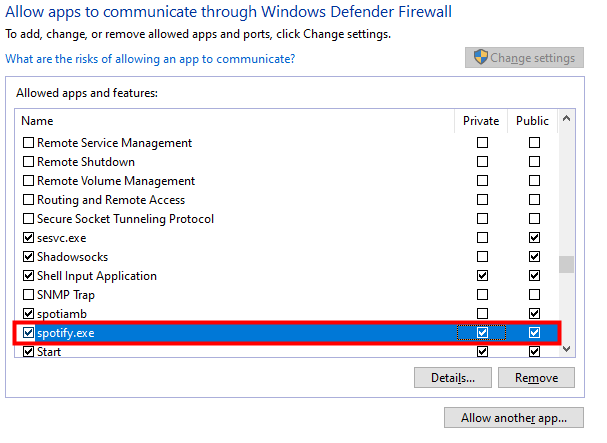 5. Download Spotify Songs for Offline Listening
All the solutions above may work, but you can never predict when the error will come back again. So the best way to play Spotify songs is to go offline. Normally even if you have Spotify Premium, you'll still need the Spotify app to play songs offline, which means you can possibly come across the error code 30 again.
But with ViWizard Spotify Music Converter, you can directly download all your Spotify songs to your computer without Premium. Then you can play these songs on any media player, which means that you don't need the Spotify app any more. So you won't run up against Spotify Error Code 30 issue again.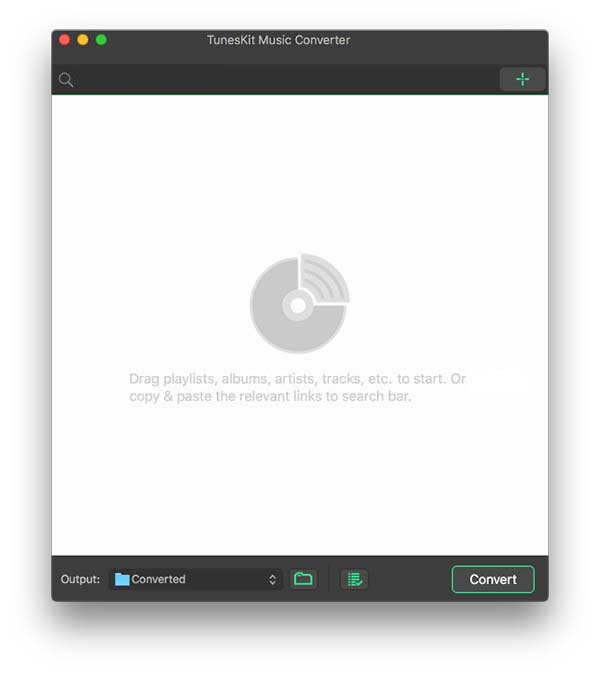 ViWizard Spotify Music Converter is designed to convert Spotify audio files into 6 different formats such as MP3, AAC, M4A, M4B, WAV and FLAC. Almost 100% of the original song quality will be kept after converting process. With 5X faster speed, it only takes few seconds to download each song from Spotify.

ViWizard Spotify Music Converter Key Features
Convert and download Spotify songs to MP3 and other formats
Download any Spotify contents at 5X faster speed
Play Spotify songs offline without Premium
Free from Spotify Error Code 30 issue
Save Spotify with the original audio quality and ID3 tags
1

Launch ViWizard and Import Songs from Spotify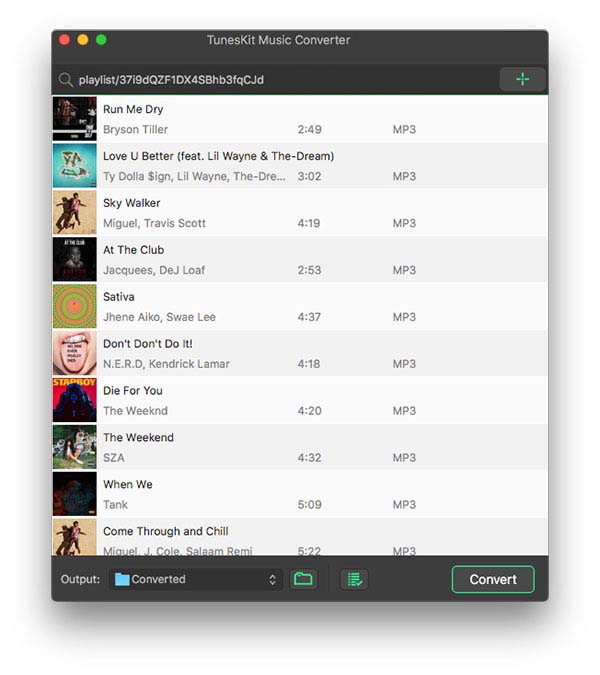 Open ViWizard software and the Spotify will be launched simultaneously. Then drag and drop tracks from Spotify into the ViWizard interface.
2

Set Up Output Parameters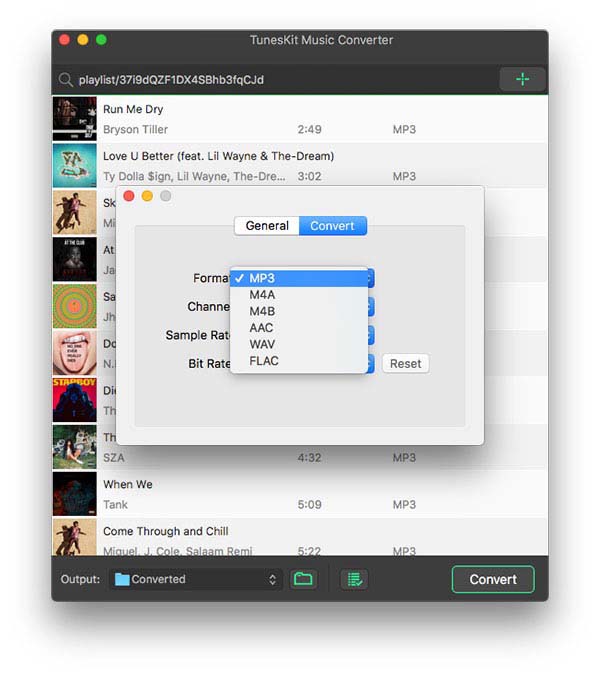 After adding music tracks from Spotify to ViWizard, you can choose the output audio format. There're six options including MP3, M4A, M4B, AAC, WAV and FLAC. And then you can adjust the audio quality by selecting the output channel, bit rate, and sample rate.
3

Start the Conversion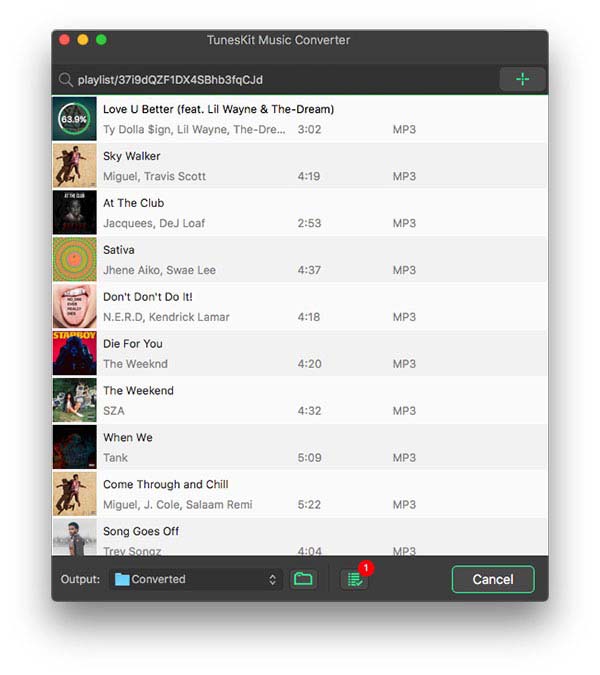 Once all the setting is finished, click the "Convert" button to start loading Spotify music tracks. After the conversion, all the files will be saved to your specified folder. You could browse all the converted songs by clicking "Converted" and navigate to the output folder.
4

Play Spotify Songs Offline without Spotify App

After download Spotify songs to your computer, you can access them on your file manager. And you can play them without the Spotify app on any other media players. That means you won't need to log into Spotify account again and nor you won't see the Error Code 30 again.

More Spotify Tips & Tricks