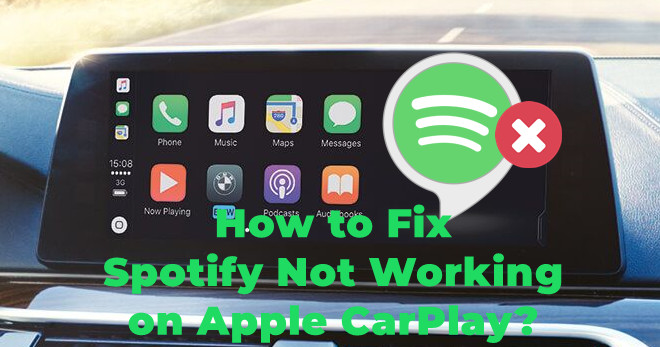 For iOS devices users, the premium service has been convenient all the time - like Apple CarPlay. It's also simple to use various apps on Apple CarPlay with an available Apple ID. With added streaming music services - like Spotify, iOS devices users can listen to the Spotify music contents on the car within a few clicks, well, until issues like Spotify not working on Apple CarPlay comes up.
No worries. We'd collect 12 fixes to troubleshoot this frustrating issue. Now pick up the devices to see how these fixes work.
Part 1. Adjust Settings to Fix Spotify Not Working on Apple CarPlay
There're quite a few mobile devices settings that cause Spotify CarPlay not working or at least to make CarPlay function properly. Please check what you can do with these phone settings.
1. Disable Power Saving Setting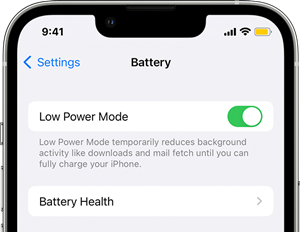 For iOS users, the Low Power Mode makes more senses than the power saving setting. When the Low Power Mode is on, the device will last longer before to be charged, but some features take longer to update or complete than as expected such as the running apps.
As the power saving setting can be one of the causes, it should be disabled to check if this can make the app and device work fine : Settings > Battery > Low Power Mode and switch it off. You can also go to Settings > Control Centre > Customize Controls > Low Power Mode to add this setting to Control Centre for a better control
2. Disable Screen Time Settings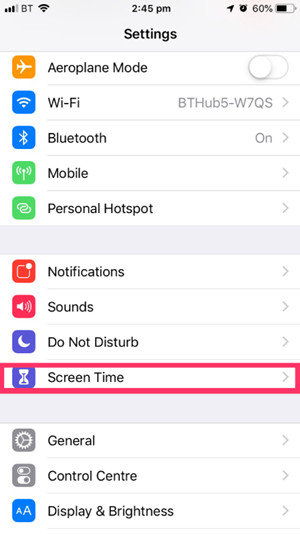 You can change Screen Time settings to allow more time when the CarPlay limits expire or always allow CarPlay: Settings > Screen Time, then switch it off or allow more time or Settings > Screen Time > Always Allowed > CarPlay.
If CarPlay doesn't detect the mobile device either, make sure CarPlay is not restricted: Settings > Time > Content & Privacy Restrictions > Allowed Apps > CarPlay.
3. Enable Apple CarPlay While Locked
If the Screen Time settings are not to prefer, you can also enable CarPlay when the screen times out to make CarPlay function properly: Settings > General > CarPlay > [Your Car's name] > Allow CarPlay While Locked.
4. Reconnect Apple CarPlay
You can also set up CarPlay with the car again: Settings > General > CarPlay > [Your Car's name] > Forget This Car. After that, connect the car with CarPlay again.
5. Make Sure Siri Is On
Depending on the car, you may use Siri to control CarPlay. You should also make sure that Siri is on.
Use this voice command to activate Siri: "Hey, Siri." Or if there's a Home button with the device, press the Home button and make a request. Or if there's no Home button, press the Side button instead until a request is finished.
Tips:Also make sure that setting is enabled for "Hey, Siri.": Settings > Siri & Search > Listen for "Hey Siri".
Part 2. Troubleshoot Spotify Not Working on CarPlay
1. Update the App and Device
You should make sure the app and devices' software are up-to-date if there are available versions.
For the iPhone to update the OS: Settings > Software Update > Download and Install (if available). To update the app, go to the App Store > Search > [App's name] > Update (if available).
2. Reestablish the Connection
If there's no available update, please make sure the device is connected well to the internet or from here to do a simple test with other applications on the device in the same Internet connection.
Or there's a simple instruction to reestablish the Wi-Fi or mobile/cellular connection. For Wi-Fi connection, switch it off and back on after 30 seconds. Also make sure that Wi-Fi and Bluetooth are enabled under Settings > Wi-Fi and Settings > Bluetooth. For mobile/cellular connection, please make sure there's allowance and reboot the device.
3. Make Sure Country or Region Supports CarPlay
When there's a change with the country or region - for example you are on a car trip, the country or region can no longer supported by the CarPlay.
To ensure the car supports CarPlay in the current country or region, please contact the vehicle manufacturer to get more help.
4. Make Sure Support Supports Country or Region
Similar to the CarPlay support, Spotify also has its laws and policies on the country or region. You can change this the country or region to fix this Spotify not working on CarPlay issue, but the situations are different according to its services.
Tips: On Premium, this won't be a possible cause because this is one of the exclusives to the Premium subscription and a change is allowed.
On Premium, the payment method can be changed instead. Just go to Your Account page > Your plan > Update.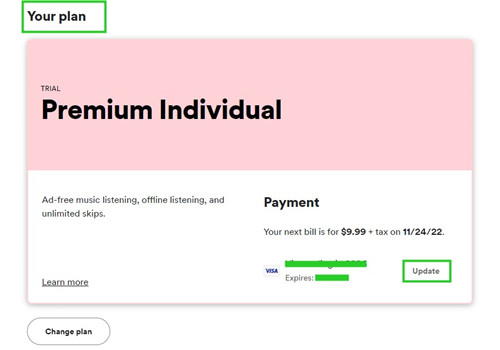 On Free, go to the Account overview > Your Account Profile > Edit profile > Country or region. Once a new country is selected from the dropdown list, click the Save profile to make this change work.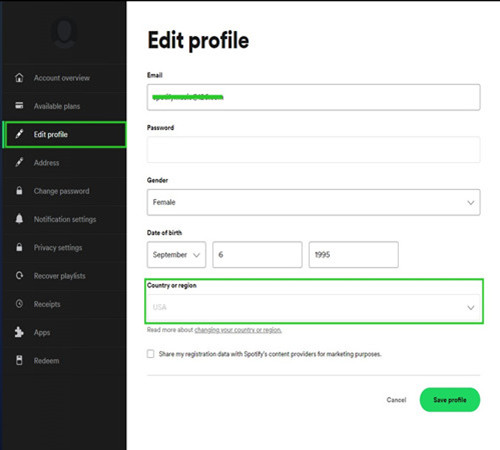 5. Clean Uninstall the App
We understand users have tried a simple app uninstall, but sometimes a clean uninstall can fix most of the issues as hand, including Spotify not working on Apple CarPlay.
6. Reset Infotainment System
To fix this issue, there're some steps to check the settings in the Car infotainment devices (for example: IIRC) or even reset the infotainment system.
Part 3. Best Alternative to Enable Spotify on Apple CarPlay
Some users have reported that even if the issue has been fixed, the whole process is too complicate to finish the task. Then we'd like to introduce the best alternative to enable Spotify on Apple CarPlay without the Spotify not working on CarPlay issue - to keep Spotify music songs as MP3s.
Such Spotify not working on Apple CarPlay issue can't be fixed forever for a particular reason - DRM protection. Even there's an active Premium subscription, the downloaded music is still encoded in DRM, which prevent further use across device, including the car in use.
Thing You'll Need: ViWizard Spotify Music Converter
No worries. ViWizard Spotify Music Converter can help Spotify users to download and convert the music content into MP3s and more supported formats - no Premium subscriptions requires. Once the conversion completes, the DRM is also removed.
Since ViWizard ensure users the full control over the converted music contents, there shouldn't be limits when it comes to transferring them to a USB drive on the device and later Bluetooth or USB connection.

ViWizard Spotify Music Converter Key Features
Convert and download Spotify songs to MP3 and other formats
Download any Spotify contents at 5X faster speed
Play Spotify songs offline without Premium
Free from Spotify Error Code 30 issue
Save Spotify with the original audio quality and ID3 tags
More Spotify Tips & Tricks