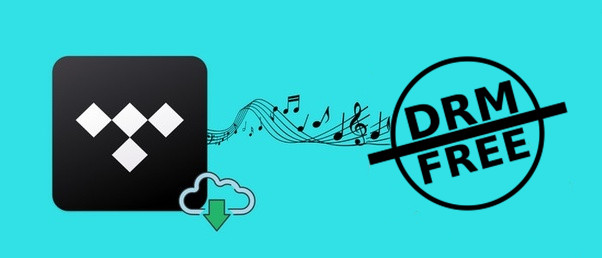 We all love Tidal's top-quality tunes and exclusive content. But there's a catch - DRM, or Digital Rights Management. It's like a lock on your favorite songs.
Tidal, like many other music platforms, uses DRM to protect its music. While it helps artists and Tidal, it's a pain for us. We can't move our music to other devices, and we can't listen offline when we want to. It's frustrating, right? But don't worry, we're here to help you unlock your music.
Part 1.

Can I Download DRM Free Music from Tidal?

"Does Tidal have DRM?" The question of whether Tidal employs Digital Rights Management (DRM) has left many Tidal fans curious. DRM serves as a protective barrier utilized by music streaming platforms like Tidal to safeguard their content. While DRM serves a purpose, Tidal's implementation of DRM can present compatibility limitations. When attempting to transfer your Tidal music collection to unauthorized devices and media players outside of the Tidal ecosystem, you'll encounter restrictions.

However, the availability of DRM removal tools for Tidal music offers a promising solution. Leading Tidal music downloaders integrate specialized DRM-removal features, enabling seamless downloading and conversion simultaneously. With DRM effectively removed, the portability of your Tidal music skyrockets. You gain the freedom to transfer and enjoy your music files on a diverse range of devices, be it smartphones, tablets, or MP3 players.

Removing DRM not only amplifies the portability of your Tidal music but also serves as a safeguard for your cherished collection. This becomes particular crucial if you foresee cancelling your Tidal subscription in the future. By retaining access to the exceptional sound quality (HiFi or MQA) synonymous with Tidal, your music continues to resonate with the same breathtaking clarity and richness as experienced on the Tidal platform.
Part 2.

How to Remove DRM Free Tidal Music [without Subscriptions]

When it comes to effectively removing DRM from Tidal music, ViWizard Tidal Music Converter stands out as the premier solution. It is equipped with a cutting-edge DRM removal function that seamlessly bypasses Tidal's digital rights management restrictions. You can select any Tidal tracks, playlists, albums, artists, and more, all within your reach, whether you're on an active subscription or Tidal's free tier. For DRM-free formats, ViWizard gives you the flexibility to choose the one that best suits your needs. Whether it's MP3, M4A, M4B, WAV, AAC, or FLAC, ViWizard has you covered.

The best part? One of the standout features of ViWizard is its commitment to preserving audio quality. Whether you're a fan of Tidal's HiFi or MQA audio, ViWizard ensures that your tracks sound just as exceptional after DRM removal as they do on the Tidal platform. After using ViWizard to remove DRM from your Tidal music, you can enjoy your tracks offline.

Key Features of ViWizard Tidal Music Converter
Free Trial
Free Trial
* Security verified. 5, 481,347 people have downloaded it.
Download any Tidal content, including songs, albums, playlists, and artists
Support exporting Tidal music to MP3, AAC, FLAC, WAV, M4A, and M4B
Preserve a whole set of ID3 tag information in the downloaded Tidal songs
Handle the conversion of Tidal music up to 5× faster speed and in batch
Step 1

Import Your Tidal Music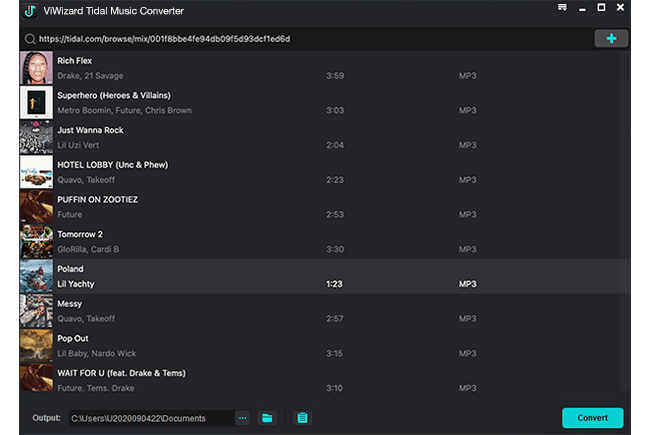 Begin by launching ViWizard Tidal Music Converter. You will be prompted to launch or relaunch the Tidal desktop app. Once the Tidal app is open, navigate to the music tracks you wish to convert to your desired format (e.g., MP3). Add them to ViWizard by simply dragging and dropping them into the ViWizard interface. ViWizard will list all the added music tracks for your convenience.
Step 2

Customize the Output Format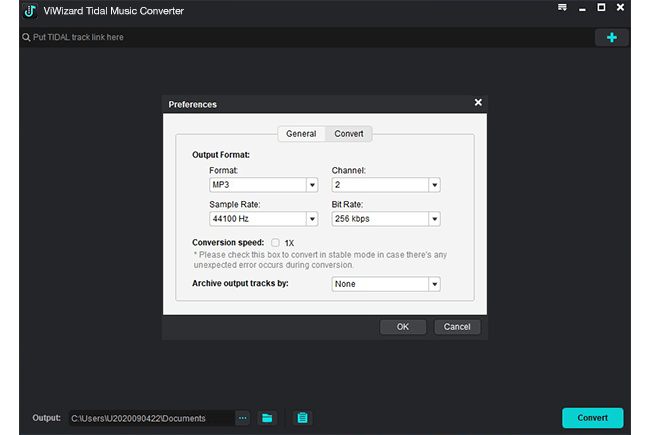 To tailor the output format to your preference, click on the menu icon located at the upper-right corner of the ViWizard interface. This will open the app settings menu. In the menu, select "Preferences" > "Convert," and find the "Output format" option. Beneath "Output format," you can adjust the format to your desired choice, such as MP3. Simply click the downward chevron icon next to "Format" and select "MP3" from the menu. After making the selection, click "OK" to save your changes.
Step 3

Convert and Download Your Tidal Music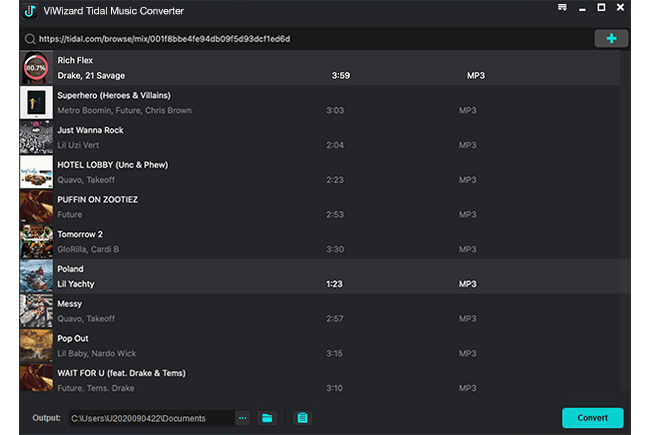 Return to ViWizard's main interface, where you'll find the list of added Tidal music tracks. Ensure that the format is now adjusted to MP3, as per your selection in Step 2. To initiate the conversion process, click on the "Convert" button. Allow ViWizard to work its magic, converting and downloading your Tidal music to the chosen format.
Conclusion
Ready to set your music free? We recommend trying out ViWizard Tidal Music Converter, the ultimate tool for DRM removal. Unlock your Tidal music today and experience the true freedom of music.