Suppose you've downloaded several films from iTunes store for watching in the future, only to find that they're missing from the library. What do you feel? Annoyed, isn't it? Well, many users complained that they had encountered such issue.
"I had a library that contains over 210 movies, but now it only has 167 films. This is the third time that I found my iTunes movies are gone. What's going on?" – Oliver from Apple Discussion
"I just bought a new movie from iTunes yesterday. Today my family wanted to watch it and when we took a look at iTunes library we noticed that 9 movies are missing. What's happened and how to fix the issue?" – ICNbaw from Reddit
If you're also suffering from this, you can keep on reading. In this article, we will get 5 possible ways to help you solve iTunes movies missing problem effortlessly.
Solution 1. Check Your iTunes Account
When you thought your iTunes were disappeared, it may because that you have switched to another Apple account. You can open the iTunes app and go to the "Account" > "View My Account" to check whether it is the account you used to purchased your iTunes movies or TV shows.
If not, you can go to the "Account" > "Sign out" and then "Sign in" to enter the right iTunes Account; If so, you can move to the next solution to fix your issue.
Solution 2. Check Your Hidden Purchases
If your purchased movies not showing up in iTunes library, your purchases may merely been hidden. You can have a check and follow the quick steps below to unhide your purchases.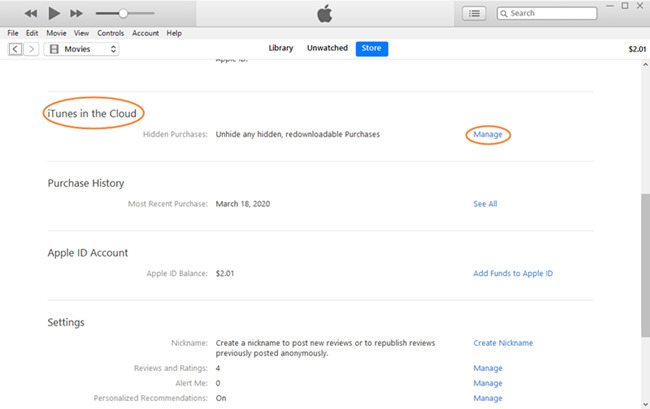 Step 1. Open iTunes application on the computer and sign in with the correct Apple ID and passcode.
Step 2. Choose Store and go to the "Account" > "View My Account". Enter the passcode again if prompted.
Step 3. Scroll down to find the "iTunes in the Cloud" section and hit the "Manage" option. Choose the "Movies" content type and find the films you want to restore by clicking the "Unhide" button.
Solution 3. Change iTunes Country Setting
It seems that different countries may have different licensing terms and different licensing terms may means different versions of a film, or even blocked from viewing in specific countries. For example, if you bought a movie in Australia, and when you moved to Canada, you might not stream the movie.
To fix the movies removed from iTunes, you can change the country setting back to the original one that you purchased the movies, or change licensing from regions to worldwide.
Solution 4. Re-download Missing iTunes Movies
Most iTunes movies, TV shows or other digital content are provided by the 3rd-party publishers. If the agreement between Apple and the publishers have changed or they just cease the cooperation, your movies will be removed from the store, even if you've already bought them. If this is not the case, you can then find all your disappeared iTunes movies by re-downloading them.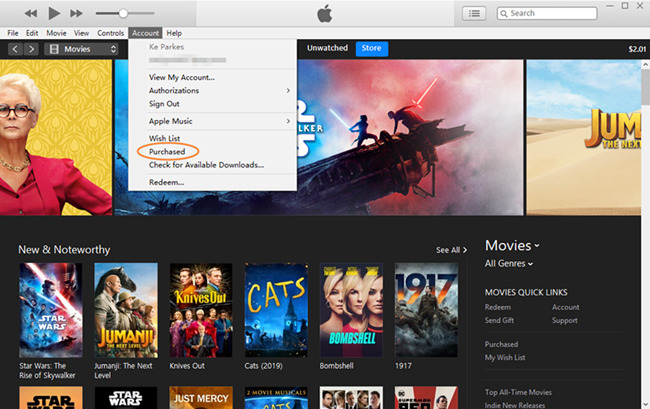 Step 1. Open iTunes on your PC or Mac computer. Sign in iTunes with correct Apple ID and passcode.
Step 2. Choose the "Movies" or "TV Shows" tab on the left and then go to the "Account" > "Purchased". Find the films or TV episodes that are not in the library and click the "Download" icon to download them again.
Solution 5. Contact iTunes Support Team
After trying all the methods above but the problem still exists, you can get in touch with iTunes Support team and report the problem to them. They may help you solve the issue if they can, but they may not refund you, according to many users.
Extra Tip: Save Your Purchased iTunes Movies to External Hard Drive
If you purchase a film on iTunes, do you really own it? Many people may wonder this question. Actually, it's not. You are not able to own it forever and iTunes movies missing problem may always occur. To avoid this issue happening again, why not download the purchased iTunes movies and save them to your external hard drive?
It's not a difficult task, even if all iTunes videos are encrypted with Apple's DRM FairPlay technology. TunesKit M4V Converter is a powerful iTunes DRM removal tool that can help users get rid of the DRM protection and convert iTunes M4V videos to MP4 or other common formats with lossless quality. Therefore, you can easily transfer them to your external hard drive and keep forever, and they will never disappear unless you delete them.

Why Choose TunesKit M4V Converter?
Convert iTunes M4V videos to MP4, MOV, AVI, etc.
Able to convert iTunes movie purchases and rentals
Keep lossless quality while converting at 30X speed
Easy to use program with friendly UI
Quick steps to keep iTunes movies forever with TunesKit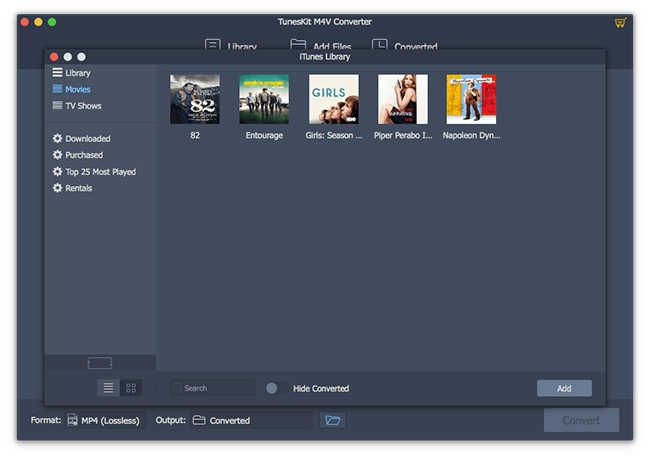 Step 1. Download and install TunesKit M4V Converter on your computer and add the movies from iTunes library by clicking the "Library" button or dragging-and-dropping.
Step 2. Choose output audio tracks, subtitles for each film. Click the "Format" button to select an output format such as "MP4 (Lossless)".
Step 3. Click the "Convert" button to start the conversion. When it's done, you can locate all of them on the local folder. Then transfer the DRM-free iTunes movies to your external driver as you like.
More iTunes Tips You May Like

Dan Miners is the PR manager of TunesKit since 2012. He is in charge of all public relations, advertising, affiliate, etc for TunesKit.