If you visit some forums about iTunes, you may easily find that many users have wondered why movies won't download on iTunes, for example:
I bought a hot movie on iTunes Store and when I started to download it, it got stuck at 1KB. I thought it was the bandwidth problem and then I tried downloading music, but it went smoothly. I've downloaded a few movies before and had no such problem. Why is it happened? – Coucousuisla from Apple Discussion
I rented an iTunes movie but it won't download. When I began to rent it again and it just said the movie was already been rented and could not download. What can I do now? – Norb from Apple Discussion
I purchased a movie on iTunes but it won't download. I checked for available downloads, it showed an error – "Unable to check for available downloads". How can I fix it? – Mars from Quora
To help users get out of the trouble, here we are going to investigate some possible causes to iTunes movie won't download issue. Once you've figure out what the problem is, you can then fix it by yourself.
1. Internet Connectivity Issue
Why won't my iTunes movie download? The first and foremost reason is that your Internet connection is too slow or iTunes has lost its connection to the Internet.
Solutions: Check your internet connectivity and make sure you have a reliable and stable connection to the Internet.
Actions: Download some files from other website to test whether it can download successfully. If there is a problem, you can restart your router and try it again. If it still failed, contact your Internet service provider or ask help from a professional.
2. iTunes Store Issues
If there is nothing wrong with your Internet connectivity after testing, your iTunes movie download not working problem might be caused by the iTunes app itself. The iTunes application is occasionally unavailable or there are some bugs appeared.
Solutions: Update your iTunes to the latest version or reinstall the iTunes.
Actions: 1) Open iTunes on the PC computer and go to the Help > Check for Update to complete the update if there is an available update.
2) Uninstall your current iTunes app first. Download a new iTunes app from Apple official site and install it on your computer.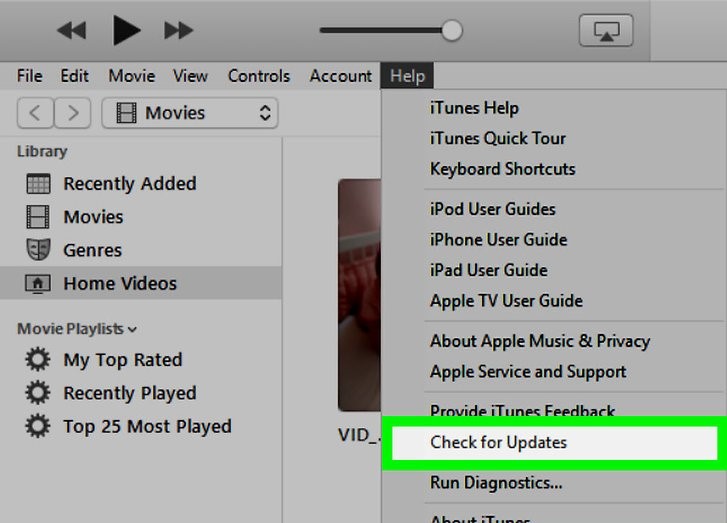 3. Apple Account Issue
As we know, you need to use your Apple account to authorize the computer and then get access to the iTunes Store before purchasing some media content. If your Apple account is somewhat not working, iTunes won't download movie problem will also occur.
Solutions: Make sure your Apple account can work normally and it has freedom to authorize this computer.
Actions: 1) Re-Login your Apple Account. First click the Account > Sign out; the go to the Account > Sign in to relog in iTunes with correct username and passcode.
2) Re-authorize this computer. Click the Account > Authorizations > Deauthorize This Computer; and again click on Account > Authorizations > Authorize This Computer.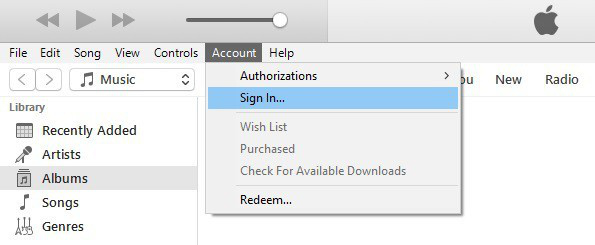 4. Third-Party Security App Issue
Sometimes if iTunes video won't download, it may be blocked by another application installed on your computer, such as third-party security program, anti-virus, anti-malware, or a firewall, etc.
Solutions: Check your firewall or other security software on your computer.
Actions: Quit your third-party security app and firewall or even uninstall them while you're downloading the iTunes movies.
5. Other Possible Issues
Of course, there are some other possible reasons that may cause your iTunes movie rental won't download such as you don't have enough free space for downloading on your computer, someone else has already downloaded and watched the movie, or your computer has some system errors, etc.
Solutions: Check your free space and check the movie has not been downloaded, restart your computer.
Actions: 1) Open your computer and go to its computer disk to see whether it has sufficient space for downloading and watching the film.
2) Open iTunes on the computer and select the Library tab on the top; Choose Movies option and then click Downloaded on the left to see whether the movie you want to download is already there.
3) Power off your computer and then power it on again.
Extra Tip: Watch iTunes Movies Offline on Any Device
Now you may understand why iTunes movie won't download and how to fix it after reading the content above. Hope your problem can be easily solved by using these solutions. As you may know, even if you've downloaded the movies successfully from iTunes Store, you can still watch them on iTunes or iOS devices only. What if you want to view iTunes movies on Android devices or other media player?
Here TunesKit M4V Converter is here to help you solve the problem. With the program, you can now easily watch any iTunes movies without Internet connection on any device or player as you like. It's very amazing, isn't?

How TunesKit M4V Converter Works
Remove the DRM from iTunes movies losslessly
Convert iTunes movies from M4V to MP4
Save the converted iTunes movies on the computer
Watch iTunes videos on any player or transfer to any device

Dan Miners is the PR manager of TunesKit since 2012. He is in charge of all public relations, advertising, affiliate, etc for TunesKit.