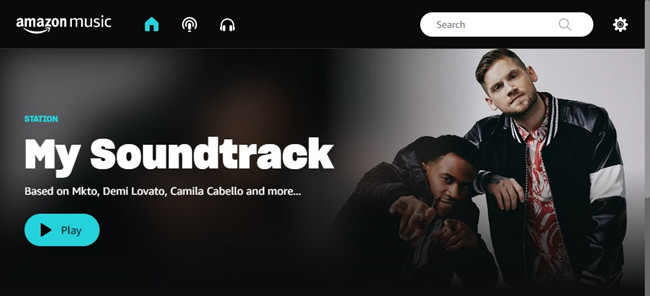 If you're an Amazon Music user, you must want to know about the essential features to use while enjoying your favorite music. What you can't miss is the My Soundtrack station - a place you'll discover as many as songs you want for your music library. If you've never heard of it, let's dive deep into what it is and how it works for you. If you are using it already, we'll tell how you can change it.
Part 1. My Soundtrack on Amazon Music - What You Need to Know
Amazon Music's My Soundtrack - what is it?
My Soundtrack is a curated station for all Amazon Music users on both the desktop and mobile experience. What it includes is the songs you love - all based on your likes, listens, and genre preferences.
Amazon Music's My Soundtrack - how does it work?
For both Prime and Unlimited subscribers, the My Soundtrack is the perfect place for you to tell Amazon Music your music preferences. Since you can vote either "thumbs-up" and "thumbs-down" for every song there and you'll get your own "My Likes" playlist on Amazon Music, which is one of the essential playlists you'll use. Of course, you will find songs you wish to add to your library or playlist.
That way, your music recommendations will be improved, and now your music tastes do matter and affect more when you're listening to music from Amazon, especially if you have the Prime membership. When you're frustrated with the shuffle-only mode on Prime Music, you must have the All-Access Playlists and My Soundtrack station to get some inspirations.
Part 2. How to Access My Soundtrack Station on Amazon Music
If the My Soundtrack station starts to make sense, we'd like to tell where you can find it on the platform you're usings, e.g., Amazon Music app for Windows, Mac, iOS, Android and even the web.
How to find My Soundtrack on desktop:
You can access the My Soundtrack station easily under the Station section.
Step 1. Open the Amazon Music desktop app. Or you should open the Amazon Music web player to log in.
Step 2. Click the Search bar in the upper-right.
Step 3. Amazon Music lets you browse genres and contents. Scroll to the Station section under Listen Your Way tab.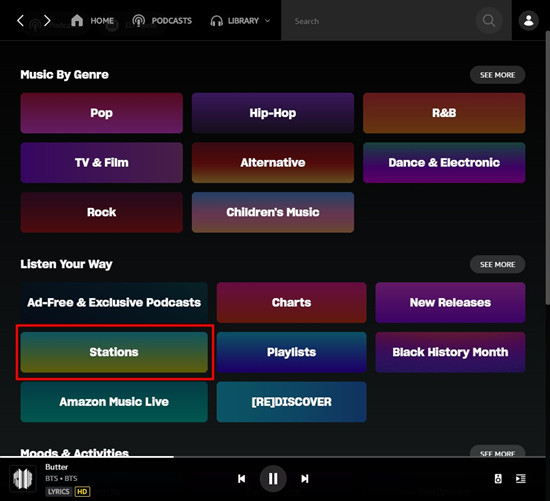 Step 4. Find the My Soundtrack station under Popular Stations tab.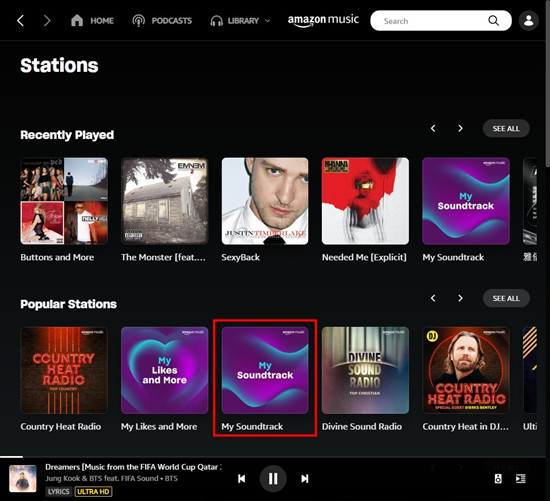 Or you can find it through the search bar in the desktop app:
Step 1. In the upper right of the Amazon Music app, click the Search bar.
Step 2. Type "My Soundtrack" and hit enter.
Step 3. Find the "My Soundtrack" station that shows up under the Top Results or the Stations section.
Step 4. Click the Play button and enjoy!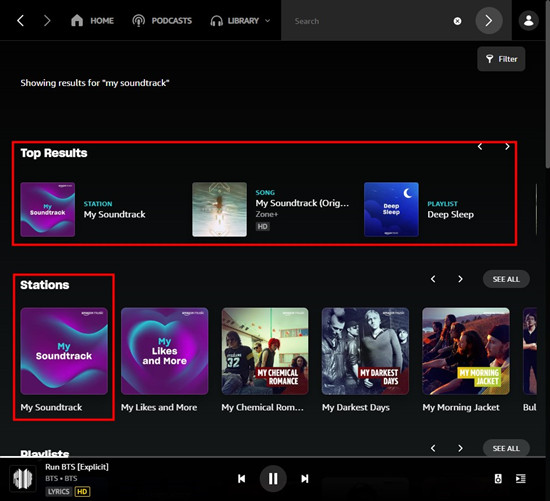 How to find My Soundtrack on mobile:
Step 1. Open the Amazon Music mobile app.
Step 2. Head to the LIBRARY tab.
Step 3. Scroll to Made for You and under it you see the My Soundtrack station.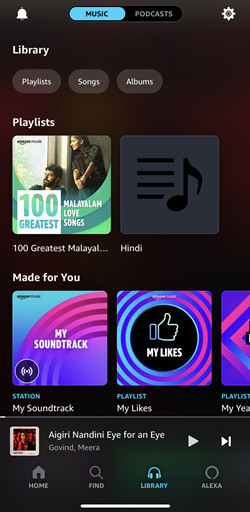 Or you can find it by using the in-app search tool:
Step 1. In the Amazon Music mobile app, choose the Find tab at the bottom of the screen.
Step 2. Tap the Search bar from the top and type "My Soundtrack" and hit enter.
Step 3. Find the "My Soundtrack" station under Top results.
If you want to know how to change your soundtrack on Amazon Music, please check another post:
Bonus Tip: How to Listen to On-Demand Amazon Music Contents
It's been a while but you must want a way to listen to on-demand music on Amazon Music. Then you must try to use a powerful third-party tool to download the desired contents from Amazon Music for offline play. That way, you can listen to any music tracks you want even outside the Amazon Music platform, since you're playing the DRM-free music files. All you need is a Amazon Music downloader called ViWizard Amazon Music Converter.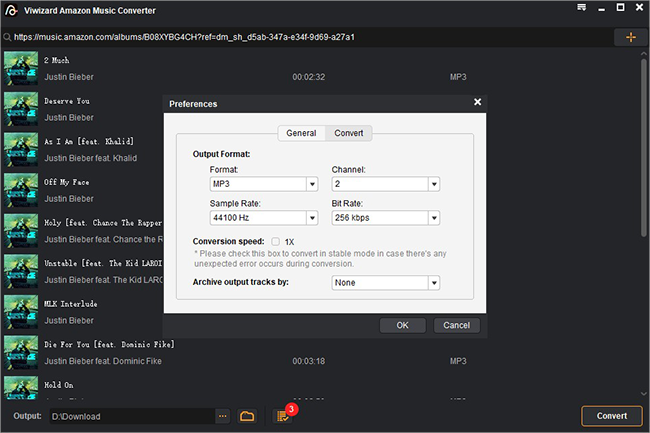 ViWizard Amazon Music Converter is best for Prime members if you wish to download any contents you want from Amazon with no limits. If you're Unlimited subscribers who wish to keep your favorite songs even you lose your subscription, you should also try it. ViWizard can help crack the DRM protection encoded in Amazon Music downloads and convert them in 6 audio file formats: MP3, M4A, M4B, WAV, AAC and FLAC. Then even with the most common media player you're able to listen to the music files.

Key Features of ViWizard Amazon Music Converter
Download songs from Amazon Music Prime, Unlimited, and HD Music
Convert Amazon Music songs to MP3, AAC, M4A, M4B, FLAC, and WAV
Retain the original ID3 tags and lossless audio quality of Amazon Music
Support customizing the output audio parameters for Amazon Music