I am receiving periodically messages when I try to access Amazon Music through my Sonos system that I need to go to Amazon.music.com and supply missing information. I go to the website and there is absolutely no missing information. I delete and install Amazon music in my music services and it usually works, but the next day I can not access Amazon Music. Is this a system issue?
-- From Sonos Community
Like Amazon Echo, Sonos is one of the well-known and top brands of smart speakers. Sonos makes it much easier to stream your favorite songs from streaming services like Spotify, Amazon Music, Apple Music, and more. It is undoubtedly a bonus to enjoy Amazon Music through Sonos at home. However, the connection between Amazon Music and Sonos is not as seamless and smooth as it should be. Despite all of the Amazon Music features that are available on Sonos speakers, all of us would become reluctant when Sonos Amazon Music not working. If you are experiencing this issue, you're not alone. Here we are going to solve this issue in 8 workarounds.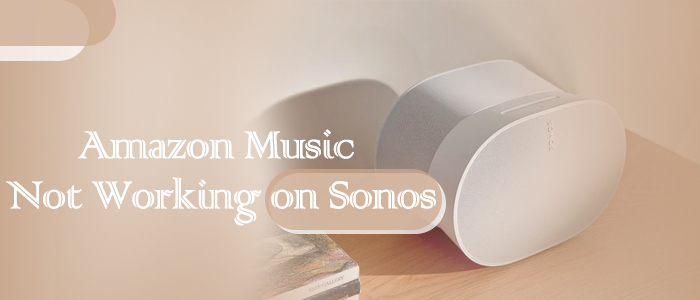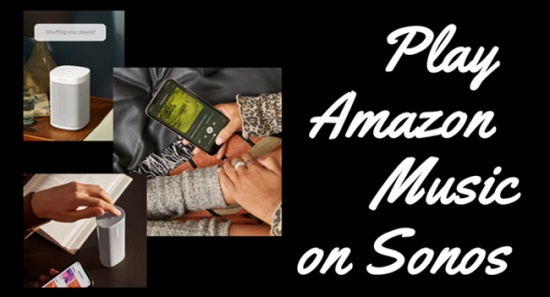 Part 1.

Why Sonos Amazon Music Not Working Occurs?

First,of all we must identify the problem areas. Let's kick off with the causes to dispel your confusion, which is better to find the targeted solutions.
1. Region Restrictions
When Sonos Amazon Music not working happens, the first thing you should check is your region. Amazon Music can be added to Sonos in Australia, France, Germany, India, Italy, Japan, Mexico, Spain, Switzerland, Austria, Brazil, Canada, the UK, and the US. If you are not included in these countries, it is impossible to get Amazon Music on Sonos unless you choose an Amazon Music downloader like ViWizard.
2. Subscription Restrictions
I would suggest going to see what plan you're subscribing to and which device the plan is tied to on Your Amazon Music Settings. If you have a regular Prime membership or an Unlimited Individual plan, it allows for streaming on one device at a time. So when playing Amazon Music on another device, Amazon Music can not work on Sonos.
3. Alexa Sonos Skills
If you opt to use Alexa to play Amazon Music but only to find Alexa and Amazon Music on Sonos not working, the issue might be the Alexa Sonos skills. Have you set up Alexa Sonos skills before? If not, then you can not play Amazon Music on Sonos using Alexa.
4. Connectivity Issues
Amazon Music Sonos not working, the issue might be the Sonos device itself. Sometimes, the Sonos device fails to recognize Amazon Music due to the two devices' range or wireless connection. Therefore, turn on the Bluetooth on both devices, put the two devices in range, and ensure they are connected to the same WiFi.
5. App Glitches
On rare occasions, Amazon Music won't play on Sonos due to the buggy Amazon Music app or the Sonos app. Additionally, the Amazon Music app has been reported for various issues.
Part 2.

How to Fix Amazon Music Not Working on Sonos

After understanding why Amazon Music won't work on Sonos, the next is to exactly troubleshoot this issue. Based on the causes above, there are a few things you can try to fix it.
1. Stop Playing Amazon Music on Another Device
According to some users, they received an error message when using Amazon Music on Sonos: "Amazon music is playing on another device. Pause playback if you want to stream on this device." This indicates that you are using another device to play Amazon Music. If you want to use Amazon Music with multiple devices, you'd need Family Plan. So to fix Amazon Music on Sonos not working, either upgrade to Amazon Music Unlimited Family Plan or stop Amazon Music on another device to enable Sonos to work well with Amazon Music.
2. Set Up for Enabling Alexa Sonos Skills
The Amazon Music app has a built-in voice assistant called Alexa. You can ask Alexa to start playing your songs or control the playback. To set up Alexa Sonos skills for running Amazon Music on Sonos without issue, just perform the following steps.
Step 1. Open the Sonos app on your mobile device.
Step 2. From the bottom menu, go to the Settings tab and tap Services & Voice > Add a Voice Assistant > Amazon Alexa > Add Amazon Alexa.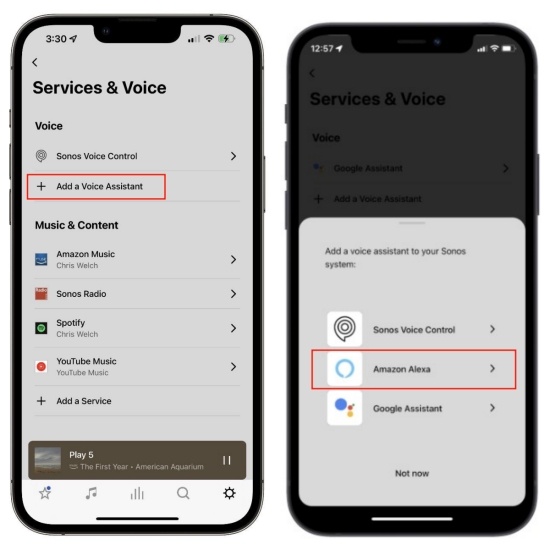 Step 3. Launch the Alexa app and tap Enable to begin the setup process. And it will ask you to log into your Sonos account.
Step 4. After confirming your account information, tap Discover to find your Sonos devices, or say "Alexa, discover my devices".
Step 5. Now, you are allowed to play music on Sonos by referring to the room names in your Sonos app. For example, if you have a Sonos room called "Kitchen," request "Alexa, play music in the Kitchen".
3. Set Amazon Music as Default Device
After adding Amazon Alexa as a voice assistant, another thing you need to ensure is the default service. Setting Amazon Music as the default streaming service can run Amazon Music spontaneously next time on Sonos. Moreover, every time you called Alexa to play music on Sonos, it will choose songs from Amazon Music.
Step 1. Open the Sonos app for iOS or Android.
Step 2. From the Settings tab, go into Services & Voice.
Step 3. Under Voice, select Sonos Voice Control.
Step 4. Tap the Default Service option and choose Amazon Music.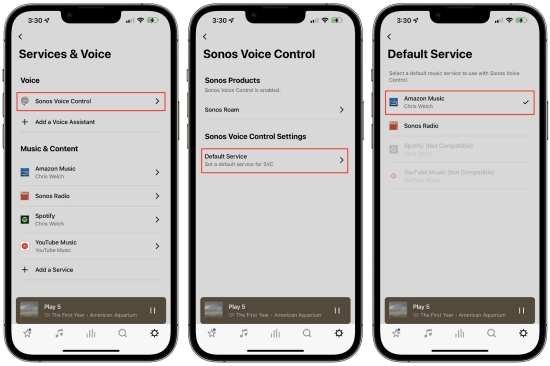 Now, Amazon Music works with Sonos seamlessly.
4. Reauthorize Sonos and Amazon Music
As stated, when Sonos can't recognize Amazon Music, Amazon Music not playing on Sonos happens. Thankfully, disconnecting Amazon Music and Sonos and then reconnecting the two is useful to fix this issue.
Step 1. Go to Sonos Settings and then Services & Voice.
Step 2. Select Amazon Music you previously added and authorized.
Step 3. Tap Re-Authorize Account and follow its instructions.
Wait for 5-10 minutes and try to initiate the playback to see if the Amazon Music not working on Sonos issue persists.
5. Update the Sonos and Amazon Music Apps
After testing the above solutions, you've got the best settings for utilizing Amazon Music on Sonos. If the Amazon Music not working on Sonos can't be solved, it shows the issue lies on the apps or the Sonos devices. Hence, you'd better check the app version. The latest app will give you a smooth experience with bugs fixed. Crucially, the latest Amazon Music is fully compatible with Sonos devices.
Open App Store or Google Play Store to search for Amazon Music and Sonos. If the updated version is available, tap the Update button to get the latest version of Amazon Music and Sonos.
6. Uninstall the Amazon Music App
If updating is not useful and Sonos Amazon Music not working still exists to baffle you, another quickest way to get rid of it is removing the buggy app. Generally, Amazon Music is a buggy program, and uninstalling it can fix almost every issue. So tap the Amazon Music icon on your Home page and select Uninstall or Remove App to delete it from your device. After that, reinstall it from App Store or Play Store. These steps work for a lot of users.
7. Reboot the Sonos Device
The possibility of Sonos device issues can not be ruled out. Some users said Amazon Music functions well on other devices except Sonos. This time, unplug your Sonos speaker and then plug it in again to connect Amazon Music for playing.
Part 3.

How to Play Amazon Music on Sonos without Errors

Just take a look at the guide to put the above solutions to the test. No matter whether the above troubleshooting tips work for you, here we'd like to give an Amazon Prime Music Sonos workaround as well as the best way to stream Amazon Music on Sonos free of issues. That is to download Amazon Music as local files and then upload it to Sonos for playing.

According to the above reasons and solutions, Amazon Music not working on Sonos is principally because of Amazon Music and Sonos connectivity and the Amazon Music app. So if there is a way to help you play Amazon Music on Sonos without a strong connection, without authorization, and without Amazon Music, would you like to try it?

ViWizard Amazon Music Converter is designed for Amazon Music users to get rid of issues from Amazon Music and download songs from Amazon Music to MP3, AAC, WAV, FLAC, M4A, and M4B. Adopting an advanced identification technology, the lossless quality will be kept and the ID3 tags can not be lost. With this smart tool, all Amazon Music tracks can be saved to your computer locally. Put another way, you are able to get ownership of Amazon Music and play them on Sonos or any other device for playing.

Key Features of ViWizard Amazon Music Converter
Free Trial
Free Trial
* Security verified. 5, 481,347 people have downloaded it.
Download songs from Amazon Music Prime, Unlimited, and HD Music
Convert Amazon Music songs to MP3, AAC, M4A, M4B, FLAC, and WAV
Retain the original ID3 tags and lossless audio quality of Amazon Music
Support customizing the output audio parameters for Amazon Music
Step 1

Select and Add Amazon Music to Tunelf

Choose the correct version of ViWizard Amazon Music Converter from above and download it. Please also make sure a pre-installed Amazon Music desktop app is available on your computer. Launch ViWizard Amazon Music Converter and it will open the Amazon Music app. On Amazon Music, select and add tracks to ViWizard by dragging and dropping. You can also copy the URL link of a song or playlist and paste it on ViWizard's search bar to upload content you'd like to stream on Sonos.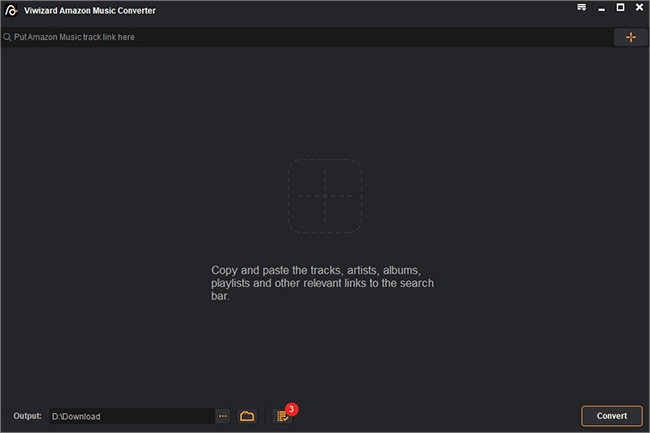 Step 2

Tune the Output Formats and Parameters

Now all selected songs appear on the main screen. ViWizard encourages you to customize your preferences. Click the 3-line icon in the upper-right corner and select Preferences. On the new window, click Convert to check all the parameters you can set here, like the output format, channel, sample rate, and bit rate. To upload Amazon Music on Sonos for listening, just leave the default MP3 format. Before exiting the window, check the output format and other output audio parameters again and click the OK button to save the settings.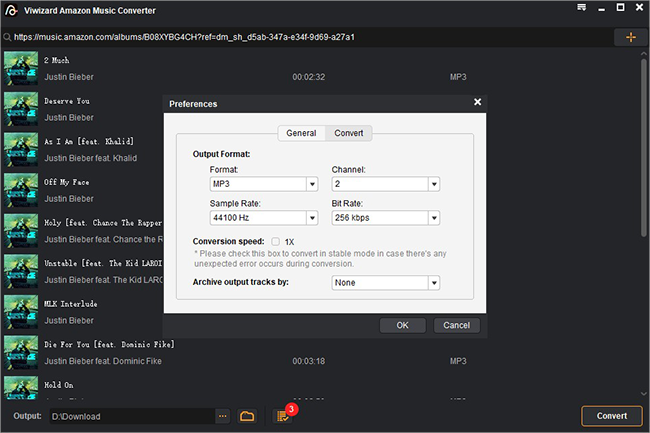 Step 3

Convert and Download Amazon MP3 Music

There is an output path at the bottom of the screen, which shows where the output files will be saved after the conversion, you can also change it according to your preferences. Now click the Convert button, and the Amazon Music tracks will be downloaded and converted at a 5x super faster speed. A few moments later, you should have got Amazon Music local files. You can go to the Converted history list to browse all the downloaded MP3s or locate them in your local folder.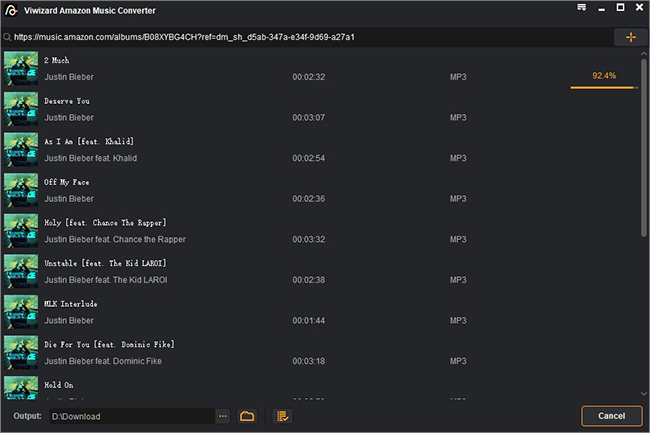 Step 4

Upload Amazon Music to Sonos

After locating Amazon Music local files, launch the Sonos app on your computer. From the Manage menu, select Music Library Settings. Click + on Mac or Add on Window and select My Music folder to add converted Amazon Music MP3 files. After uploading, pick any song to start playing without Amazon Music Sonos issues.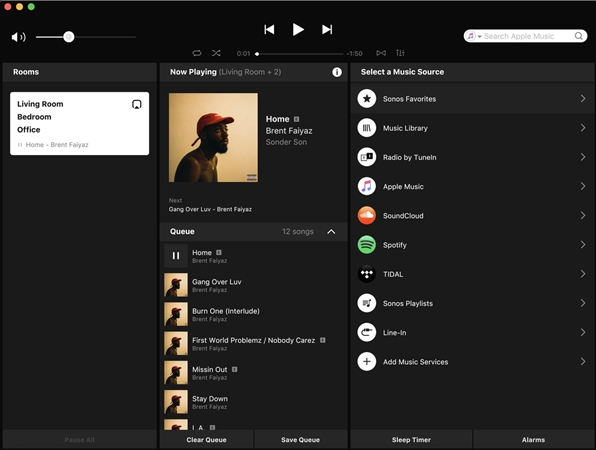 Conclusion
Amazon Music and Sonos work together to give you a better experience at home. If you are frustrated about Sonos Amazon Music not working, then the above 7 tips and workaround are feasible. No matter what type of issues you encounter when streaming Amazon Music, remember ViWizard Amazon Music Converter has the ability to avoid bugs and errors caused by the Amazon Music app and reach a smoother experience.