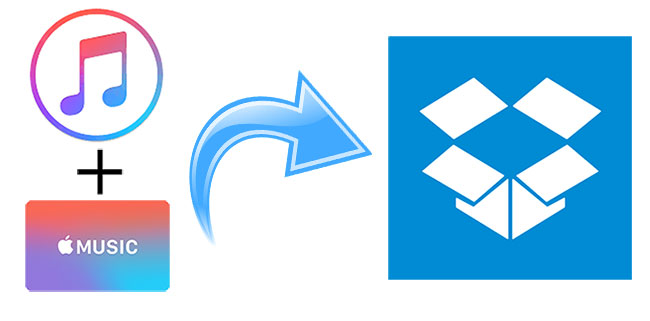 Dropbox is a web-based file hosting service which allows users to backup files everywhere, share files quickly and work together with colleagues. It is an innovative tool for improving work efficiency. But perhaps not every user knows it is also a fantastic entertainment tool which offer a new way to enjoy media files such as movies, eBooks and music files especially the iTunes and Apple Music on the go offline. Are you interested in listening to iTunes and Apple Music on multiple devices too? If you are tried of the annoying processes to keep downloading or syncing files repeatedly, you can follow me to try this new way to transfer iTunes and Apple Music to Dropbox so that to listen on any devices freely.
Things You Should Know about iTunes and Apple Music before Transferring to Dropbox
Both iTunes Music and Apple Music are offered by Apple company, but they are different in many aspects. Previously there is only iTunes Music from Apple, and the iTunes Music files released before 2009 are FairPlay DRM protected with the extension M4P. In 2009, Apple decided to give up the DRM protection from their iTunes Music to offer better user experience. So the new iTunes music files after 2009 are all DRM free with the extension M4A. Users will own the M4A music files after purchasing and can do whatever they want such as burning music CDs. Apple Music doesn't appear until 2015, it is all about streaming which is DRM protected, you can get access to all the music of the library on the specific Apple Music or iTunes app but not any other players or devices. Moreover, you will lose the option to listen to the music after you end the subscription.
With this in mind, if you have the DRM free iTunes music purchased after 2009, you can transfer them to Dropbox to enjoy easily without any trouble, please just skip the part about removing DRM. Else if you have the iTunes Music files released before 2009 or the Apple Music M4P files, you have to get rid of the DRM before transferring to Dropbox to make sure they can be played well because Dropbox can't recognize DRM media files.
How to Remove DRM from DRM iTunes and Apple Music for Dropbox
Fortunately, with today's technology, removing DRM from copyright protected music has been rather easy. Usually you are just a few clicks away to get all DRM free music files by a DRM cracker such as ViWizard Apple Music Converter for Windows/Mac, which is a top-notch converting tool to take out digital rights management protection. It supersedes other tools by integrating the fast and lossless converting technology plus multiple formats and devices compatibility so as to promise ultimate user experience.
Quick tutorial on how to remove DRM from DRM iTunes and Apple Music:
Step 1

Import DRM M4P music files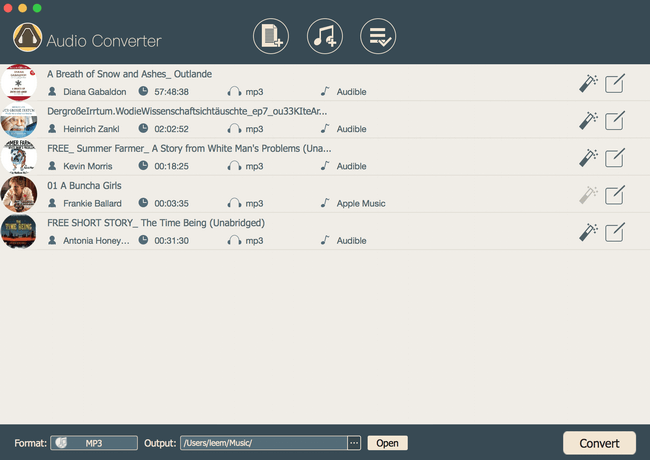 Please make sure you have already imported or downloaded M4P protected music files to your iTunes library first, then you can drag&drop or click 'Add Files' menu to load them easily.
Step 2

Set output music file format for Dropbox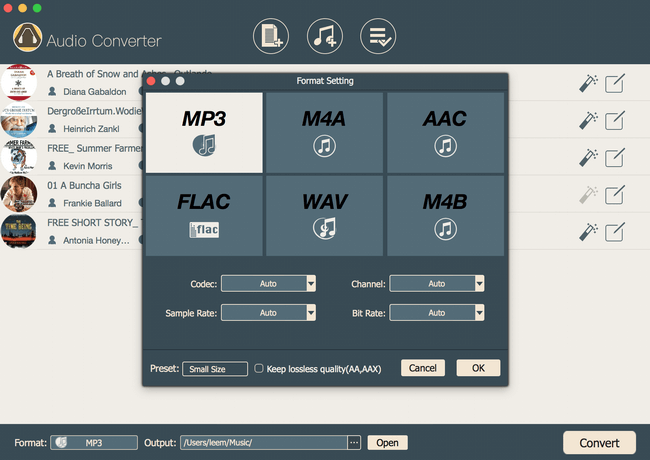 In general, Dropbox supports to upload almost every kinds of files, but not every format file has a good compatibility with all players. If you are not sure which one is better for you, I would highly recommend you to just choose 'MP3' which is supposed to be good for any devices.
Step 3

Remove DRM from M4P music files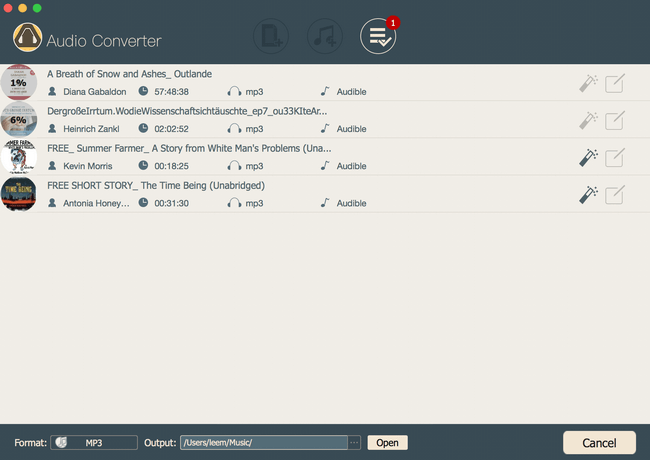 Click 'Convert' button, the software will start to remove DRM and convert the files. It runs promptly and please just wait for a few moments depending on how many files you convert.
How to Transfer DRM Free iTunes and Apple Music to Dropbox to Enjoy Everywhere
There are two ways to access the Dropbox either from Dropbox website or app to transfer and play iTunes and Apple Music. The interfaces and operating processes are almost the same. Here I will illustrate how to transfer music by the website version and how to listen to music by Dropbox app for Android. It is surprisingly easy to use.
1

Login the Dropbox from computer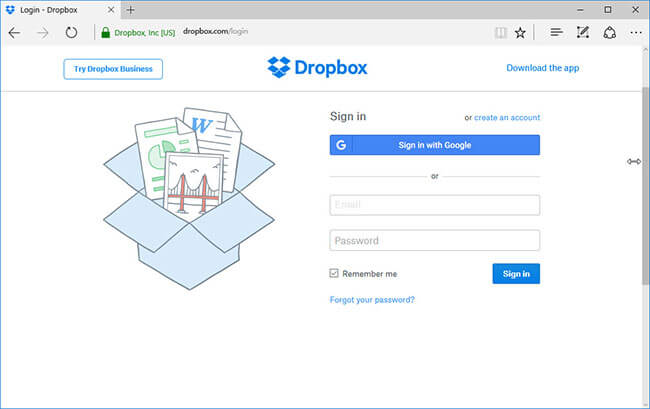 First, go to the Dropbox website. If it is the first time you use Dropbox, you can create a new account or you can just sign in a with a Google account. You will get 2GB free space at the beginning.
2

Upload iTunes and Apple Music files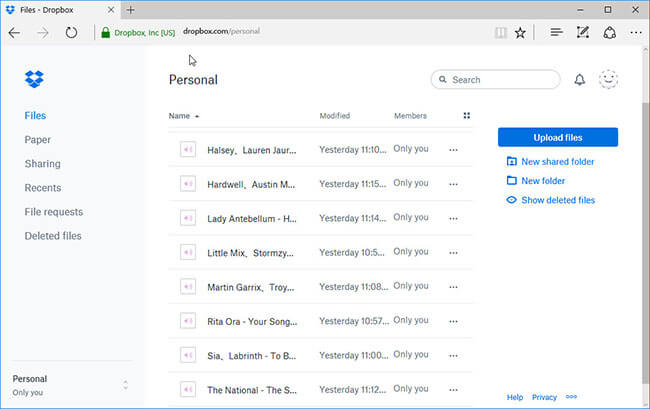 After logging in the Dropbox, you will see the personal space, then you can drag your music files from your computer and drop on the Dropbox main screen to import or click 'Upload files' button to browse your music files. The uploading speed is super fast.
3

Login to Dropbox app on a Mobile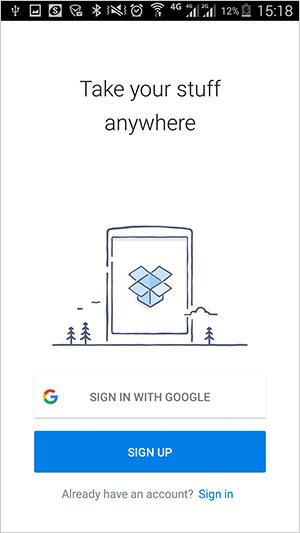 When it is done, the files will be synced to the cloud server and you can access them by any devices with the Dropbox app or website. Personally I'd like to use the Dropbox mobile app. Please download it first if you haven't done that and then log in with the same account
4

Listen to music on Dropbox any time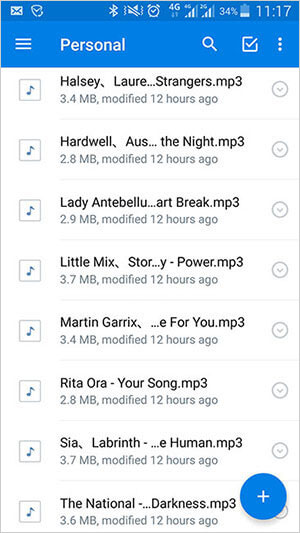 If you want to play a music file, you just need to press the music title, it will play it directly or prompt you to select a player. To play music on the go offline, you can click the icon at the right side of the music and choose 'Available offline', then the music will be downloaded to the device and you can play them anytime at any places.
More DRM removal tips for Apple Music