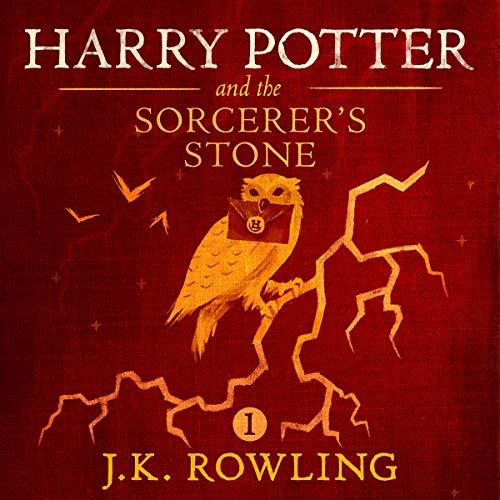 First of all, thanks to modern technology, Harry Potter fans: The Series Harry Potter audiobooks are now available, and you can download them all through Audible. The well-known audiobook site, Audible, is now providing its users Audible Harry Potter of United States editions, which are narrated by Jim Dale. You can also go for the German editions and the U.K. editions narrated by Felix Von Manteuffel and Stephen Fry, respectively.
Recently, Andy Gaies, Audible's Chief Content Officer, said that the platform is thrilled to offer its customers the opportunity to enjoy the Harry Potter audio catalog seamlessly through the platform. With such a facility, the fans will be able to enjoy trailblazing series effortlessly and affordably. Why not buy books when you can enjoy them all quite comfortably! Now, let us have a look at how you can download and enjoy the audiobooks of Harry Potter.
Harry Potter audiobooks
Before exploring the process of Audible Harry Potter download, let us know about the audiobooks of Harry Potter. Almost all the parts, including Harry Potter and The Sorcerer's Stone in the United States, cannot be streamed for free on the popular audiobook platform Audible. It is the best part of the series launched by JK Rowling. All the books are quite interesting and can keep all the users or listeners entertained while staying in their homes.
Talking about this particular version, it is narrated by Jim Dale which has previously been challenging to access in the United States. On the other hand, by making the Audible Harry Potter free and available to download, the publishers are also planning to relax the licensing restrictions to let the teachers read all those books to the students during online classes.
These books are a perfect benchmark and pure magic in the genre. When you go through the audiobooks, you may find that they all have been narrated and written by keeping children in mind. Still, they are so interesting that even parents or adults also have given good ratings to the audiobooks.
The books will introduce you all to a world of hope and optimism, where you can do all the things that your life. Even though the audiobooks speak to a younger audience, but everyone should go for these. They all fun and super creative. So, what are you waiting for? Go on and download the Audible Harry Potter audiobooks to dive deep into a unique magical world.
How to download Harry Potter audiobooks?
Before you can start downloading any audiobook by Audible, you need to download and install the Audible app. You can get it for Windows OS, Android, iOS and Mac. Once installed, it will only take a few seconds to get those audiobooks. Here are the instructions for each app.
1. For iOS
Step 1. Open your Audible app and sign in.
Step 2. You need to visit the Library section, located on the bottom of the screen, and then click on Title and then All Titles.

Step 3. You will now see the audiobooks that you have been purchase. Tap on the cover art of the book.

Step 4. This will begin the download. While downloading, make sure you have a stable internet connection.
2. For Mac
Step 1. Open "iTunes Store" app.
Step 2. Go to "Search" section and type Harry Potter, and choose Audiobooks.
Step 3. Choose one that you like and click on it, then purchase it.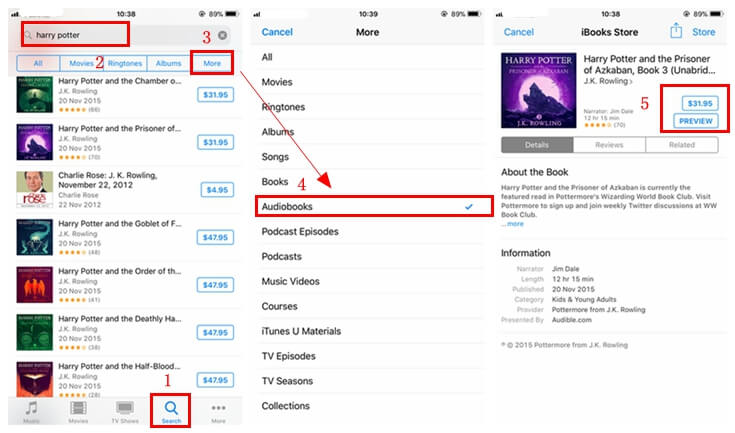 After that, you can now download the Harry Potter audiobooks. For this, visit "Purchased" section and click on Downloads.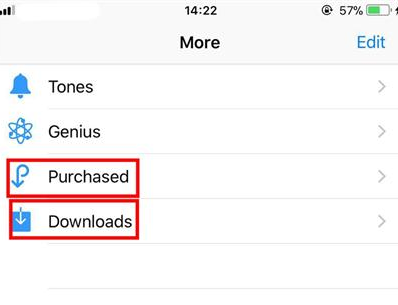 3. For Android
Step 1. Open and app, sign in, and click on the menu button.
Step 2. Now, click on Library option and then Titles, followed by All.
Step 3. Tap on the cover art of the audiobook that you want to download. This will initiate the download.
If the title has many parts, then first click on the audiobook name to get the parts' list. Then tap on the part that you want to download.
4. For Windows 10
Step 1. First, sign in, and then go to My Library.
Step 2. Now click on the audiobook that you need to download to start downloading.
FAQs
1. Are Harry Potter audiobooks free on Audible?
Not all the parts, but some of the parts of the series, like Harry Potter and the Sorcerer's Stone in the US, is free to stream. However, most of the books come with a 30-day free trial. If you are a prime member of Amazon, then you will get a 90-day Audible trial. Enjoy your listening with an Audible Harry Potter download.
2. Where can one listen to audiobooks of Harry Potter?
You can stream or listen to all the audiobooks of Harry Potter through Audible on your tablet, smartphone, laptop, or desktop. They are easy to access.
3. Who narrates the audiobooks of Harry Potter?
Jim Dale narrates all the books, and the total length will be around 117 hours.
4. How many audiobooks of Harry Potter are there?
You will find seven audiobooks of Harry Potter to download and stream on Audible. They are written by J.K. Rowling and narrated by Jim Dale.
How to get free Audible books?
Step 1. Visit audible.com/ep/FreeListens on a browser.
Step 2. Now you need to scroll until you find the audiobook that you want to download. Then click on the title.
Step 3. Now click on the Buy button, or you can go for the free trial option.
Step 4. If asked, sign in to your Audible or Amazon account.
Step 5. Once selected, you can click on Proceed to Checkout and then click on Complete Purchase.
Step 6.Once done, you can download books.
Some extra tips & conclusion
So, this is all about how to download Audible Harry Potter. The process is quite easy, and it will take one a few minutes. But some devices may not support the audio format of the books, and you may not be able to play them anywhere you want. This is where ViWizard Audible AA/AAX Converter comes to play. Speaking about this, this is the smart audiobook solution that is developed for Audible users. Using this tool, you can easily convert the protected AAX, AA audiobooks into universal formats. Try it out now.
What ViWizard Audible AA/AAX Converter Can Do
Remove DRM from Audible audiobooks without account authorization
Convert Audible audiobooks to many formats at 100× faster speed
Easily customize lots of parameters of output audiobooks
Split audiobooks into small segments by time or by chapters
More Audible Audiobook Tips