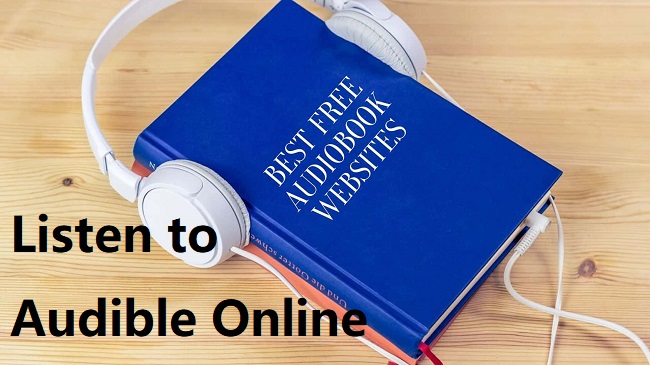 What is your favorite platform to listen to audiobooks? Many of you may answer Audible. Today, Audible already become the largest audiobook provider with millions of subscribers, beating the Google audiobook, Librivox, and other audiobooks platforms. Audible is always a good website for listening to different audiobooks in different situations. You can listen to Audible audiobooks in a car to relax or listen to Audible audiobooks before sleep, which can improve your sleeping quality.
To meet the need of playing audiobooks in different circumstances, Audible enables users to play the audiobooks on different devices, online or offline. But, do you know how to listen to Audible offline or online? In the previous post, we introduced how to play Audible audiobook offline. This time, let's see how to listen to Audible online.
How to listen to Audible online on browsers
Audible Cloud Player is a useful tool released by Audible to help its users play the audiobooks on the browsers of a computer without downloading them. The limit is that you have to use a computer. You do not have to download the Audible Cloud Player.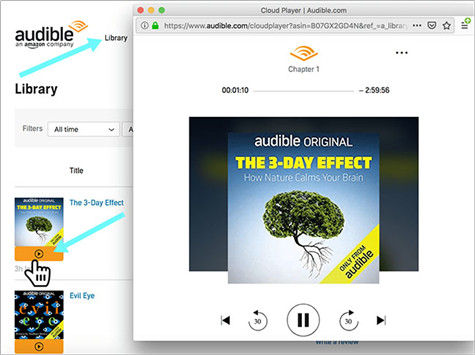 Specific steps
Let me give an example to tell you the specific steps. Use a Windows PC as an example.
Step 1. Launch a browser. Search for Audible. Mostly, you will find it at the first result.
Step 2. Sign in to Audible. If you are new to Audible or Amazon. Just create an Amazon account.
Step 3. If you haven't bought any audiobook, choose a category you like and get one and just pay for it.
Step 4. Choose the Library button.
Step 5. Click the Listen Now button next to the audiobook you want to listen to and now you can listen to Audible books online.
Useful features to help you play audiobooks
Here are some features on the Library page which may be useful for you:
Filters: You have 3 choices, including All, Finished, and Unfinished. Choosing one, you can divide your audiobooks into these 3 groups and find the audiobooks you want faster. You can also use the Search My Library feature to search for specific titles.
Collections: You can create some folders for your titles to manage them.
Download: You can click this button to download the audiobooks.
Listen now: Using this button, you can stream the Audible audiobooks online.
How to listen to Audible books on the Audible app
Sometimes, you may encounter some errors when play Audile books online, such as the sudden noise or audio skipping. And you cannot enjoy all the functions that you can use with an Audible app. Some of you may tend to use the Audible app. So, I will give a small introduction on how to use the Audible app to play audiobooks. Let's see an instance with an iPhone.
Step 1. Launch Audible. Sign in to your account.
Step 2. Choose the My Library option and tap on the Download button.
Step 3. Tap the title of your books to play them.
Play Audible audiobooks on any device without the Audible app
You can only use the Audible Cloud Player on a computer to listen to Audible books online. What if you want to use other devices to play Audible audiobooks but you do not want to download the Audible app? There is another way for you to play Audible audiobooks without using the Audible app. And you can play Audible audiobooks on any device using this method. (You must know that Audible audiobooks are protected and can only be played on limited devices.) What you need is to convert the Audible audiobooks to other formats with an Audible converter. You can use ViWizard Audible AA/AAX Converter, one of the most famous and professional converters, to do this.
You can easily convert Audible AA/AAX audiobooks to MP3, WAV, FLAC, or other formats to play on your device with it. You do not need the Audible app using this method. You do not need to spend much time on it. Only 6 minutes are needed to convert a 10-hour long audiobook. And you can keep the ID3 tags and chapter information of your audiobooks to make you manage your audiobooks easier. Let's see how to use this converter and you will know how easy it is.
Step 1. First, prepare your Audible audiobooks. Launch this ViWizard Audible Converter. Load AAX/AA files with the Add Files button. Or drag the files directly to the area of this software.
Step 2. Click the Format button and choose the Lossless format from the Drop-down menu. Click the OK button.
Step 3. Just click the Convert button and wait for a while which depends on how long is your audiobook. Click the Converted button or Open button to find your audio files.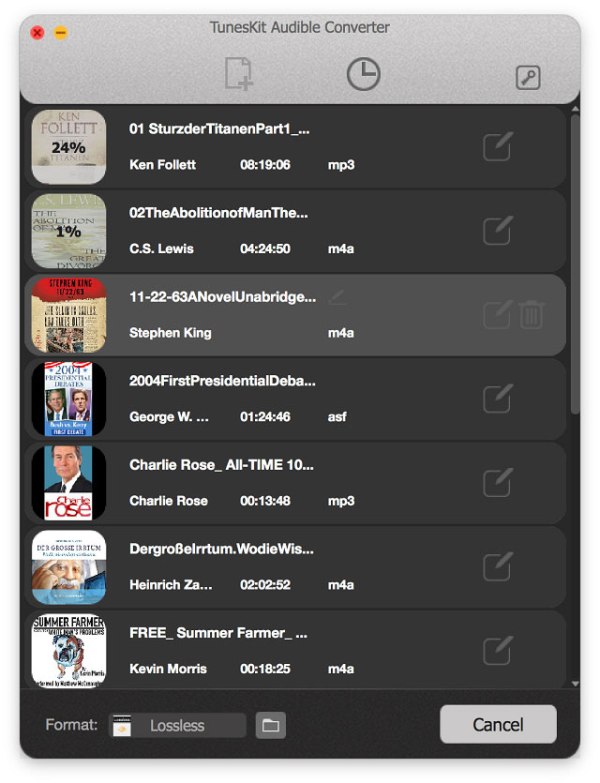 Conclusion
It is very easy for you to use Audible Cloud Player to listen to Audible online. However, there are some restrictions on it. To enjoy listening better, you can refer to the another 2 methods to listen to Audible. I suggest the last one - using ViWizard Audible AA/AAX Converter, because you do not need to download the Audible app and it is very easy to operate. Most importantly, no restriction on your Audible audiobooks anymore.