Hi, I like using my TV to listen to audiobooks and I have an old Roku TV. But I'm not sure if there's a way to listen to my audiobooks on Roku. Does anyone know how? Thanks for advanced.
– User from Reddit.
There has been a general interest among many users to stream Audible audiobooks on Roku when they are doing mundane work at home, relaxing on the couch, and so on. They think that life will be easier if it is possible to experience audiobooks via Roku instead of using the computer or other MP3 players. Here you may ask can I play Audible on Roku TV? Sadly, as of right now, the Roku is still not Audible ready. Neither an Audible channel nor a compatible player for AA and AAX is available for streaming Audible books. Audible states that they are working hard on making all existing devices compatible and doesn't know the estimated time yet. But no worries. If you are hurry to play Audible on Roku now, you can follow this tutorial to learn more about Audible files and find 3 alternative ways.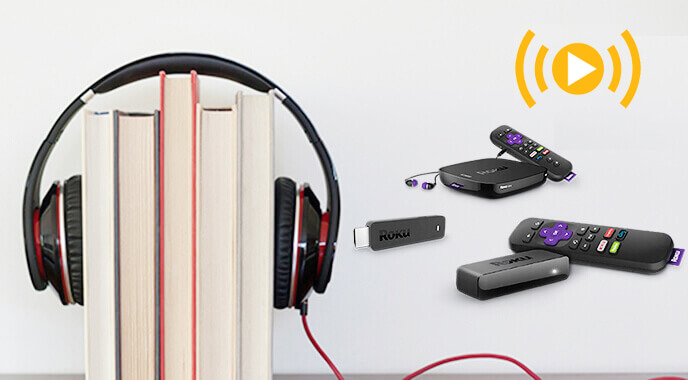 Part 1.

How to Listen to Audible from Screen Mirroring on Roku TV

Although you cannot find a channel for Audible on Roku TV, with the help of your smartphone, you can listen to Audible audiobooks on Roku. There is a simple but useful feature that can help – mirror your smartphone to Roku. Whether you use an Android phone or iPhone, this method is workable. Follow the guide below to have a try. There are 3 things you need to do before mirroring.

● Turn on your Roku device.
● Connect your smartphone and Roku device to the same Wi-Fi.
● Make sure Roku allows screen mirroring. You can go to Settings > Screen Mirroring > Screen Mirroring Mode > Always Allow.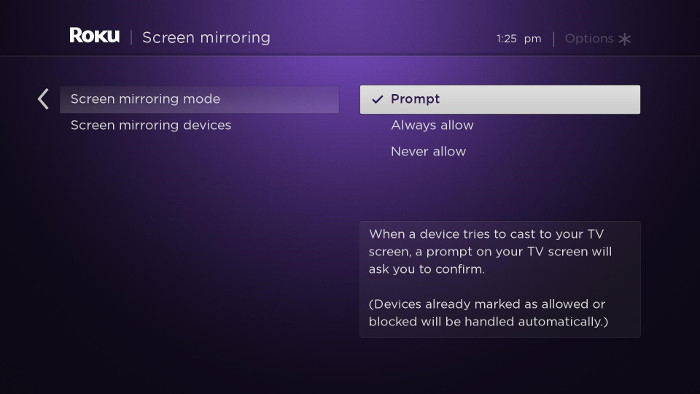 For Android Users:
Step 1. Open the Settings app on your phone. Choose the Device Connection button.
Step 2. Choose the Cast button and toggle it on. Some of you can find Cast Screen button from the notification bar.
Step 3. Select your Roku device. Play Audible audiobooks on your phone. Now you can enjoy Audible on Roku.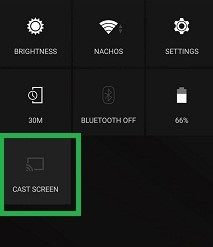 For iOS Users:
Step 1. Open App Store and install the Mirror for Roku app. Open it and select your Roku device.
Step 2. Open the Mirror for the Roku channel on the Roku device.
Step 3. Select your Roku device. Tap the Start Mirroring button to start your mirroring.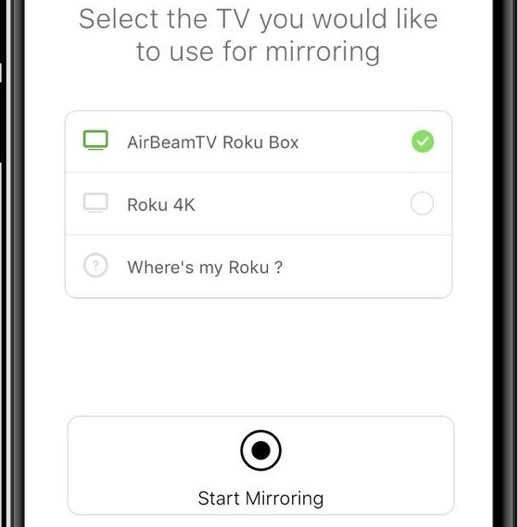 For PC Users:
Step 1. Link your PC to the same Wi-Fi network as your Roku.
Step 2. Then, go to Audible's official website with any browser on your PC.
Step 3. Log in to your Audible premium account and search for any book you like.
Step 4. Now, on your keyboard, hit the Windows + K hot keys.
Step 5. Select your Roku device from the list of options.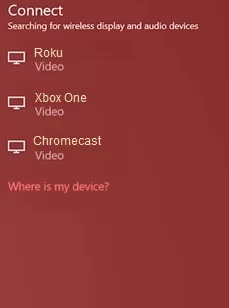 It is quite easy to mirror and stream Audible audiobooks on Roku. However, this method is not the most stable one. Some users report that they cannot mirror their smartphone to Roku to play Audible. So, we prepare a better method below.
Part 2.

How to Get Compatible Audible Files with Roku Player

Roku provides the Roku Media Player for you to play multimedia, such as the audio files for AAC, MP3, MMA, FLAC, PMC, AC3, DTS or ALAC. If you have Plex, you can also stream your Audible library with the Plex channel for Roku player. So if you have those compatible audio files of your favorite Audible audiobooks, all you need is a USB storage device or the Plex Media Server to bring your book collections to your Roku TV. However, the Audible downloads with Premium Plus or Plus subscription are DRM-protected, and the AA or AAX formats are not supported by Roku Media Player nor Plex channel. So you must need a third-party tool to convert it to other formats, such as MP3.

ViWizard Audible Converter features the best Audible downloads converter for users that have AA/AAX files stored on their computer devices. To make those files compatible with Roku Media Player later, you'll need to adjust the output format of the added Audible downloads to MP3. If you haven't downloaded any titles from Audible with your subscription, please learn how to download Audible books to Windows or Mac. Once you have a collection of AA/AAX files, pick the correct version of the ViWizard Audible Converter based on the computer OS from the download box below. It should work fine on both Windows PC and Mac computer.

Key Features of ViWizard Audible Audiobook Converter
Free Trial
Free Trial
* Security verified. 5,481,347 people have downloaded it.
Convert Audible audiobook to unprotected audio formats like MP3
Split Audible book into several smaller segments by chapter or by time
Support playing Audible audiobooks on any device or media player
Handle the conversion of Audible audiobooks up to 100× faster speed
To convert AA/AAX to MP3 for Roku player with ViWizard:
Unlike other Audible tools which may require you to authorize the files before converting, ViWizard Audible AAX Converter can skip the step to convert straightforwardly. In case you are still a little confused about how to do that, I will run the ViWizard Audible AA Converter to show it to you. The Windows version and Mac version have the same features and similar interface, you can download either version you want to try. Here I will take the Windows version for example.
Step 1

Prepare Audible Files

Before converting Audible files, you have to download them first. If you are on a Mac computer, you can download your Audible audiobooks by iTunes directly. Else if you are using a PC, you have to install the official Audible Download Manager to help you. After downloading, please locate the AA or AAX files from your computer folder and drag them to the ViWizard Audible AA/AAX Converter in batch. You can also click the + button to load the Audible files.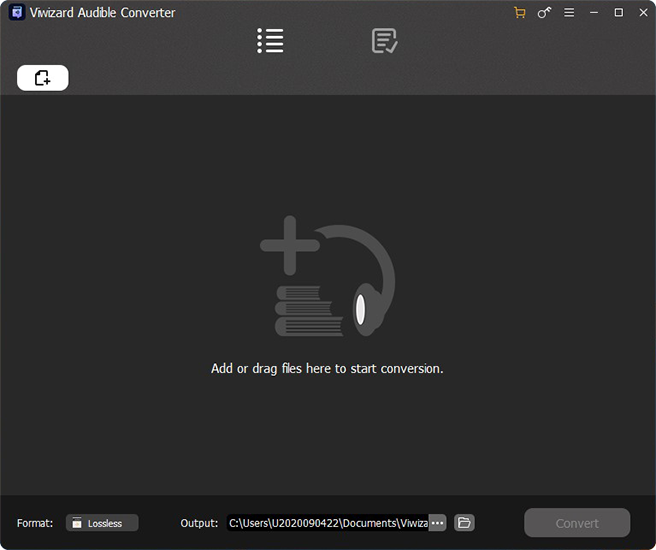 Step 2

Customize Audible Audiobooks for Roku

Then you can select a new output format for your Roku device. Please just pay some attention to the Roku compatible formats we have mentioned above like AAC, MP3 and choose the one you want. Click the Format button on the bottom-left corner to set output format. I'd like to suggest you choose MP3 for its high quality and compatibility. It will help you save a lot of hassles if you want to play the output files on multiple devices. ViWizard Audible Audiobook Converter also offers a lot of other useful option to customize your output audio parameters like codec, channel, sample rate, bit rate, you might set it as you want or keep the default settings.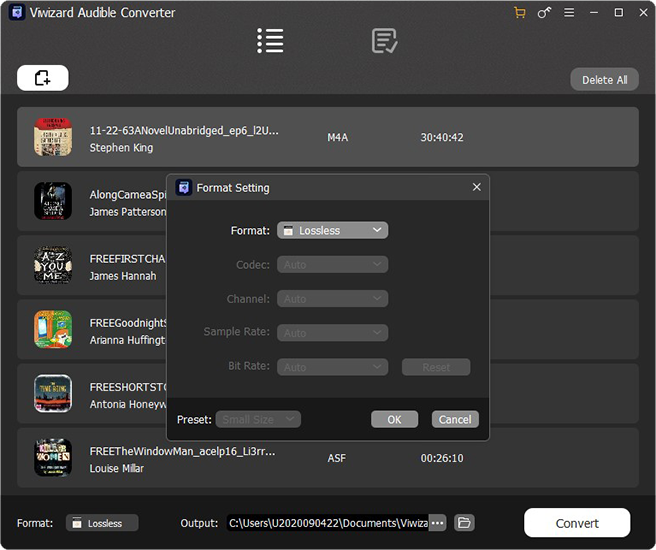 Step 3

Convert Audible Audiobooks to Roku

Next, you can click the Convert button to convert all the Audible files in batch. It won't be long even if you convert multiple files as the speed is 100X faster. When it is done, tap the Converted icon to view the converted Audible files and the format will be changed to the new one.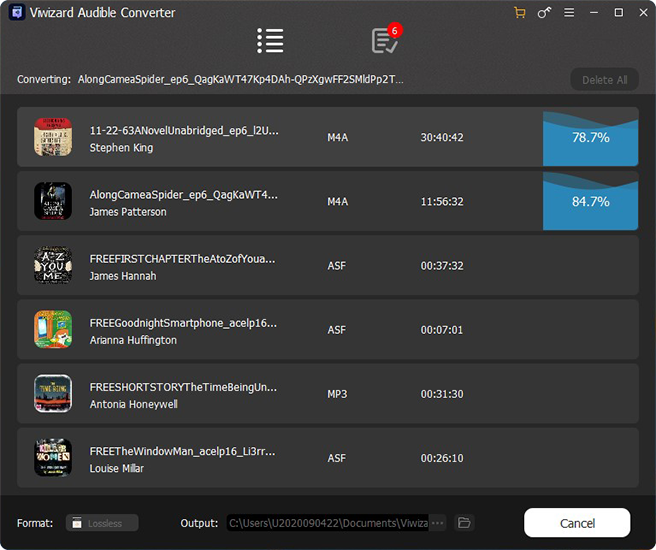 Part 3.

How to Play Audible Audiobooks through Roku Media Player

Once you convert the AA/AAX files to MP3, AAC or FLAC, all you need is a USB storage device to bring your favorite Audible titles to your Roku TV.
To transfer Audible audiobooks to a USB storage device:
Step 1. Plug in the USB storage device to connect with the computer.
Step 2. Navigate the computer to find and locate the Audible downloads in Windows Explorer or Finder.
Step 3. Now copy the entire folder(s) and transfer to the USB storage device.
Step 4. Once the transfer is complete, disconnect the USB storage device from the computer.
To activate Audible audiobooks on a Roku Media Player: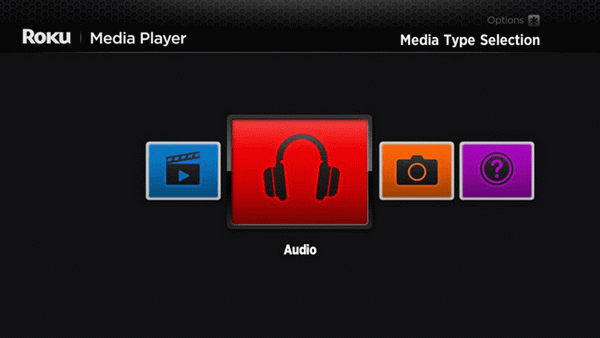 Step 1. Plug in the USB storage device in the back of the Roku TV.
Step 2. Launch the Roku Media Player. If you don't have the Roku Media Player, head to Roku Channel Store > Add Channel, and search for the Roku Media Player.
Step 3. On the screen the USB drive option appears, select and highlight it. To display information about the USB drive option, press Star on the remote.
Step 4. If you haven't let the Roku Media Player built a database of the content stored on the USB drive, you should do this manually by selecting Scan.
To play Audible audiobooks on Roku Media Player:
Step 1. Now search for media on the USB drive. To access the Audible downloads, select Audio. In addition to Audio, you have other options such as All, Video or Photo.
Step 2. To find the desired Audible title you want, select <by Genre>, <by Artist> or <by Album>.
Step 3. Select the Audible title and you're good to go.
Part 4.

How to Play Audible Collections through Plex App for Roku

Another workaround would be to play Audible collections by using the Plex app on your Roku device. Plex not only gives you access to 200+ Live TV Channels and 50,000+ on-demand titles from around the world, but also your own media content from music, movies, shows, and even DVR-ed TV.

For Roku, the Plex channel for Roku players is supported on a large number of Roku models. To stream Audible titles on the Plex channel for Roku player, you'll be required to pick your computer device to set up the Plex Media Server and build a music library for you Audible audiobooks. The computer device should store all you Audible downloads.
To build Audible library in the Plex media server: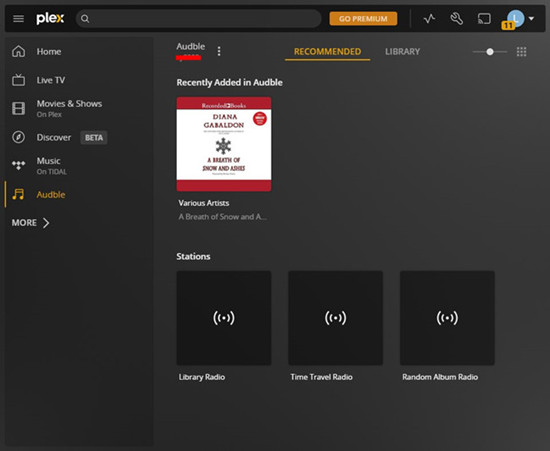 For starters you should create a Plex account and download the Plex desktop app depending on your computer OS. Then follow any steps on the screen to get started or follow our guide to add your Audible library. Then the Plex media server will make sure your content (Audible titles) can be streamed directly to the Plex Client while your host computer/server is running.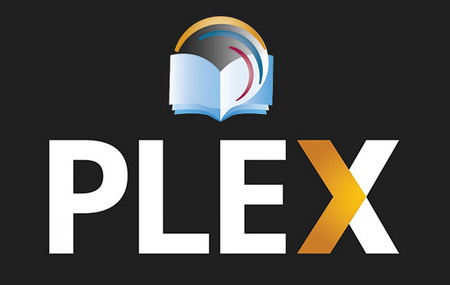 Once you log in with your Plex account on your Plex Client/Channel, your server should reflect directly on the home screen.
To stream Audible library with the Plex channel on Roku:
Step 1. Head to Roku > Channel Store > Add Channel, and search for Plex and install the Plex channel on your Roku.
Step 2. Launch the Plex channel for Roku player.
Step 3. Pick another device to go to plex.tv/pin and log in with your Plex account.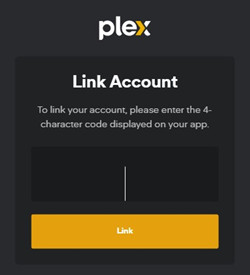 Step 4. Enter the code from the Plex channel for Roku player on the website. Hit Link.
Step 5. Now find your Audible library and stream your favorite titles.
Conclusion
To play Audible on Roku device, you can either mirror smartphone screen to Roku or convert Audible audiobooks to MP3 or other formats. I will suggest the second one for you. If you read this post carefully, you will find that converting is easier than mirroring. Another advantage is that you can play Audible audiobooks on any device after converting.