SoundTouch is an easy, Sonos-like wireless music system with surprisingly punchy bass developed by the reputed audio company Bose. There are mainly 3 models SoundTouch 10, 20 and 30. Each combines the hardware and the software SoundTouch app which can be installed on Windows/Mac computers or mobile devices.
Streaming your local music and internet music like Spotify, Deezer, TuneIn to any room has never been easier. However, like the Sonos music system, SoundTouch doesn't come to support Audible Manager and any other copyright-protected audio files. Someone may wonder are there other walk-around solutions to play Audible audiobooks on SoundTouch? The answer is positive. Following I will offer the top 2 ways to do this for you.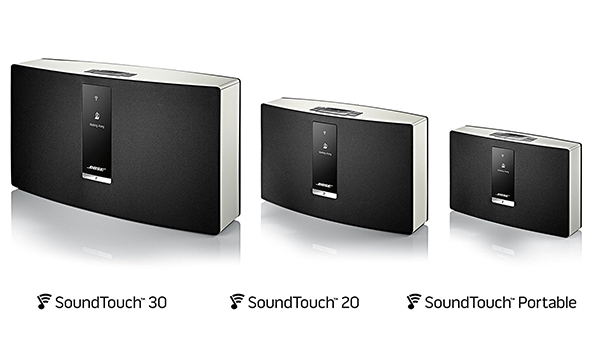 Part 1. How to Stream Audible Audiobooks to SoundTouch via Bluetooth
Compared to Sonos's excellent music system, Bose SoundTouch doesn't support as many music streaming apps. But it supports the Bluetooth connection. This offers a pretty easy way to enjoy music from a lot more devices in a straightforward way. So it is highly recommended you stream Audible audiobooks to SoundTouch speaker via Bluetooth. What you need to do is to pair your device which has Bluetooth with the SoundTounch sound system. Once it is paired, a record of the connection information is stored in the memory of each device and you don't need to pair again in the future. Before you begin, please make sure your SoundTouch system supports Bluetooth too.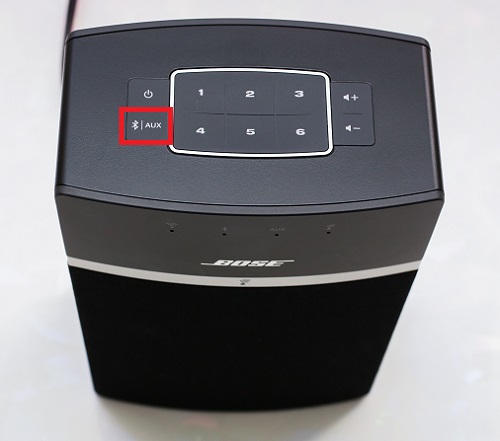 1. Install the SoundTouch app. You can install it to your phone, tablet or computer etc. , then it will become a controller.
2. Turn on Bluetooth on SoundTouch. Long press the auxiliary Bluetooth button on the speaker to open the Bluetooth. You can also open the SoundTouch app on other device, click the three-dash icon in the top left corner. Then click Settings > Speaker Settings, you will see the SoundTouch system details. Just choose Bluetooth menu and click Pair.
3. Turn on the Bluetooth on your other device. You can go to the settings of the device such as your phone or tablet you want to pair and turn on the Bluetooth.
4. Pair the devices. In the device's Bluetooth settings, you can click Search for Devices or Add New Device to set up the Bluetooth connection.
5. Stream Audible audiobooks to SoundTouch. Once the Bluetooth connection is setup, you can simply play the Audible audiobooks from your phone or tablet, then it will stream to the SoundTouch automatically.
Part 2. How to Sync Audible Audiobooks to SoundTouch from Computer/NAS Drive
Playing Audible audiobooks on SoundTouch through Bluetooth is simple, but not all of your devices support Bluetooth. For instance, the previous SoundTouch series 1 and series 2 and some computers or NAS drives don't support Bluetooth. Please don't worry, besides the Bluetooth streaming, you can also remove DRM copy protection from the Audible audiobooks and convert the AA/AAX files to a well-recognized format of music files for your SoundTouch system by a third party Audible converting tool.
ViWizard Audible AA/AAX Converter is an exquisite software to bypass DRM from Audible files with the best accessibility. Unlike other tools in the market which require you to authorize Audible files to play on iTunes before you can start to convert them, ViWizard Audible Audiobook Converter won't have this hassle. Normally you just need to drag and drop to import all your Audible AA/AAX files and you can convert the files directly. ViWizard can convert Audible audiobooks with lossless quality at 100x faster speed. The ID3 tags will be saved too.
Key Features of ViWizard Audible Audiobook Converter
Convert Audible AA/AAX audiobooks to MP3, FLAC, AAC, WAV, M4A, M4B, etc.
Convert Audible audiobooks to common formats at 100× faster speed
Freely customize lots of parameters like format, bit rate, and channel
Split audiobooks into small segments by time frame or by chapters
1

Load Audible Audiobooks to ViWizard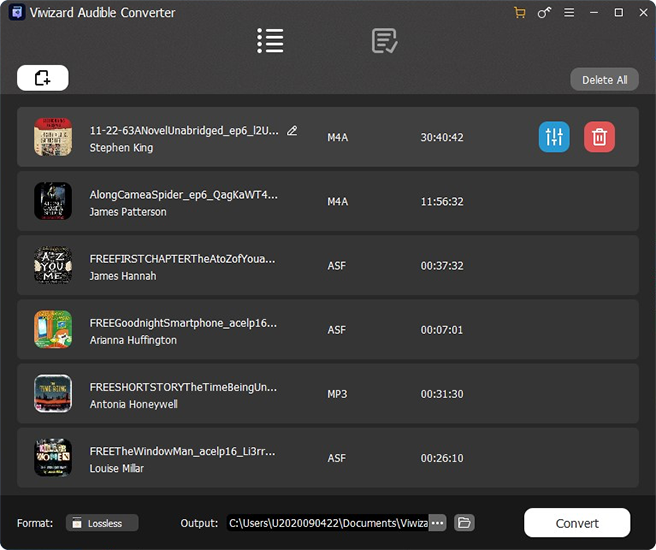 In order to convert the Audible files, you can download them to your computer through the Audible app. Then, you can drag and drop them to the converter's main screen to load the audiobook files.
2

Customize Output Settings (Optional)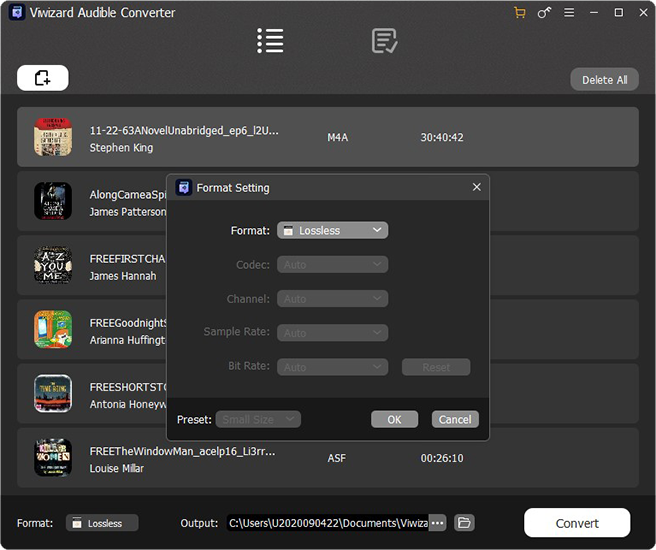 SoundTouch supports to play audio files such as MP3, AAC, M4A, WMA, FLAC, etc., so you just need to pickup one of the output format you want. You may click the Format pannel to set the output format and parameters. The default output format of ViWizard is MP3. You may keep the default MP3 or specify one format you want. In addition, ViWizard software has abundant options for you to customize your Audible audiobooks such as editing the audio info, splitting audiobooks and adjusting the playback parameters. Click OK to save the settings.
3

Convert the Audible Audiobooks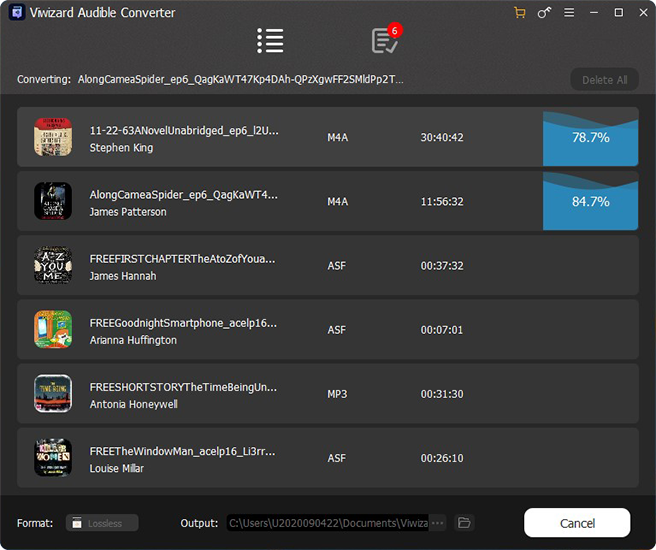 To convert all your files, you just need to click Convert button. The converting speed is fastest with 100X faster speed. No matter how many files you imported, they will be converted quickly. When it is done, you will get the SoundTouch compatible music files. Just click the Converted icon to view the audiobook files.
4

Play Converted Audiobooks on SoundTouch

SoundTouch supports to play audio files from a NAS drive or a computer with iTunes or Windows Media Player. You just need to add a new music library to your SoundTouch after getting the converted Audible audiobooks.

1. Open the SoundTouch app from the device where you installed it before.

2. Click the top three-dash menu and choose Add Service. Then select Music Library on Computer if you want to import your converted Audible audiobooks from a computer or select Music Library on NAS if your music library is stored on a NAS drive.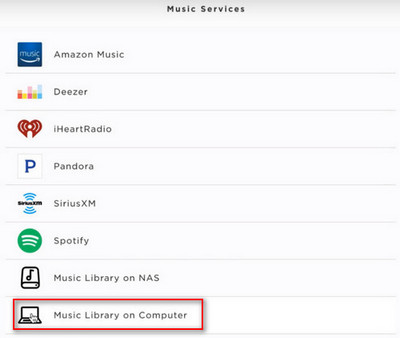 3. After that, you can choose the type of library to be added by selected the blue circle next to Windows Media Player, iTunes or NAS drive.
Note: If you are using Windows Media Player or iTunes library, please make sure you have enabled the option of Sharing the Library.
4. Input a name for the new library and select Add Music Library.
5. It may take a few minutes for the music library to sync to your SoundTouch, please wait patiently. When it is completed, you can play the music files freely.
Conclusion
The Bose SoundTouch device supports Bluetooth. So you can pair your device with SoundTouch to play Audible audiobooks simply. But if you want to play the Audible audiobooks offline, you can use ViWizard Audiobook Converter to download the audiobooks for offline playing. It's not so hard to play Audible audiobooks on SoundTouch. To know more about ViWizard, just click the button below.