Most people have heard of Audible and know it is the best place to listen to various audiobooks, but they don't really understand Audible indeed. For lack of knowledge about Audible, perhaps you might not be getting your money's worth from your subscription. Here we would introduce Audible and tell some tips and tricks you are not taking advantage of. To make sure you're making the most of your Audible subscription, please go on.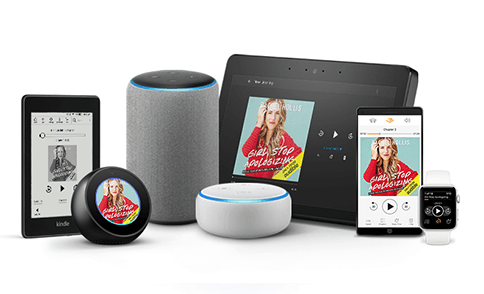 Get to Know Audible Well Enough
What is Audible?
Audible, an Amazon Company, has the world's largest selection of audiobooks and original ad-free audio shows. From its massive library of titles spanning every genre of literature to audio version of today's magazines and newspapers, there are more than 200,00 titles available on Audible, so it is easy for you to find something you like.
From the description of Wikipedia, we know that the history of Audible dates to January 1995, when the company first introduced a digital audio player. In January 2008, Amazon Company announced it would buy Audible. Since then Audible began producing exclusive science fiction and fantasy audiobooks under its "Audible Frontiers" imprint. Now, Audible has become the largest audio book producer and retailer in the United States and even in the world.
Audible's content is divided up into three main categories: books, podcasts and periodicals. Audible keeps audio versions of the biggest news stories of the day from the New York Times, the Washington Post, and the Wall Street Journal. What's more, Audible features podcasts you won't find anywhere else, focusing on humor, storytelling, science, and current events.
How much is Audible?
Audible launches a 30-day trial plan for new registers during which they can enjoy two free audiobooks and two free Audible Originals. After 30 days, if you want to continue to listen to audiobooks or more on Audible, you need to pay $14.95 per month with the welfare of three titles and the credit for one audiobook each month. But beyond that, all Audible subscribers can get 30 percent off other audiobooks and programs purchased.
Gold Annual membership is slightly cheaper on a monthly basis, but you'll pay for it all up front $149.50 per year. The benefit is that you'll get access to all your credits at once. Platinum membership costs $22.95 a month, and it bumps you up to two credits per month. Platinum Annual membership costs $229.50 upfront for 24 credits delivered all at once.
What features stand out for Audible?
As a subscriber, you have the right to share titles you've purchased with some restriction. Your friends and family who have a profile on your account's Family Library Sharing can listen to your audiobooks collection, except for child profiles. Provided that friend has not registered on Audible, all subscribers are only allowed to share one free book from their library with a friend.
If you don't like an audiobook, you can swap it for free. There is no set number on the limits placed on exchanges. And you won't be charged until after 30 days.
While you are driving on a long trip or commuting daily, you may feel boring. Audible has launched the feature accordingly. You could connect to your car from Audible via Bluetooth and more method.
The distinctive feature of Audible is that you can easily set a sleep timer when you listen to Audible audiobooks before bed. Audible app will stop playing at a certain time or at the end of a chapter even though you might fall asleep and lose your place.
5. Customize the narration speed
You can make the reading pace up to three times for faster or if you want to savor the details, you also have twice as slow. So, you should cherish the opportunity.
What devices are compatible with Audible?
Audible is available on Android, iOS, Windows, Mac OS, Sonos, Kindle and Alexa-enabled devices. You need to stream content from Audible channels by logging in your Amazon account, and from the app you can easily play through other devices like Amazon Echo, Apple Watch or more. For better audio-visual effects, you can connect your Audible on your smartphone with other devices like Apple TV. Before playing those purchased Audible content, you should make sure that your device is compatible with Audible or you have Audible installed on your devices.
What tricks and tips you might be missing out on?
1. Save Money with the Silver Plan
If you listen to audiobooks occasionally or don't listen to many audiobooks, the Silver Plan is a better option which can save a part of money for you. Audible doesn't advertise the Silver plan, so you need to get in touch with customers service directly to make use of it.
2. Add Audible Narration to Your Kindle
If you use Kindle to read or listen to books, you can transfer your Audible audiobooks to your Kindle. So, you don't need to purchase the title again on Kindle. Most of Kindle are compatible with Audible and you can install Audible on Kindle for listening to Audible narration.
3. Keep an Eye Out for Sales
Sometime, some fantastic sales will be launched on Audible, so you can view whether your favorite audiobooks go on sale. Every sale Audible will send emails to inform you. You could spend a few time glancing through them.
4. Listen to Audible Channels for Free
Many people would rarely know Audible Channels. Audible Channels is a special column on Audible which include original series and curated lists of audio stories, and you can listen to them for free with Prime. Just tap Channels on Audible and you can see what's available in Channels.
5. Use Your Credits Before Expiration
While your credits don't exactly expire, they do roll over from month to month — and there's a limit to how many you can store. If you try to keep more than is allowed on your plan, you'll lose your credits. So, you need to spend your credits right away.
Achieve DRM-free Audiobooks with Audible Audiobook Converter
Audible's content is only accessible through special proprietary closed software, including unauthorized-playback prevention by means of an Amazon account. As mentioned above, there are some restriction on the sharing and playing of your purchased Audible audiobooks. The only method to solve the issue is to choose an audiobook converter. With the support of TuensKit Audible Audiobook Converter, you can not only remove DRM from Audible but also convert AA to MP3. After the successful conversion, your friends or family can get free Audible books through your sharing.
It concludes that you can get the most out of Audible through those tips and tracks. But if you're paying full price and not taking advantage of all these features, you're not getting the most out of your subscription. Or you can get more useful help by virtue of some tools, and then you can freely take control of your Audible audiobooks.
More Audible Audiobook Tips