Q: As a birthday gift, I got a Nook Tablet from my grandmother, since I really love to read e-books on iBooks Store. But she don't know that just like other eReaders, such as Kindle, Kobo, Nook Tablet is not compatible with eBooks purchased and rented from iBooks due to the different e-book formats and DRM protection on iBooks. So problem is coming, is it possible to remove DRM and is there any effective way to make iBooks available for Nook Tablet?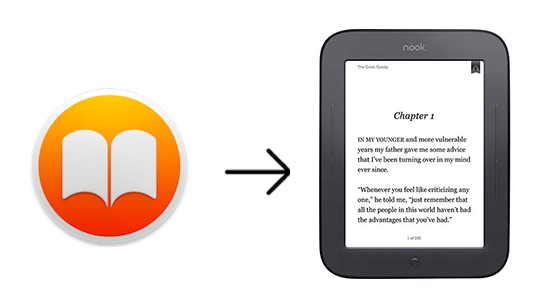 Created and marketed by American book retailer Barnes & Noble, Nook Tablet is all-in-one device, which is not only an eBook Reader but also a media player. With featuring the world's most advanced VividView 7-inch display, Nook Tablet is powered by Android OS with 16GB internal storage. Plus, it features a MacSDHC slot compatible with cards up to 32 GB in size. If you have this excellent Nook eReader, you can read thousands of eBooks on it. But when you use it to read iBook ePub files, you will meet the same obstacle like mentioned above. Now, let's talk about the best solution to convert DRM iBooks to Nook Tablet for reading.
Why We Can't Read iBooks on Nook Tablet
When it comes to reading iBooks on Nook Tablet, firstly, you should know that eBooks downloaded from iBooks store are encoded in .epub or .ibooks formats. Although Nook Tablet is compatible with .epub e-book format, as for .ibooks format, it can't be recognized by eReader directly. What's more, just like movies and TV shows purchased and download from iTunes are not able to be playable on Nook Tablet due to DRM restriction, eBooks sold on iBooks store are also encrypted and locked by FairPlay DRM technology, which can only read on Apple-approved devices, including iPhone, iPad, iPod Touch, and more in order to prevent unlicensed sharing. Therefore, to make iBooks readable on Nook eReader, you should remove DRM protection from iBooks eBooks and convert them to Nook Tablet compatible formats.
How to Remove DRM Protection from iBooks eBooks
In order to get rid of annoying DRM limitation from iBooks, here, we highly recommend TunesKit iBooks Copy, the most stunning iBooks DRM removal solution. Developed by TunesKit Studio, iBook Copy is dedicated in helping iBooks users to bypass DRM restriction from protected iBook files. With built-in innovative DRM decryption technology, iBook Copy can work at 30X faster speed with persevering near 100% original meta information. Now, you can follow this complete tutorial to remove DRM protection with TunesKit. By the way, please make sure that you downloaded the free trial version of this professional iBooks DRM remover in advance.
Step 1

Add iBooks eBooks to TunesKit iBook Copy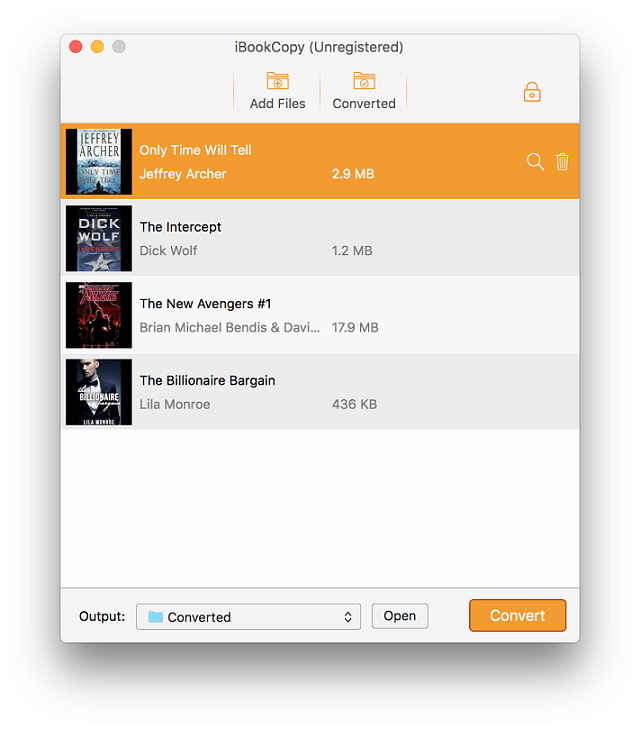 Double click to open this smart iBook Copy, and you can tap the "Add Files" option, at the same time, iBooks library will show up automatically, in which you can choose the wanted iBooks to TunesKit with ease. Or you are also allowed to import iBooks eBooks via drag&drop action directly.
Step 2

Begin to remove DRM protection from iBooks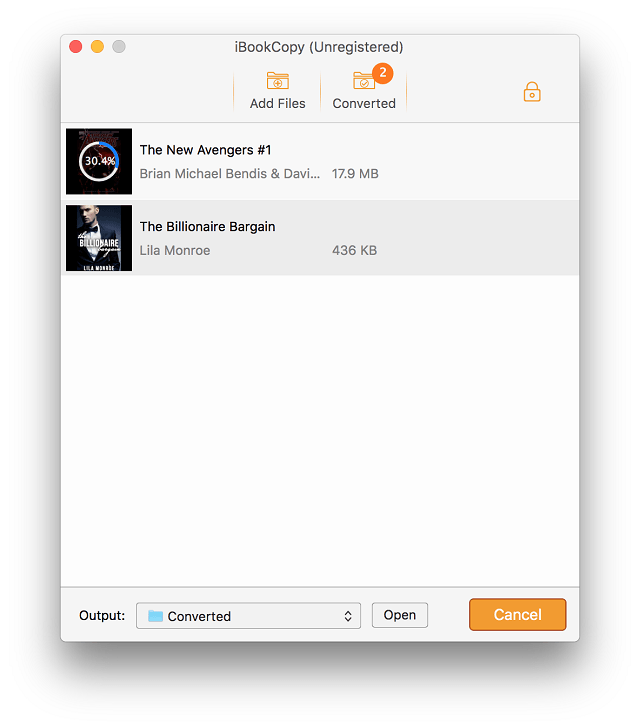 Before you start to remove DRM limitation from iBooks eBooks, you can customize the output settings by changing output format and output destination according to your needs. Also, you can skip it to keep default. Now, you just need to touch the "Convert" tab to convert DRM iBooks to DRM-free iBooks eBooks.
* Video tutorial to bypass DRM lock from iBooks with TunesKit iBook Copy for Mac
You can also simply view this video demo to learn how to strip the DRM protection from iBooks eBooks with the help of TunesKit iBook Copy for Mac
How to Convert DRM-free iBooks to Nook Tablet
Now, you can find the unprotected iBooks on the target folder that you set before. Since most DRM-free ePub e-books can be recognized by Nook Tablet, you can read iBooks on Nool eReader with ease. If Nook Tablet can't support a few iBooks eBooks, at this time, you need to equip with some e-book converters. The free eBook converter, called Calibre, is a smart choice for you to convert non-DRM iBooks to Nook compatible formats. Since .ibooks format is a specific format created by Apple, so there is no eBook converter to convert this format to any other format. But DRM-free .ibook files can slip the leach of reading on only five Apple-authorized devices. That is to say, you can read unprotected .ibools eBooks on numerous Apple devices as you like without any quantitative restriction.