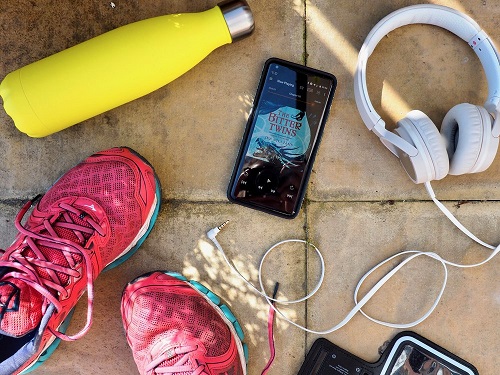 As the pace of life has quickened, it is more and more difficult to spend more time in exercising. Running become more and more popular as a sport not consuming much time. It's peace. It's meditation. It's discipline and joy. It's challenge and self-improvement.
Whether you are just staring out, or you are a seasoned expert, or you fall somewhere in between, you may need something to motivate your workout, like audiobooks for running. Listening to audiobook while working out may be a great opportunity to get exercise and knowledge at the same time.
Audiobooks can open a whole new world to you. Just hear me out on the topic of best audiobooks to listen to while working out. These recommended titles will sure to help you forget about your running and get lost in a book.
View also: Top 12 Running Playlists on Spotify
01. Peak Performance
Elevate Your Game, Avoid Burnout, and Thrive with the New Science of Success
Narrated By: Christopher Lane
Regular Price: buy for $7.95
Listening Length: 6 hrs and 34 mins
The first book of its kind, Peak Performance combines the inspiring stories of top performers across a range of capabilities – from athletic, to intellectual, to artistic – with the latest scientific insights onto the cognitive and neurochemical factors that drive performance in all domains. In doing so, Peak Performance uncovers new linkages that hold promise as performance enhancers but have been overlooked in our traditionally siloed ways of thinking.
02. Born to Run
A Hidden Tribe, Superathletes, and the Greatest Race the World Has Never Seen
Narrated By: Fred Snaders
Regular Price: Fred Snaders
Listening Length: 11 hrs and 6 mins
Want to join the "superhumans"? Luckily you don't have to run to catch up with them, thanks to McDougall's and Sanders' inspiring (and motivating) journey through history, science, physiology, health, entertaining characters and unlikely friendships. Full of incredible characters, amazing athletic achievements, cutting-edge science, and, most of all, pure inspiration. Born to Run is an epic adventure.
03. Shoe Dog
A Memoir by the Creator of Nike
Narrated By: Norbert Leo Butz, Phil Kngiht
Regular Price: $27.99
Listening Length: 13 hrs and 21 mins
In this candid and riveting memoir, for the first time ever, Nike Founder and CEO Phil Knight shares the inside story of the company's early days as an intrepid start-up and its evolution into one of the world's most iconic, game-changing, and profitable brands.
04. Eat and Run
My Unlikely Journey to Ultramarathon Greatness
Narrated By: Quincy Dunn-Naker
Regular Price: $24.49
Listening Length: 8 hrs and 24 mins
A dominant force in the sport of ultrarunning, Scott Jurek is a seven-time winner of the 100-mile Western State Endurance Run and a two-time winner of the 135-mile Badwater Ultramarathon through Death Valley. Eat & Run offers an inspiration account of Jurek's life as a runner and vegan. Regaling listeners with jaw-dropping tales of endurance, Jurek also delivers sound science and practice advice – as well as his favorite plant-based recipes.
05. What I Talk about When I Talk about Running
A Memoir
Narrated By: Ray Porter
Regular Price: $12.57
Listening Length: 4 hrs and 23 mins
From the best-selling author of Kafka on the Shore comes this rich and revelator memoir about writing and running and the integral impact both have made on his life. Equal parts training log, travelogue, and reminiscence, this revealing memoir covers Murakami's four-month preparation for the 2005 New York City Marathon. Settings range from Tokyo, where he once shared the course with an Olympian, to the Charles River in Boston, among young women who outpace him.
06. Running with the Kenyans
Passion, Adventure, and the Secrets
Narrated By: John Lee
Regular Price: $28.00
Listening Length: 8 hrs and 38 mins
Whether running is your recreation, your religion, or just a spectator sport. Adharanand Finn's incredible journey to the elite training camps of Kenya will captivate and inspire you. Part travelogue, part memoir, this mesmerizing quest to uncover the secrets of the world's greatest runners -and put them to the test-combines practical advice, a fresh look at barefoot running, and hard-won spiritual insights.
07. Finding Ultra
Rejecting Middle Age, Becoming One of the World's Fittest Men, and Discovering Myself
Narrated By: Rich Roll
Regular Price: $20.97
Listening Length: 9 hrs and 47 mins
Finding Ultra is Rich Roll's incredible but true account of achieving one of the most awe-inspiring midlife physical transformations ever. One evening in 2006, before turning 40, Rich experienced a chilling glimpse of his future. Nearly 50 pounds overweight at the time and unable to climb the stairs without stopping, he plunged into a new way of eating that made processed foods off-limits and prioritized plant nutrition and daily training. Rich morphed – in mere months – from out-of-shape midlife to endurance machine. Revised and updated edition with a new and original foreword and a bonus chapter.
08. Running with the Mind of Meditation
Lessons for Training Body and Mind
Narrated By: Neil Hellegers
Regular Price: $20.99
Listening Length: 5 hrs and 16 mins
As a Tibetan lama and leader of Shambhala (an international community of 165 meditation centers) Sakyong Mipham has found physical activity to be essential for spiritual well-being. He's been trained un horsemanship and martial arts but has a special love for running. Here, he incorporates his spiritual practice with running, presenting basic meditation instruction and fundamental principles he has developed.
09. Can't Nothing Bring Me Down
Chasing Myself in the Race against Time
Narrated By: Lisa Renee Pitts
Regular Price: $21.67
Listening Length: 6 hrs and 43 mins
Can't Nothing Bring Me Down is the memoir of 101-year-old world-record-holding runner Ida Keeling. Miss Ida, as she's known throughout her Bronx community, isn't your typical runner. Her fierce independence helped her through the Depression and the civil rights movement. But her greatest trials were yet to come.
10. Run the World
My 3,500-Mile Journey Through Running Cultures around the Globe
Narrated By: Allyson Ryan
Regular Price: $25.09
Listening Length: 8 hrs and 6 mins
From elite marathoner and Olympic hopeful Becky Wade comes the story of her yearlong exploration of diverse global running communities from England to Ethiopia – nine countries. 72 host families, and over 3,500 miles of running – investigating unique cultural approaches to the sport and revealing the secrets to the success of runners all over the world.
How to Convert Audible Audiobooks to DRM-free Audiobooks
The above titles are best audiobooks for running, and you can purchase them from Audible. By the way, an easy way to listen to them is through an audiobook converter called ViWizard Audible Audiobook Converter – it allows you to play all Audible audiobooks out of Audible and listen to them without the distraction of DRM protection. The app is simple to remove all DRM protection from your Audible audiobooks and keep all your purchased titles well organized. With the assistance of the app, you can play your Audible audiobook on any device like Fitbit Versa, Fibit Ionic, Sony Walkman, Samsung Gear and more, and also share your purchased Audible audiobooks with your friends and family, so that they can enjoy your happiness and joy on their run.

Matt Smith is an amateur writer engaged in ViWizard in 2013. He is a movie lover who write a lot of movie reviews for many websites and blogs.