Books or audiobooks are both perfect to pass the time, but also can drain the wallet. While Book exchange can help book fans read more and spend less, Audible book exchange can do the same in the world of audiobook.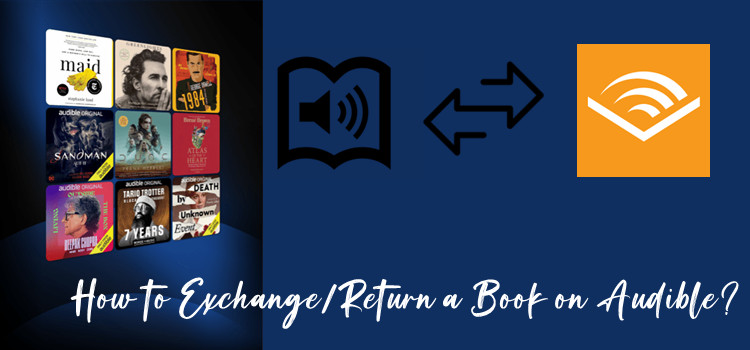 Among all the methos to save cost on audiobooks, it's hard not to mention book exchange or book return on Audible. However, when Audible book exchange seems to be a perfect feature for those regret on their previous choices on purchased titles, we'll start with some precautions to exchange audible book. Read slow.
Part 1. What You Must Know Before Returning a Book on Audible
Before picking devices for how to exchange a book on Audible, there are facts Audible users must know as precautions to exchange Audible book.
Thing You'll Need: Audible Premium Plus Membership
Once Audible Premium Plus membership is active, members benefit from thousands of titles in Audible's entire premium selection to purchase with a 1 CREDIT label. This means there are at least 2 free Audible Titles coming with the existing Audible Premium Plus membership.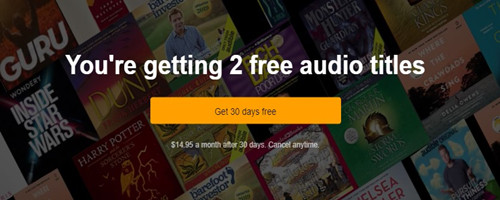 In addition to the credits, the Audible exchange also allows active Audible Premium Plus members to take a chance on a new narrator or audiobook without losing a credit, or return titles purchased in error.
For those who want to exchange Audible book, their Audible Premium Plus memberships shouldn't be cancelled or failed to be maintained in good status.
Pro Tips: How to Check the Status of Audible Membership
1. From here to go to Audible's Account Details page.
2. Under "[Your name]'s account (for example: Bella's account)", make sure the Membership details is selected.
3. Check whether the Audible membership is active, cancelled, ended or eligible to return Audible book.
To switch to Audible Premium Plus plan to make returns:
4. Click on Switch membership.
5. Choose Audible Premium Plus and then Select this plan.
6. Click Confirm.
Audible Returns Period Limit
This is about the period the purchased titles for keeping on Audible. Returns must be made within 356 days of purchase.
How often Can You Return Audible Book?
Making returns can be exciting but there's one more precaution - how often can Audible Premium Plus members return a book on Audible?
Note the customer service is misleading Audible Premium Plus members to make returns or exchange Audible book without explicit limitation. However, the limitation exists all the time unless Audible or Amazon tells us how often we can return Audible book.
Audible Is Monitoring Returns for Abuse Use:
Audible claims that it reserves a right to monitor returns for abuse use, including excessive returns, frequent return of titles after prolonged listening, or return multi-titles at a time.
Worst of all, if Audible "monitor" abuse use from above but at the same time confusing the users with unexplicit information, there will be an email addressed from Audible, stating that "abuse the rules" and won't allow making further returns, which is frustrating. Next time to return or exchange a new Audible book, there can be a notification: "Not eligible for self-service exchange."
Thing You'll Need: ViWizard Audible AA/AAX Converter
So before picking up devices for how to exchange Audible books, we're here to recommend using ViWizard Audible Converter, a powerful Audible converter to convert the downloaded AA/AAX files a local MP3 collection for keeping, instead of Audible AA/AAX audiobooks.
What Refund Will You Receive?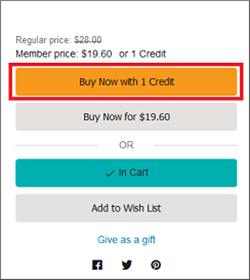 The kind of refund is kept the same with the payment used to make the purchase: Credit to Credit, Coupon to Coupon, Credit Card to Credit Card.
Note: For a credit card refund, it takes about 7 to 10 days to process.
Part 2. How to Return a Book on Audible for Desktop or Mobile
Whether to return Audible book or other courses surrounding Audible, most users will finish the tasks on desktop or mobile, via audible.com.
How to Exchange Audible Books on Desktop
1. Go to audible.com.
From here click the Sign In button to enter the Audible account and password to see the main user page.

2. See the "Hi, [Your name] (for example: Hi, Bella!)!".
3. Move to it to show the hidden options menu and then Account Details.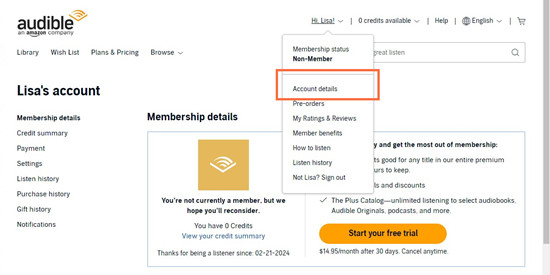 4. In the Account page appears next, see and click the Purchase history under [Your name]'s account (for example: Bella's Account) in the side menu.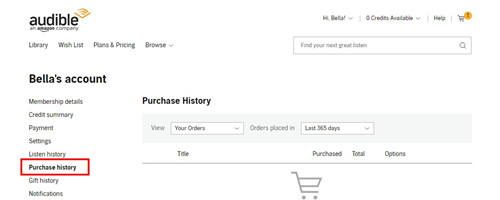 See all the purchased titles under Purchase History.
Tips: Feel free to click on View or Orders placed in at the column header to locate the title to return. More options are available to choose with a click on the Chevron icon next to View or Orders placed in.
For View options: Your Orders, Pre-orders, Membership Charges and Refund History.

For Orders placed in options: Last 90 days, Last 180 days, Last 365 days and 2022.

Note: Audible exchange are limited to titles purchased with 356 days. Make full use of the Orders placed in and select Last 356 days at the column header to see if a title can be returned.
5. Click the Return this title next to the title.
6. Click Confirm to make returns on Audible.
Now this Audible book has been returned.
How to Exchange Audible Books on Mobile
1. Go to https://www.audible.com/.
The steps to return Audible book are similar to those on desktop because the returns or exchanges are actioned on audible.com - not the Audible for mobile app. However, there's slight difference between clicks and taps.
Note: On a mobile device, make sure the browser work fine and can open the link to a desktop version of the Purchase History page, which can be accessed via an available browser.
1. Click the link from above to go to Purchase History page.
2. Choose and tap the book to return.
3. Tap Return this title.
4. Tap Confirm.
Or on mobile, use an internet browser (Safari, Google Chrome, Firefox and more supported ones) to start to make returns on audible.com.
1. At the upper left corner, tap the menu icon.
2. Tap Sign in to enter Audible/Amazon credentials.
3. Once signed in, tap the menu icon again and also the username.
4. Scroll down and tap Purchase History.
5. Select a title and tap Return this title.
6. Tap Confirm.
Part 3. How to Convert Audible Books for Keeping Forever
As stated, chances are that Audible won't let existing Audible Premium Plus users exchange Audible books once marked as "abuses the rules". To have more control of the Audible membership, we recommend converting Audible books in AA/AAX into MP3s for keeping forever.
If there's a collection of AA/AAX files, it doesn't matter even the Audible membership has been cancelled because ViWizard Audible AA/AAX Converter still let Audible users convert them into MP3s.
Key Features of ViWizard Audible Audiobook Converter
Losslessly remove DRM from Audible without account authorization
Convert Audible audiobooks to common formats at 100× faster speed
Freely customize lots of parameters like format, bit rate, and channel
Split audiobooks into small segments by time frame or by chapters
How to Convert Downloaded Audible Audiobooks with ViWizard
Step 1

Import Audible AA/AAX Files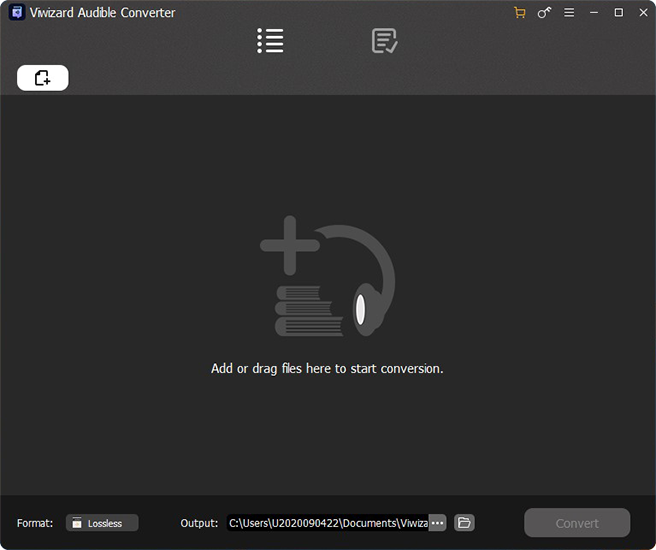 Click the Download button to install ViWizard Audible Converter either for Windows or Mac. Launch it and click the Add Files button. In the pop-up window, navigate to the location to browse and select downloaded AA/AAX files to import to ViWizard.
Step 2

Set the Output Format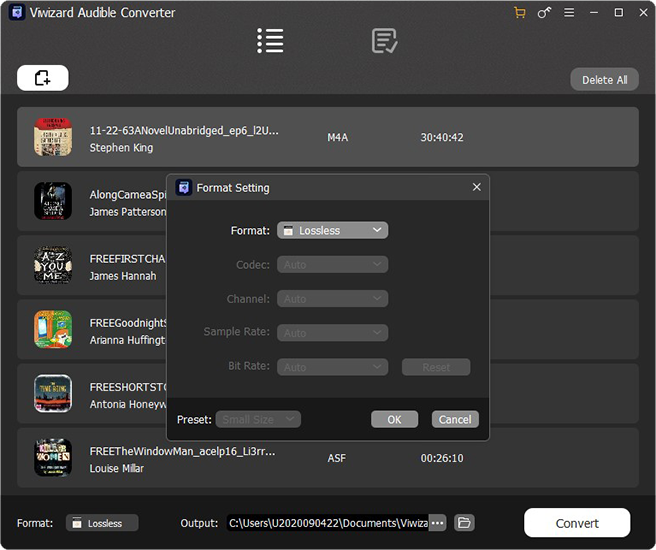 Back to the main interface and click on the Format tab at the bottom. In the Format Settings window, set the output format to MP3. Make sure to click OK to save this change.
Step 3

Convert Audible Audiobooks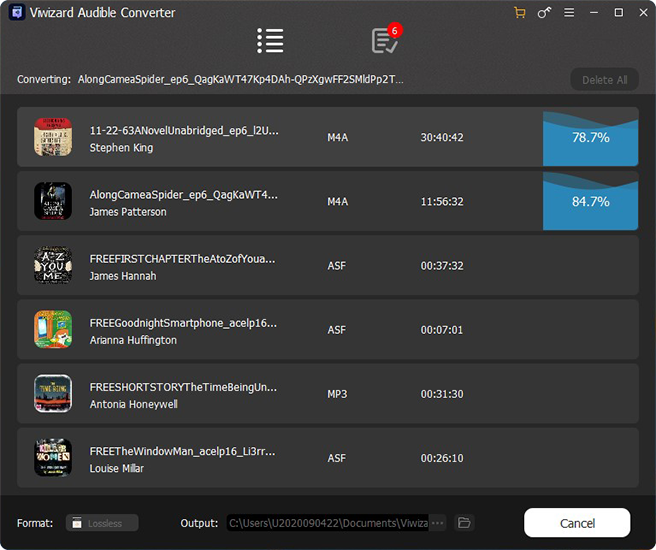 Click the Convert button to let ViWizard Audible start converting all the added audiobooks into MP3 at a 100x speed. Once the conversion completes, click on the Converted menu at the top to browse all the converted MP3s.
Conclusion
Making Audible book exchange will stop Audible Premium Plus members from breaking the bank. Thanks to ViWizard Audible Converter's services, the AA/AAX files of Audible audiobooks can be converted into MP3 is decresing consumption. Give it a shot!