A growing number of people are switching to audiobook services to spare time. Audible, the most prominent audiobook retailer, boasts the largest audiobook resource around the world. Audible unarguably attracted over 300 million users around the world. However, nothing is best forever. When encountering some issues such as, Audible not working, Audible books not showing in the library, and more, some users opt to switch to alternatives of Audible and delete Audible account. So this article is going to clarify how to close Audible account and the changes the deletion will bring.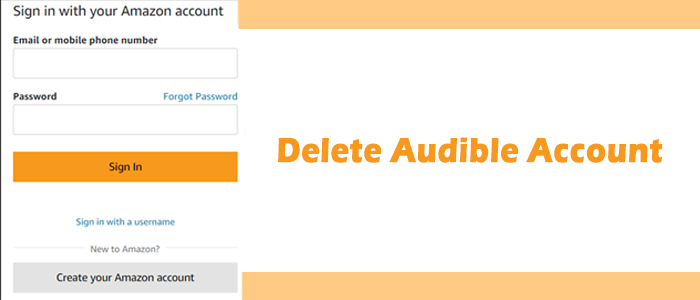 Part 1.

What You Need to Know Before Canceling Audible Account

Before going to close Audible account, you must know what will happen and then decide whether you continue to finish deleting or not. With a few clicks or taps, you can easily cancel Audible account. But one change makes all change. Here are the changes that canceling Audible account will cause.

*The Amazon account along with the membership of Amazon services including Amazon Prime and Amazon Music will be closed too.

*All of the products and services accessed through your account will no longer be available to you.

*Any Audible titles you have purchased will no longer be accessible to you.

*Audible library can't be restored after you canceled your Audible account.
Part 2.

How to Delete An Audible Account Permanently

Have you known what will will happen if you choose to cancel Audible account? If you still want to proceed with the process, then perform the following steps. This action is permanent and irreversible. Note you can't delete Audible account on app directly.

Step 1. Go to the Amazon Data Deletion page from a browser.

Step 2. Sign in to the right Amazon account associated with your Audible account that you want to delete.

Step 3. Tick the option "Yes, I want to permanently close my Amazon account and delete my data". You can also choose a reason why you delete this Amazon account.

Step 4. Hit on the Close My Account button.

Step 5. You will receive a validation email immediately and please confirm your deletion within 5 days.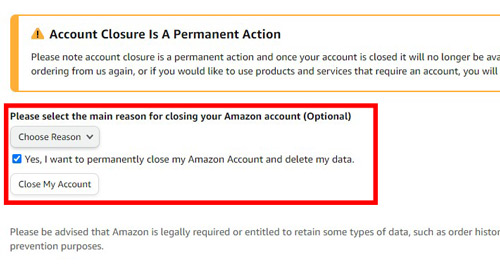 Part 3.

How to Keep Audible Books After Cancellation

Delete Amazon - But Keep Audible Purchases? Long story short: I want to delete my Amazon account, but I am/was a frequent Audible user and I have many audiobooks I purchased before. Is there any way to keep access to my audiobooks if I delete my Amazon account?

-- From Reddit

Before deleting, think twice. If you want to keep Audible purchases after deleting your Audible account, then the best solution is to back up your purchased Audible books. However, all audiobooks from Audible are protected AA/AAX formats that result you can't play them without Audible. So just choose these downloaded To get Audible books to MP3, all you need is ViWizard Audible Audiobook Converter.

ViWizard Audible Audiobook Converter is specially developed for Audible users to download and convert Audible books and convert the protected audiobooks to universal formats, including MP3, M4A, M4B, AAC, FLAC, WAV, and more. Thanks to the top-leading decrypting technique, ViWizard is capable of saving all protected AA and AAX audiobooks without any quality loss. Moreover, by using the built-in editor, you can trim the audiobook length, and change the volume and speed of the narration. It has the ability to work alone and completely at a 100x faster speed. After conversion, all playable Audible books are stored on your computer.

Key Features of ViWizard Audible Audiobook Converter
Free Trial
Free Trial
* Security verified. 5,481,347 people have downloaded it.
Convert Audible audiobook to unprotected audio formats like MP3
Split Audible book into several smaller segments by chapter or by time
Support playing Audible audiobooks on any device or media player
Handle the conversion of Audible audiobooks up to 100× faster speed
Step 1

Upload Audible Files to ViWizard

Before deleting your Audible account and launching ViWizard Audible Audiobook Converter, make sure you've downloaded Audible books first. And then you can add Audible audiobooks by either dragging the files to ViWizard or clicking the Add Files icon at the upper-left corner. ViWizard also enables you to add several files and convert multiple Audible books at once because it supports batch conversion. If you'd like yo split the audiobook or change the volume or speed, just one-click the blue Edit icon next to each audiobook's name to open the editor.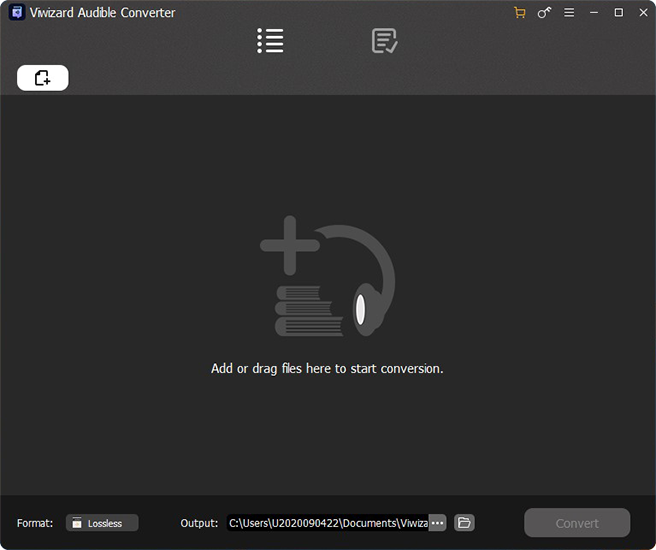 Step 2

Tune the Output Format for Audible Books

After uploading all the audiobook files to ViWizard, click the Format button to choose the output audio format you want. Currently, it supports lossless audio, MP3, and much more. Setting MP3 as the output format to back up is the best since you can stream Audible books on any media player and any device. Besides, from this Format window, some audio parameters are available like the codec, channel, bit rate, and sample rate.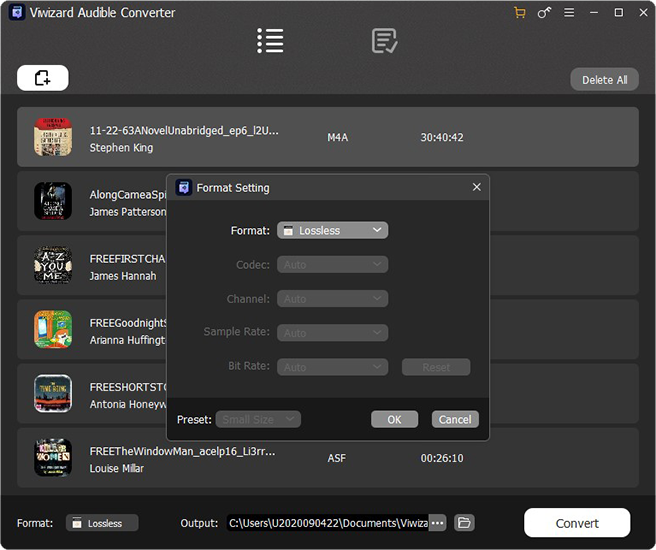 Step 3

Start Download Audible Books for Backing Up

Now, click the bottom right Convert button. Once the conversion is complete, go to the Converted history list, and you can easily view all your converted files. Of course, you can locate certain files by using the ViWizard search function. You can also preview and enjoy the converted audiobooks in the ViWizard built-in player.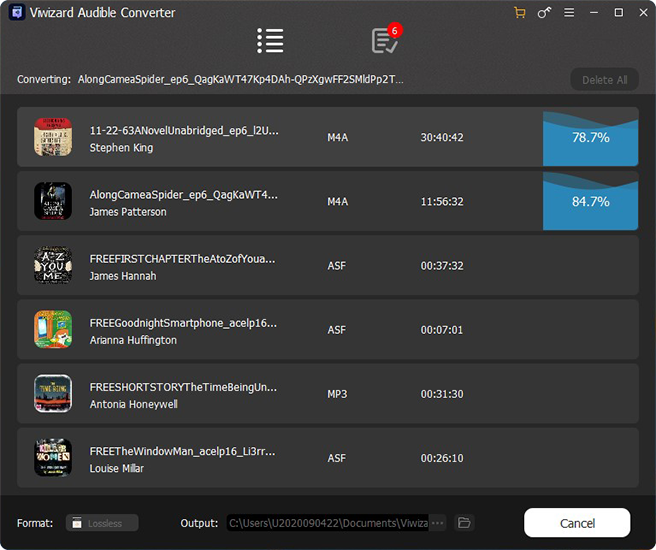 Part 4.

Frequently Asked Questions about Audible Account

Q1.Can I share my Audible account?

A1.No, but you can share your Audible books. You can share your Audible books from your account directly through the Family Library Sharing feature. It allows you to share your Amazon and Audible books with the other members of your Amazon Household. Note that titles included in the Audible Plus Catalog cannot be shared via Family Library Sharing.

Q2.Can you create an Audible account without Amazon?

A2.No. The Audible account is linked to the Amazon account. If you don't have an Amazon account, an Audiobook can't be bought to listen to.

Q3.Can I access my Audible account from multiple devices?

A3.Yes. Audible sets no restrictions on the number of users and devices that can log into one single account. So you can listen to Audible books across multiple devices.
Conclusion
It is irreversible to delete Audible account once you choose it and you must be prepared to take the consequences, such as the corresponding Amazon account will be cleared, all purchases will be removed, and more. In case you may want to back up Audible books for listening, you can apply ViWizard Audible Audiobook Converter to download your Audible books in MP3s and then keep them forever.