Video content is on the rise, and more and more people prefer to make their own videos for sharing their life. It can be tough to find the time to sit down with your laptop, sift through all of your footage, and edit together a great video. Thankfully, there are tons of great free or inexpensive mobile video editing apps that you can use to create professional-looking videos on your mobile devices like your phone or tablet.
InShot app is an all-in-one visual content editing app. It allows you to create videos, edit photos, and create image collages. The app has plenty of features. You can trim clips, add filters, music, and text. Especially when it comes to adding music to videos, it would be an important part of the whole video. Spotify gains great popularity among music enthusiasts for its complete variety of songs, which makes Spotify a good source of music for InShot. In this post, we'll talk about how to add Spotify music to InShot for making your video more amazing.
Part 1.

Can I Use Spotify Music with InShot?

Spotify is a good place for users to find various music resources. However, InShot hasn't integrate Spotify yet for users to access and use Spotify's music library. It can be a little tricky for users to add Spotify music to an InShot project as you won't be able to use Spotify's streaming music files directly within the app. Particularly you can add Spotify music to your InShot video by using alternative ways.

For starters, InShot supports the import of local music files. You can import music files stored on your device's local storage and use them in your InShot projects. How can you use Spotify music as regular music files with InShot? A professional Spotify music downloader called ViWizard Spotify Music Converter can help both Premium and free users do the trick. With ViWizard Spotify Music Converter, you can convert and download your favorite music tracks from Spotify to a commonly-used format, such as MP3. The best part is that lossless audio and full ID3 tags will be kept with each downloaded music files. Then you can transfer them to your mobile device to use them as regular music files with your InShot projects effortlessly.

Key Features of ViWizard Spotify Music Converter
Free Trial
Free Trial
* Security verified. 5, 481,347 people have downloaded it.
Download Spotify songs, albums, playlists, podcasts, audiobooks
Convert Spotify music to lossless MP3, AAC, FLAC, WAV, M4A, M4B
Support playing offline Spotify music on any device at any time
Compatible with Windows and macOS, as well as, the latest Spotify
Part 2.

How to Convert and Download Spotify Music to InShot

Both Spotify Music Converter for Mac and Windows has been released on ViWizard, and there is a free version for you to test and use. You can download and install the free version from the above download link to your computer, then perform the below steps to download Spotify songs for applying to your video on InShot.
Step 1

Add Spotify Music to ViWizard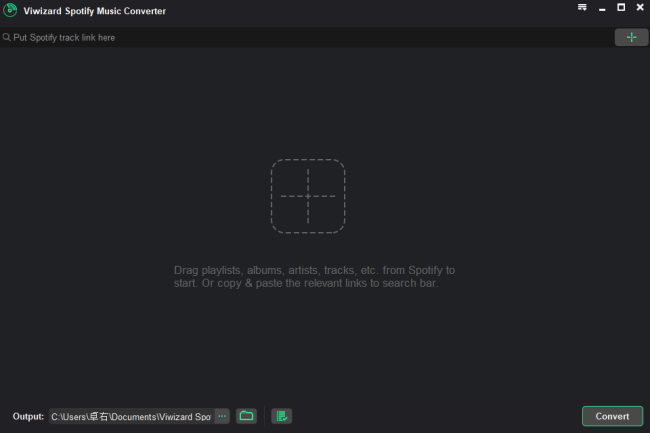 Start by opening ViWizard Spotify Music Converter, and it will load the Spotify app automatically. Then find the music you want to download on Spotify and directly drag and drop your selected Spotify music to the main screen of the converter.
Step 2

Set the Output Audio Parameters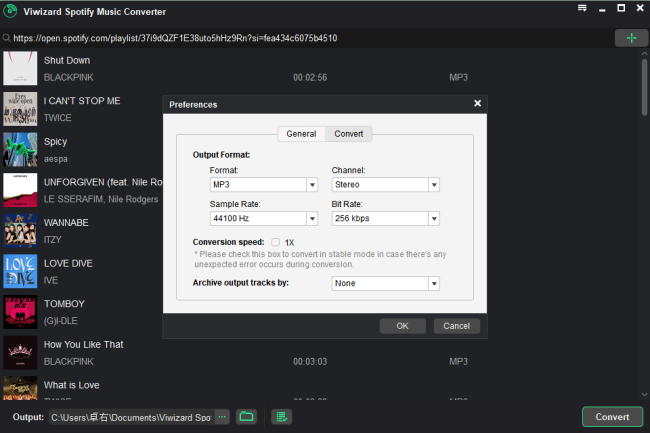 After uploading your selected Spotify music to the converter, you are prompted to configure all sorts of audio settings. According to your personal demand, you can set the output audio format as MP3 and adjust the audio channel, bit rate, sample rate, and more.
Step 3

Download Music from Spotify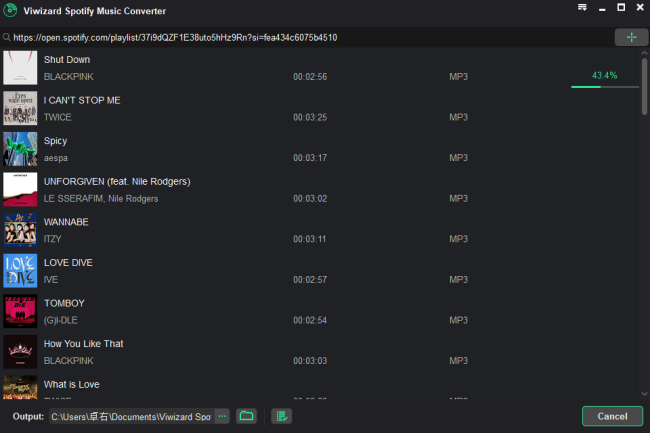 Click the Convert button to convert and download music from Spotify. Just wait for a while and you can get all converted Spotify music. All music can be found in the local folder on your personal computer by clicking the Converted icon.
Part 3.

How to Import Spotify Music to Your InShot Project

You can now transfer the downloaded music files to your mobile device and then use them as the background music of your InShot video.
Step 1. Transfer downloaded music to Android/iOS
To transfer the downloaded music to an Android or iOS device, follow these steps:
For Android:
Connect an Android device to the computer.
On Mac, open the Android File Transfer app and drag and drop the downloaded music files to the window to transfer them to the Android device.
On Windows, open the File Explorer (This PC) and drag and drop the files to transfer them to the device.
For iOS:
Connect an iOS device to the computer.
When prompted in iTunes, head to the music files to transfer to the connected iOS device. You should use File > Add File/Folder to Library to add the downloaded music files to the program.
Select the connected device at the top of the sidebar, and choose Music > Sync music > Entire music library > Apply to start syncing the music files.
Once done, click Done.
Step 2. Create and open a project in InShot
To add the downloaded music to an InShot project, follow these steps:
Open the InShot app on an iOS or Android device. You can head to download it from the App Store (iOS) or Goggle Play (Android).
Tap on the VIDEO button to open or create a new project. To create a new project, select the video from Photos (iOS) to add background music.
Step 3. Add music to a project from local music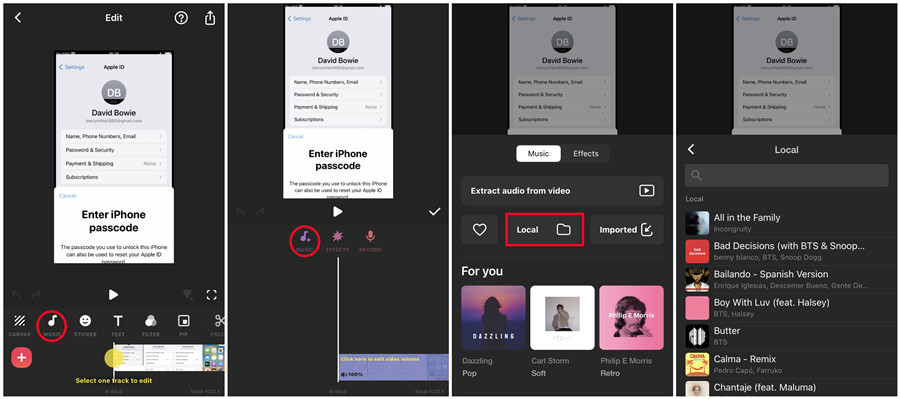 You can then add the transferred music to the video project.
In the InShot editor, look for the MUSIC option alongside with others such as STICKER, TEXT, FILTER and more.
Tap on the Add Music icon.
Tap on Local under the Music section.
InShot will load the local music collection, scroll through the list of the music tracks and select the desired one to add to the video project.
Tap on Use next to the music track. This will add the music to the Tracks area.

Back to the editor and tap on EDIT to start editing the music track to adjust the volume, and add effects like fade in and fade out.
Once done, tap √.
Part 4.

How to Import Spotify Recording to Your InShot Project

For iPhone or iPad users, it's convenient to screen record Spotify music and add it to your InShot project to use.
Step 1. Set up Screen Recording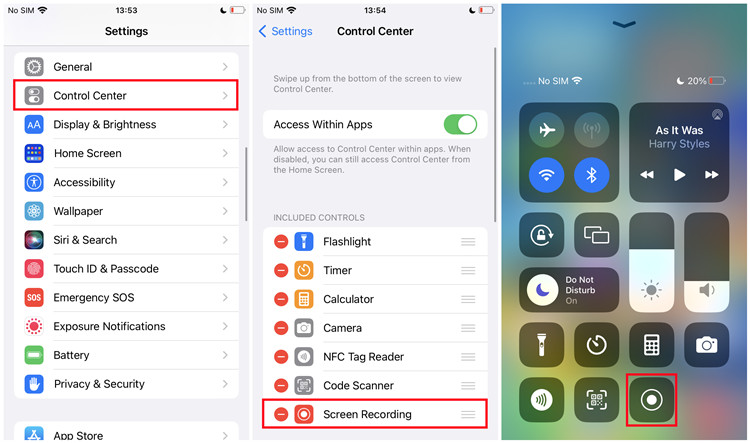 Open the Control Center to check to see if the screen recording function is enabled there as the Record button.
If hasn't, open the Settings app > Control Center, and add Screen Recording under the INCLUDED CONTROLS section.
Now back to the home screen and open the Control Center, and tap on the Record button to start screen recording.
Step 2. Screen record Spotify music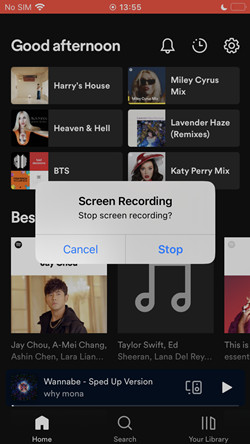 Open the Spotify app and head over to the desired music and play it.
To stop the recording, tap on the red bar on the top of the screen or return to the Control Center and tap on the Record button again.
Your screen recording will be stored into the camera roll.
Step 3. Add Spotify recording to a project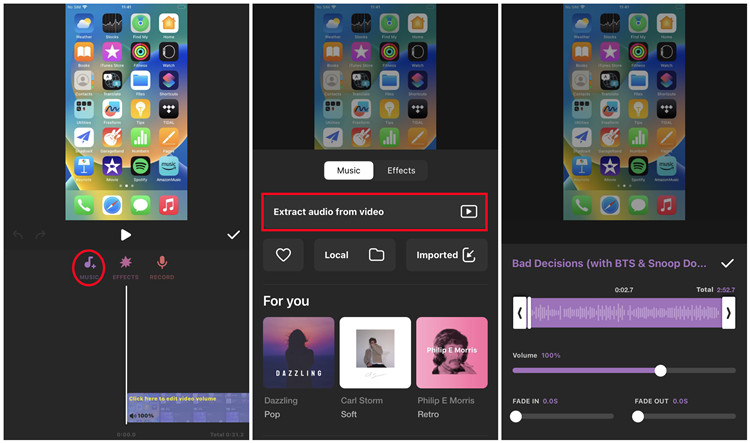 Open the InShot app and then open or create a new project.
Tap on MUSIC on the toolbar.
Tap on Extract audio from video. This will open the Photos window or screen.
Scroll to locate and select the recording.
Customize some settings including fade in/out effects. You can also save the extracted audio from the recording.
Tap √ to add the extracted audio to the video.
You can then try to play the video with the background music. If you are not satisfied with the audio quality, try using alternative ways to download and add the music files instead.
Conclusion
This is a complete guide for adding Spotify songs to InShot video. With the help of ViWizard Spotify Music Converter, you can easily download and convert Spotify music to MP3. Then you can freely transfer Spotify songs to InShot or any other video editors for use.