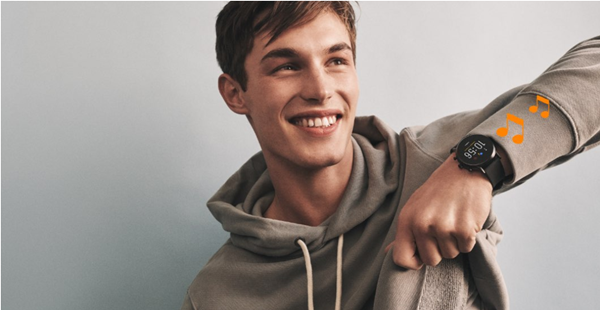 The rising of smartwatches is offering people an even better option than a smartphone. With plenty of built-in features and programs, smartwatches have surely become the most reliable and comfortable wearable available. Spotify is a streaming music service that gives you access to millions of music resource for free by logging into the app with your email ID or Facebook account. Much of the smartwatches are now offering the ability to play Spotify music straight from the wrist – and even offline sync Spotify.
Here we've divided this post into two parts. The first part is a collection of the best smartwatches for Spotify. The second part is a feasible way to let you listen to Spotify music on your smartwatch offline even without a phone. Just find your favorite smartwatch with Spotify in this post. Let's get into.
5 Best Smartwatches for Spotify Users 2020
Not all smartwatches have the credibility to install Spotify on their device. But the following ones all support Spotify. Let's have a look at each one of them.
5 Best Smartwatches with Spotify App
The best smartwatch for iOS: Apple Watch Series 5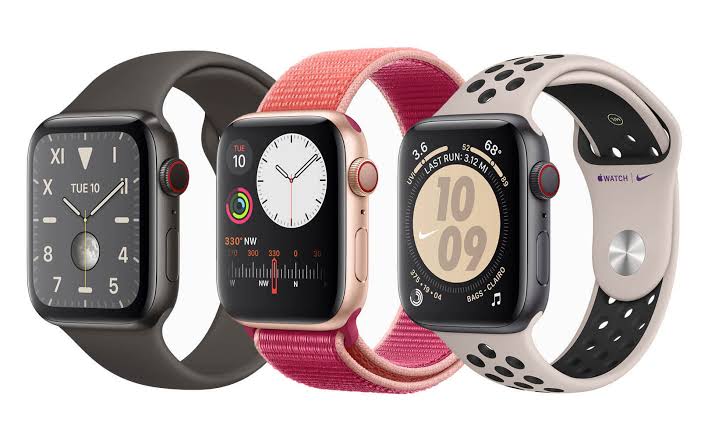 Apple Watch has been the trend setter of smartwatches all times as well as a top pick for music lovers. So, if have an iPhone, the best music smartwatch for you is Apple Watch Series 5. It's an excellent smartwatch with both all style and substance. With materials like aluminum, stainless steel, titanium, or ceramic, you could choose as you'll love.
So, what about Spotify music? Well, it has now provided support for the Spotify app to provide an excellent experience for each Spotify subscriber. Spotify needs to be downloaded from its app store in your Apple Watch. You can stream Spotify music to Apple Watch as per your wish and also ping your desired Spotify songs to Spotify connect devices like Amazon Echo, Sonos Speaker and more.
The smartwatch comes with 32GB of internal storage space. Meanwhile, for your music, there's up to 4GB onboard storage and cellular connectivity for saving music, so you can stream Spotify music from your Spotify app. If you have a Spotify Premium, you could listen to Spotify music on your Apple Watch offline with your iPhone when you don't have a network connection.
Key Features
Come in a choice of 40mm and 44mm case sizes
Always-on retina display for time and watch face
A variety of latest apps available with WatchOS 6
Music offline syncing and LTE streaming for music
Pros:
1. Built-in cellular and GPS;
2. 50 meters water resistant;
3. Abundant fitness features;
4. Music streaming with LTE.
Cons:
1. Too short battery life;
2. A little expensive for smartwatches;
3. Offline playback only for Apple Music.
The best smartwatch for Android: Samsung Galaxy Watch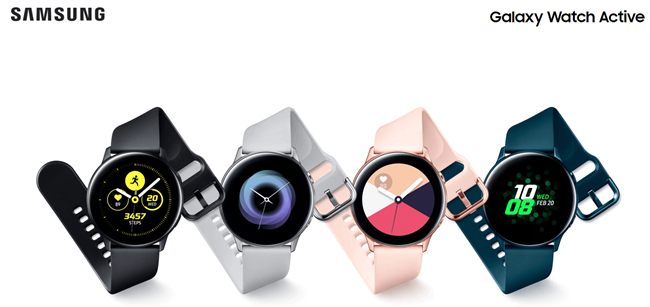 Samsung Galaxy Watch could be the best one you could choose from most of smartwatches on the market if you own an Android phone, regardless of whether it's from Samsung, Huawei, HTC or any other brand. It comes in two sizes, with a dimension of 40mm or 44mm, and you could buy it according to your wrist.
Above all, Spotify can work perfectly in the Samsung Galaxy Watch but there is no preinstalled Spotify app in the watch. So, you need to install the Spotify app from the Galaxy store through your smartphone in the watch first. Then you could start the playback of Spotify music on your Galaxy Watch and sync your Spotify playlist to your watch with your Spotify account.
On the premise that you have a Spotify Premium account, you can easily take control of your Spotify music on the Galaxy Watch and listen to songs on the go. Otherwise, you could download a collection of Spotify music tracks on your Galaxy Watch for listening offline by simply setting the device to offline mode.
Key Features
A long-lasting battery life on a single charge for days
A range of fitness apps available in Samsung app store
5 ATM water resistance and military standard durability
LTE version for true hands free and music tracks with you
Pros:
1. A large selection of applications;
2. A bit cheaper than Apple Watch;
3. Spotify offline syncing and MP3s;
4. Offline music playback supported.
Cons:
1. Poor voice recognition;
2. Hear rate monitor with some bugs;
3. Some issues with Bluetooth headphones.
The best smartwatch for running: Garmin Forerunner 645 Music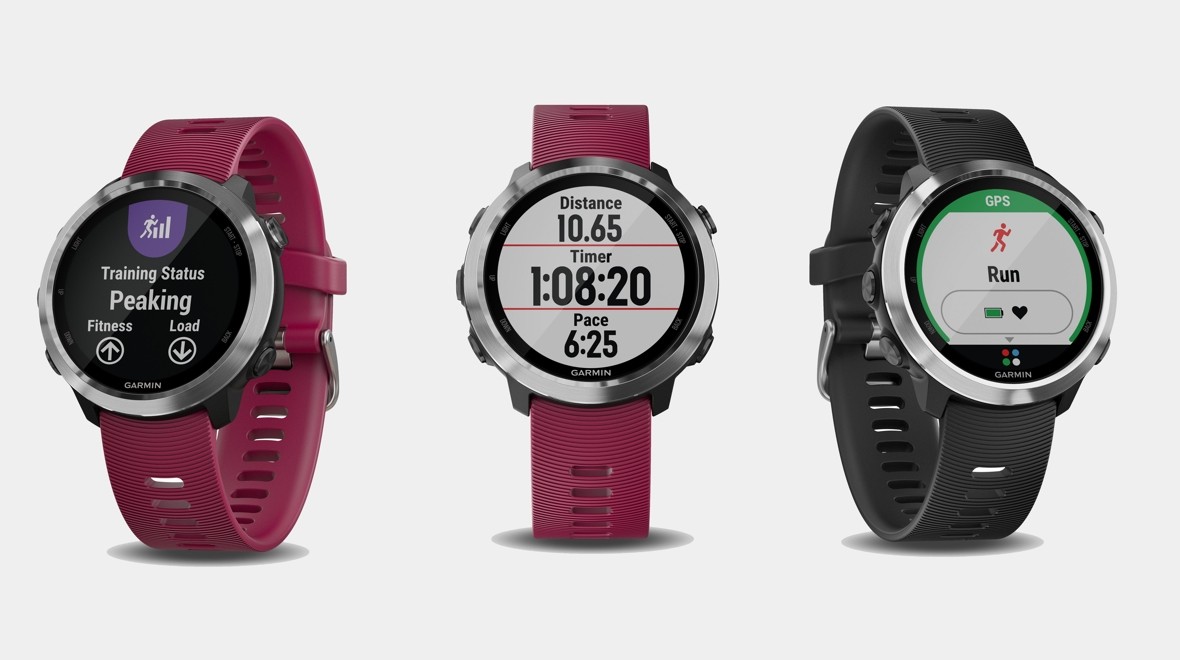 Garmin Forerunner 645 Music is a superb running watch that is completely dedicated to keeping you active throughout the day. It can provide a large number of fitness features like fitness monitoring, stress tracking and so on with you in a very unique customizable way. It is a good choice for iPhone and Android users who want to have a good music experience during your run.
Only Samsung featured Spotify integration with its smartwatches while Garmin Forerunner doesn't have a pre-loaded Spotify app. All owners need to download the Spotify app from the Garmin Connect app store and install it to their Garmin Forerunner. Once downloaded and installed, the watch can connect the Spotify app and enable you to download playlists for listening on the run.
With up to 500 songs worth of music storage built right into your watch, you'll have at least a week's worth of music at your disposal. If you have subscribed to the Premium plan on Spotify, you could sync your Spotify playlists and download Spotify music to your watch via Wi-Fi directly. Then you can stream pre-downloaded playlists from Spotify offline.
Key Features
Several hours of music streaming with built-in GPS
Stay connected for getting notifications and music
A large number of themes designed for your watch
Advanced running features and auto-sync integration
Pros:
1. Spotify offline syncing and MP3;
2. Offline music playback supported;
3. Battery life lasts up to seven days;
4. Advanced running features for you.
Cons:
1. Only syncing playlists with Wi-Fi connection;
2. Notifications of texts and emails only for Android.
The best smartwatch for workout: Fitbit Versa 2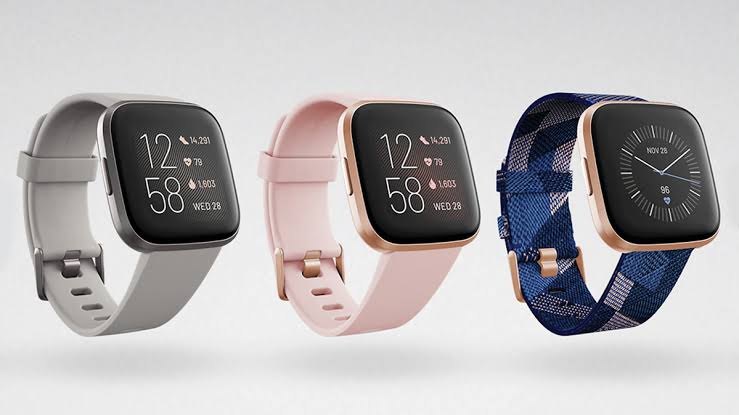 Fitbit Versa 2 is a great smartwatch that is suitable for both Android and iPhone users with a solid battery life of about six days. It is the top pick if you want a fitness tracker with music. As it doesn't have standalone GPS tracking, if you go for a run and want accurate data, you'll need to bring your phone with you.
Swipe right from the home screen for apps like exercise, alarm, clock, and third-party apps like Spotify. Spotify integration is a new addition for the Versa 2, but it's limited in two key ways. First, not all Fitbit Versa owners can control your Spotify app on your wrist but Premium subscription required. Second, it doesn't allow playback from the Versa 2, but only controls playback on another device, like your phone or smart speaker.
It's a nice bonus, but someone would prefer to have the ability to stream a playlist or two from Spotify to Bluetooth earphones without needing to carry a phone on the run. This integration falls a bit flat. That being said, the watch could enable you to store music on the device up to 300 songs via a desktop Fitbit app while some methods could solve this issue.
Key Features
Hundreds of clock faces and always-on display mode
Sleep score, sleep stages, sleep mode for your sleep
15+ goal-based exercise modes for health and fitness
Improved lightweight design and easy-to-use interface
Pros:
1. Intuitive interface;
2. Multi-day battery life;
3. On-device music storage;
4. Waterproof to 50 meters.
Cons:
1. No built-in GPS;
2. No offline Spotify playback;
3. Not good music synchronization.
The best smartwatch for WearOS: Fossil Gen 5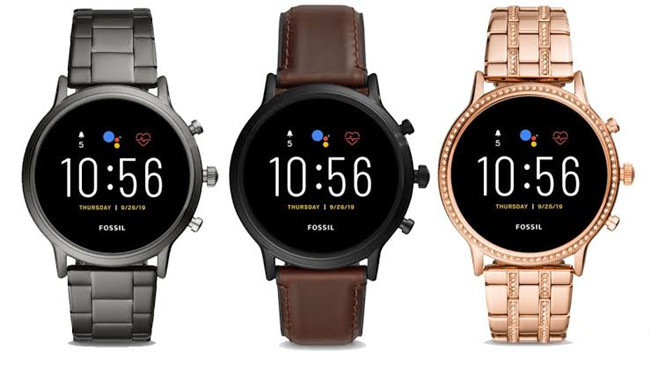 Fossil Gen 5 is one of the best Wear OS smartwatches out there at the moment, and it can offer a decent battery life, plenty of features and an easy-to-use design. It's well priced for what it offers, looks decent enough, and is sufficiently versatile, allowing you to easily swap watch straps around for special occasions.
With all the latest features included in the watch, it also acknowledges Spotify. Indeed, Spotify comes pre-installed in the watch at launch which allows you to access recently played songs, browse through Spotify playlists, and control Spotify music straight from your wrist. It saves the trouble of downloading and installing the Spotify app in the watch. After getting the watch, you could start the Spotify track right away.
All you need to know is that you can control playback on your wrist while listening to Spotify on your phone, but you cannot download Spotify playlists to listen to offline like you can on Samsung Galaxy Watch. Nevertheless, it creates an ample 8GB of storage space inside for you to save your music files. Well, you could seek another method to solve it.
Key Features
More third-party apps and music with 8GB of storage
Battery life for multiple days with smart battery modes
Wonderful fitness features for monitoring your health
A number of additional apps available on Google Play
Pros:
1. Speedy to use and decent battery life;
2. Extra RAM bodes well for performance;
3. Hundreds more available on Google Play;
4. Plenty of great watch faces preinstalled.
Cons:
1. No ECG feature;
2. No offline Spotify playback;
3. Hard to see in direct sunlight.
How to Listen to Spotify on Smartwatches Offline
With these best smartwatches, your Spotify music travels with you where you go. Streaming your Spotify music online and connecting with your wireless earbuds let you enjoy Spotify music when you're out for a jog. Well, if you want stream Spotify music to smartwatches when you don't have a network connection, what you should do?
As we all know, all Premium users can set Spotify to offline mode. So, if you have a Premium account, you could save offline playlists from Spotify onto the smartwatch with a dedicated Spotify app. Due to the subscription limitation, those Spotify subscribers with a free account are not going to able to use the features on the smartwatches.
Not that mattered though, because with the assistance of the third-party tool like ViWizard Spotify Music Converter, it can not only enable you to get offline playlists with Free Spotify but also convert Spotify music to smartwatch supported formats without DRM protection. Then you can listen to Spotify music on the smartwatches without a dedicated Spotify app or controls the playback of Spotify on the smartwatches directly instead of on another device.

Key Features of ViWizard Spotify Music Downloader
Download any track and playlist from Spotify without premium subscription
Remove ads and DRM protection from Spotify music tracks, albums or playlist
Convert Spotify songs, artists, album, and playlist to common audio formats
Work at 5× faster speed and preserve original audio quality and full ID3 tags
Read on for how to get started listening to Spotify from your smartwatches without Wi-Fi
Step 1. Open ViWizard and it will automatically load the Spotify app. Then you need to log into your Spotify account and navigate to your music library on Spotify. Next, you need to drag and drop your desired Spotify music tracks or playlists to ViWizard interface. Or you could copy and paste the link of the Spotify music or playlist to the search bar of ViWizard.
Step 2. You need to go to set the output audio parameters for Spotify music tracks. There are six plain audio formats like MP3, AAC, WAV, FLAC, M4A, and M4B for you to choose from. Except for adjusting the audio format, you could adjust bit rate, sample rate, audio channel and so on.
Step 3. Once you've done all of the setting, you could click the "Convert" button to begin to download offline Spotify music tracks or playlists. Wait for a while and ViWizard will move Spotify music tracks to your computer. Finally, you can upload the downloaded Spotify music files to your smartwatches and get smartwatches Spotify offline.

Nick Orin is a review writer, software geek and Mac OS enthusiast. He spends all his free time in searching useful software and gadgets to share with others.