With the development of technology, the reading ways have been changed these days. Many people prefer to reading e-books and listen to audiobooks. Listening to audiobooks is a good way instead of reading paper books. Because you can listen to audiobooks at any time and in any place.
There're many audiobooks streaming services now. One of the most famous services is Audible which has popular all over the world. Except for Audible, Libor.fm also is a great platform to get audiobooks. Today we will make a comparison of Audible and Libro.fm. After reading this article, you will know deeper about them.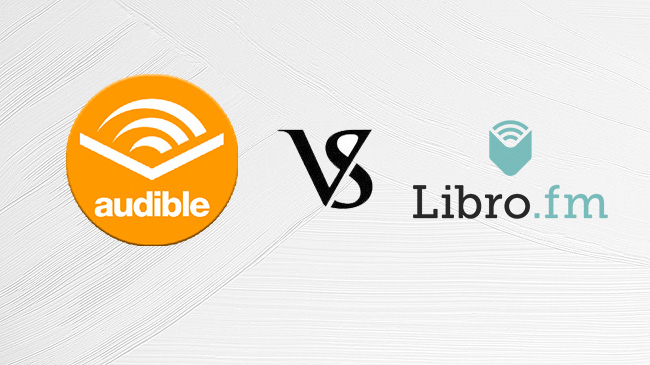 Part 1. Introduction of Libro.fm and Audible
In this part, we will make a brief introduction to Libro.fm and Audible. Audible is a subsidiary of Amazon that sells and produces spoken audio material. While Audible provides a wide range of content, including radio and TV shows, the company is best recognized for its audiobooks.
Libro.fm is an audiobook service similar to Audible, but with one major difference: you may donate a part of your audiobook sales to an independent bookshop of your choosing. This means that indie bookshops will be supported when you buy digital audiobooks. Both services are great for getting audiobooks. But Libro.fm can make your purchase more meaningful.
Part 2. Libro.fm vs Audible: Library
The library is a key factor of the service. Audible offers over 550,000 titles which including audiobooks, podcasts and original content. It contains multiple categories, such as Romance, Education & Learning, History, Arts & Entertainment, Business & Careers. They also produced a large number of original contents which can't be found in other places. The original contents attract many users who love something new. Some of these original stories are available for free purchase. To protect their audiobooks be copied, Audible audiobooks are in encrypted AA/AAX format which can't be played without its app. This playing limit means you can't transfer the downloaded Audible files to other devices as your need.
Libro.fm has over 250,000 audiobooks, many of which are classics or bestsellers. It's easy to find the audiobook you need from Libro.fm. If you don't know which book to choose, Libro.fm will push audiobooks through lists. Booksellers' picks, New releases, Bestsellers, Libro.fm for Kids, you can refer to these lists. And all the audiobooks are non-DRM. You can download the audiobooks into MP3 for playing on any device you like.
Part 3. Libro.fm vs Audible: Price
Both Audible and Libro.fm are streaming services, so you need to subscribe to a premium plan. To encourage users to read more books, the streaming platforms will give you a thing called 'credit'. With a credit, you can purchase a book you like without extra cost. When you need more credits, you can purchase them from the platforms.
Audible offers two plans: Audible Plus and Audible Premium Plus. The first is $7.95 per month, while the latter is $14.95 per month. With Audible Premium Plus, you may obtain a credit and save 30% on audiobooks. Audible provides a free 30-day trial for both programs to new customers. With a 30-day Premium Plus trial, Amazon Prime members may obtain 2 premium selection titles.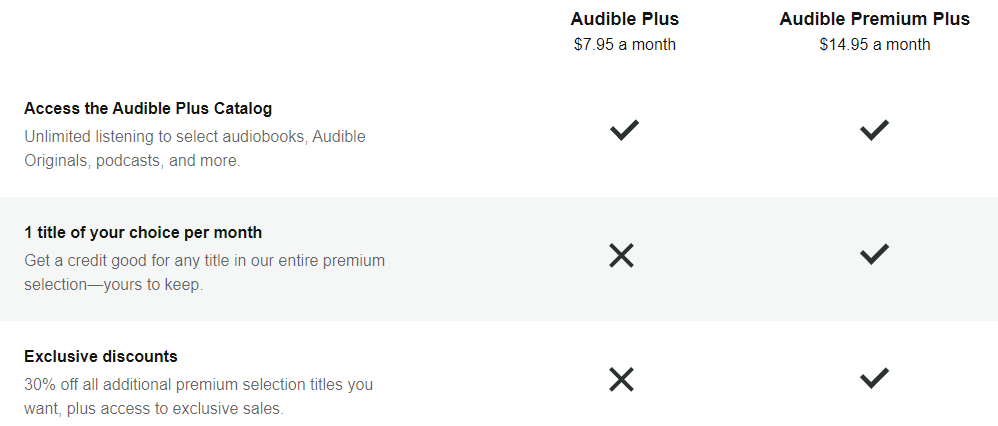 Monthly membership for one credit is $14.99 per month of Libro.fm. (The first month is free) When you have a current membership, you may also buy extra titles for 30% off the list price. Libro.fm has a comprehensive discounts area where titles of all genres and categories are regularly marked down to between $2.99 and $9.99. You may save a lot of money from these big sales.
Part 4. Libro.fm vs Audible: Service
The Audible app is available on iOS devices, Android, Alexa, and Kindle. You can also use the Audible Cloud Player to listen to your Audible audiobooks on other devices.
Libro.fm supports Android, iOS devices and Kindle. You can download the Libro.fm app from Google Play and App Store for streaming Libro.fm audiobooks.
Part 5. Comparison
| | | |
| --- | --- | --- |
| Audiobook Services | Audible | Libro.fm |
| Compatibility | iOS, Android, PC, Alexa, Kindle | Android, iOS devices and Kindle |
| Playback Speed | 0.5x-3x | 0x-2x |
| Audiobook Library | 550,000+ titles | 250,000+ titles |
| Pricing | $14.95 a month | $14.99 a month |
Bonus: Saving Audible Audiobooks for Playing on Other Devices
As mentioned before, Audible audiobooks are encrypted AA/AAX files that can't be played without its app. So you can't play the Audible audiobooks on the device you like, such as iPod. To break the block, you need a professional Audible audiobooks converter. With an Audible converter, you can easily extra MP3 from Audible audiobooks.
Today we would like to introduce ViWizard AA/AAX Audiobook Converter to you. With this tool, you can convert Audible audiobooks into MP3, FLAC, AAC, OGG, M4A, M4B, WAV, etc. It can also save the lossless quality. Users are allowed to customize the audio by adjusting the parameters like sample rate, bit rate, speed, and volume. You can also divide the audiobook into small parts by chapter or time which is convenient.
ViWizard Audible Audiobook Converter Key Features
Losslessly convert Audible books to MP3, FLAC, AAC, OGG, M4A, etc.
Convert Audible audiobooks to open formats at 100× faster speed
Freely customize the output audio parameters such as sample rate
Split audiobooks into small segments by time frame or by chapters
Video Tutorial: Using ViWizard to Download Audible Audiobooks to MP3 with Simple Clicks
Summary
In this article, we have compared Audible and Libro.fm from the aspects of library, price and compatibility. Audible has a bigger library than Libro.fm, so you can find almost all audiobooks you need from it. But Libro.fm allows you to download the audiobooks into MP3 for playing on any device. They each have their own advantages; you can choose one according to your actual needs.
Of course, if you want to save Audible audiobooks in MP3 files, you can use ViWizard AA/AAX Audiobook Converter. It can download and convert Audible books in MP3 and other open formats with the original quality. If you want to know more about this tool, just click the download button below.