There are tons of music streaming services which are currently trending. Besides, they are duly fantastic especially when you are at home or on the go. However, what heppens if you are driving in car or doing housework then want to feel the same ambiance? Spotify will save your day where you can find lots of songs you like.
Spotify music service appears as the top-notch choice for most music lovers. Its sound system is the bomb and the service is apt with over 70 million songs. With Bluetooth, you can easily play Spotify on Bluetooth supported devices such as speakers, headphones, and even your car. This article is going to shed some light on ways to play Spotify through Bluetooth across your devices.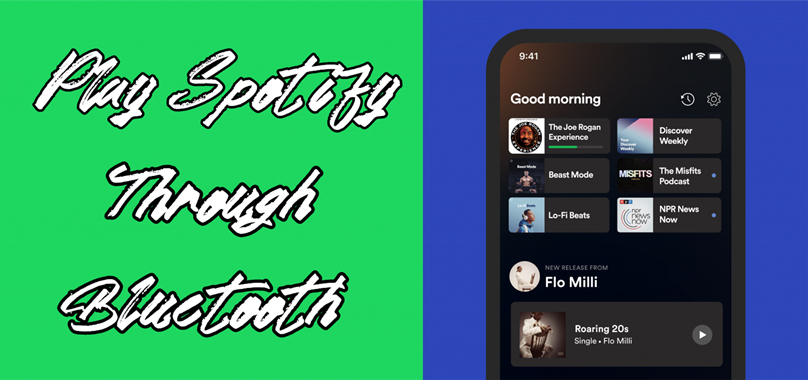 Part 1. Spotify & Bluetooth: Play Spotify via Bluetooth
As the largest music streaming service on the earth, Spotify opens the door to cooperation with lots of popular brands and devices on the market. Since then, you can listen to your favorite songs from Spotify on the smartwatch, speaker, smart TV, and more through Bluetooth. To play Spotify on Bluetooth, you just need:
1) The Spotify app on a device compatible with Bluetooth
2) An audio device that supports Bluetooth
How to use Bluetooth with Spotify
Step 1. Turn on Bluetooth on your two devices.
Step 2. Pair the devices in their Bluetooth settings.
Step 3. Open Spotify then select any track or playlist to play.
Note: It's best to establish a Bluetooth connection before opening Spotify.
Part 2. How to Play Spotify in Car through Bluetooth
Most of the modern cars have supported Android Auto and CarPlay, then you can directly connect your iPhone or Android device. But there are still many people who cannot use this function. In this case, a Bluetooth connection is an alternative way of transferring your music from any device to another one, such as your car speaker.
Lots of the cars have got built-in Bluetooth functionality, and even those older cars also support Bluetooth connection. If you have a got Bluetooth car radio, then your worries have just been narrowed because Spotify is well compatible with Bluetooth. The only thing to do is to pair your Spotify enabled iOS or Android OS device with the car stereo.
Step 1. Enable Bluetooth on your iPhone or Android device as well as with the car stereo system.
Step 2. Go to the Bluetooth settings on your device and then search for the available car stereo.
Step 3. Go ahead and select the correct one so as to set up the connection between your device and car.
Step 4. Open Spotify on your iPhone or Android device and select the chosen songs to play.
Part 3. How to Play Spotify through Bluetooth Speakers
Via voice command, you can control the music playback on your smart speaker. There are most of music streaming platforms that supports playing music on smart speakers, including Spotify. For those popular smart speakers, you can use Spotify Connect to link your Spotify account to the device for playing, but some speakers are not compatible with Spotify Connect.
To make Spotify playable on those smart speakers, you can play Spotify through Bluetooth. The Bluetooth supported speakers such as Sonos Move, Bose Portable Home Speaker, and Keecker can only play Spotify via Bluetooth connection. When having the party outdoors, then you can switch to Bluetooth to enjoy Spotify.
Step 1. On your speaker and mobile device, switch on Bluetooth.
Step 2. Launch the Settings on your mobile device and then select Bluetooth.
Step 3. Find the smart speaker and then connect it to your mobile device.
Step 4. Open Spotify and hit the Play button to play your liked songs.
Part 4. How to Play Spotify on Headphones via Bluetooth
The easiest way to get Spotify on your headphones is to use Spotify Tap or voice integrations with Siri, Google Assistant, and Alexa. However, some users find that they cannot use this feature to listen to Spotify music on their headphones. So, is there other way to play Spotify on headphones? Sure, that is to use Bluetooth to connect Spotify to your headphones for playing.
Step 1. Turn on Bluetooth in your iPhone or Android device settings.
Step 2. Choose the headphone from the list of available devices in your Bluetooth settings.
Step 3. Launch Spotify on your device and start enjoying Spotify music through the headphones.
Part 5. Troubleshooting: Spotify for Bluetooth Not Working
Sometimes, you may experience that Spotify won't play through Blue speakers or other abnormal issues like when trying to play Spotify through Bluetooth. When this happens, you will not able to stream Spotify music even if other apps are just alright. But don't worry. If you meet any unexpected error, such as Spotify won't stream via Bluetooth, you can try these solutions to solve the problem quickly.
1) Ensure that the devices you are using in range. Your tablet, smartphone, or computer should be close to the device you want to link. The recommended distance is within 1 meter of each other.
2) Both devices being used should have sufficient power so as to enable the Bluetooth connection.
3) Check whether the Bluetooth allows media sharing. Go to the Bluetooth settings of your device and then look out for the sharing option.
4) Make sure that your device is connected to the right one. All the non-used devices ought to be disconnected.
5) Try disconnecting other devices because some devices only let you have one connection at a time.
Suggestion & Conclusion
Playing Spotify through Bluetooth is a great way to enjoy your songs on other devices without the Spotify app. Meanwhile, the effor it takes from start to finish may bring variation as far as getting quality music is concerned. Spotify Bluetooth gives your option when your device doesn't support Spotify Connect but sometimes it fails to work. The best method is to download Spotify music to your device for playing without limits.
However, as Spotify uses DRM to protect the music copyright, it's no easy job to download Spotify songs locally. In such case, you'll need a third-party Spotify music downloader like ViWizard Spotify Music Converter for help. It can easily download Spotify songs to MP3 without losing any quality. Once downloaded, you can play Spotify music anywhere and anytime. Best of all, it works with both Free and Premium accounts of Spotify.
More Spotify Tips & Tricks

Matt Smith is an amateur writer engaged in ViWizard in 2013. He is a movie lover who write a lot of movie reviews for many websites and blogs.