Spotify, as one of the biggest online music streaming providers, hits millions of music fans from all over the world with more than 70 million high-quality songs. But there's a fun fact about this internet giant, none of its 356 million users get access to listen to its music outside the Spotify platform.
If you're a free Spotify user, you must be putting up with endless ads that pop up in the middle of the song when you're vibing to it. Or if you're a Premium user, songs downloaded from Spotify can not be played by any MP3 player other than Spotify itself.
Here's the solution, you can record Spotify with Audacity on the Windows system, and then you'll be able to play them offline with any music player no matter you're a paid user or not.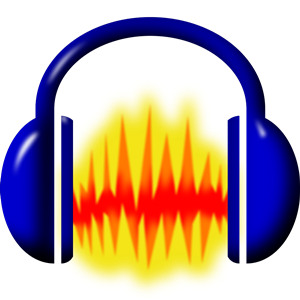 Part 1. How to Use Audacity to Record Spotify
Audacity is a free open-source digital audio editor and recording software. It can be applied to record audio from a wide variety of sources including record sounds from the internal speaker of the computer, which means with using audacity, music played on Spotify by the computer can be captured to the software and outputted in MP3, WAV, Ogg Vorbis or any other formats. Down below is a quick guide on how to record Spotify music with Audacity.
Step 1. Set Up Audacity Record for Devices
On Windows, open the Audacity for Windows.You can start to choose your preferred Audio Host, Recording Device and Playback Device.
1. Audio Host: how to choose the Audio Host interface for Windows
In Audacity, go to the toolbar > Edit > Preferences > Devices > Interface > Host , then select an option in the Audio Host box - like MME, Windows DirectSound and more.
Tips: Here we recommend the Windows WASAPI Audio Host.
2. Recording Device & Playback Device: how to achieve the correct recording level
Still in the Devices section, go to Playback and Recording to choose the Device (the computer playback device you will be listening to) - like Speaker/Headphone.
Tips: Here we recommend the (loopback) input in the Recording Device box, then choose the loopback input for the recording device and playback device (for example, "Speakers (loopback)".
Step 2. Record Spotify with Audacity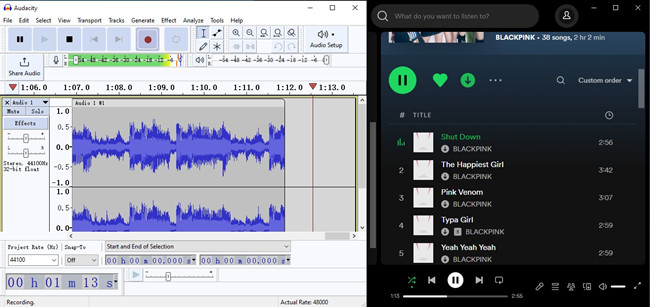 To make the real recording, go to the toolbar > Record button, then start the audio playing from Spotify for desktop on Windows.
You can continue recording the Spotify content for as long as you want, but to notice the "disk space remaining message" in the Status bar at the bottom. When you finished recording, click pause Now Playing in the Spotify app then the Stop button in Audacity.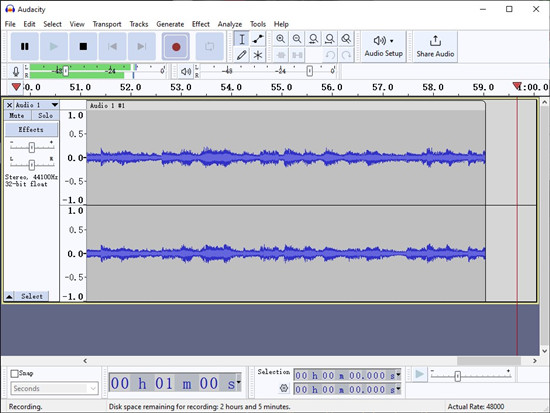 Step 3. Export the Audacity Record from Spotify
To export the recording, go to the toolbar > File > Export, then select an option.
Tips: Here we recommend using File > Export > Export Audio ... to WAV or AIFF.
Extra Tips: How to Make Audacity Record from Spotify Better
Before or after a real Audacity record from Spotify, you can customize these settings in Audacity for better recording.
1. Software playthrough of input: how to turn Software Playthrough off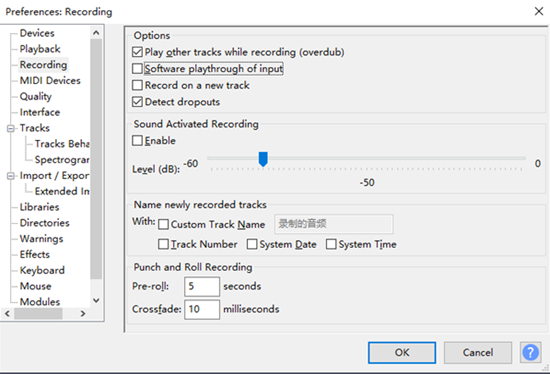 If playthrough is on, the audio interface will try to play what it is recording then record it, creating an increasingly loud series of echoes that may damage your equipment.
To turn off Software Playthrough, go to Preferences > Recording > Options > Software playthrough of input, then switch it off . You can always check this setting in the toolbar > Transport > Transport Options > Software playthrough of input (on/off). If playthrough is off, the option is unchecked.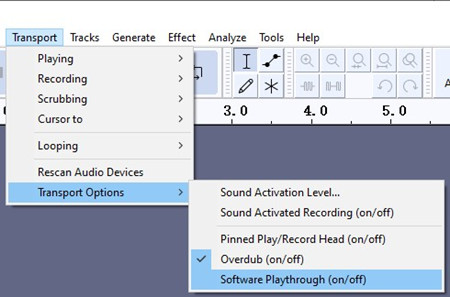 2. Monitoring: how to monitor and set initial sound levels
You can always set sound levels by playing similar or same material from the Spotify contents and monitoring it in Audacity, so that the recording level will be neither too soft not so loud as to risk Recording Meter Toolbar.
To turn Monitoring on and off in the Recording Meter Toolbar, left-click in the right-hand recording meter to turn it on, then click again to off.
3. Recording Level & Playback Level: how to achieve the correct recording level
Except for that, adjust the Recording Level so that the sound of the Audacity record from Spotify could be normal.
Tips: The aim is to adjust levels so that the long colored bars in Meter Toolbar do not exceed about -9.0 to \xe2\x80\x936.0 dB (or 0.5 if the meters are set to linear rather than dB).
Both the output level of the Audacity record from Spotify and the level it is being recorded at will determine the achieved input level of the recording, so that to achieve the correct recording level you should use both the recording and playback level sliders on Mixer Toolbar.
Part 2. Alternative to Audacity: Record Music from Spotify with ViWizard
Q: It's too hard for me, is there an easier way or easy-to-use Spotify recorder?
Although the above is called "Quick Guide" for record Spotify using Audacity, it's actually quite complicated especially if you're not familiar with those audio technical terms. Is there a quicker method to get the original Spotify tracks without using Audacity?
The answer is yes. ViWizard Spotify Music Converter is designed to convert Spotify Ogg Vorbis into MP3, FLAC, AAC, WAV, M4A, M4B with no quality loss. It is dedicated to helping users download songs at 5× speed out of Spotify to their personal device in 3 simple steps and make these songs available to be played on any music player.
It is also featured to better suit users' needs to allow users to customize their own output preferences.
Key Features of ViWizard Spotify Music Downloader

Download Spotify tracks, albums, playlists, artists, and podcasts with free accounts
Up to six popular audio formats like MP3, AAC, M4A, FLAC, M4B, and WAV for you
Remove the digital right managements and advertisements from all Spotify contents
Work at 5× faster speed and save Spotify audio with the original quality and ID3 tags
1

Add Spotify Music Tracks to ViWizard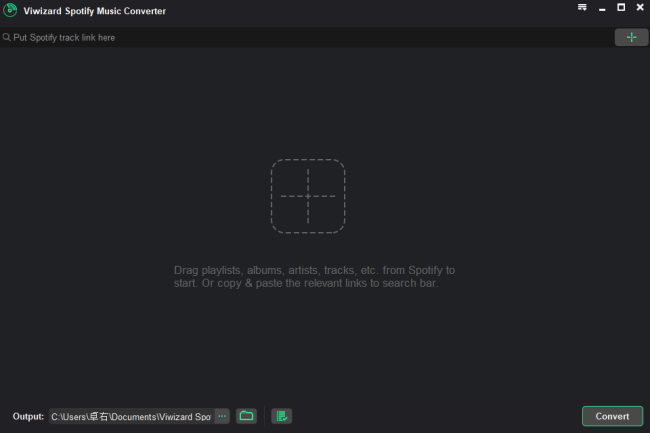 Launch ViWizard Spotify Music Converter and then the Spotify app will be pulled up automatically. Drag and drop the audio tracks to ViWizard interface. They'll be automatically uploaded.
2

Setting Output Format and Parameters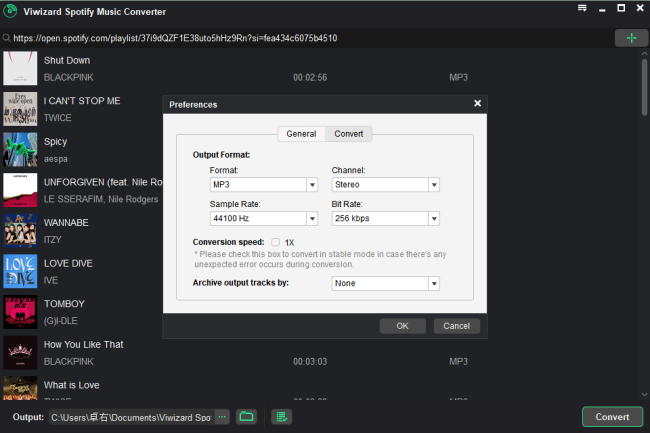 Once completed loading input files, you can click the Format button in the bottom left and choose the output format among MP3, AAC, FLAC, WAV, M4A, and M4B. You can also click the Output button and choose the output location.
3

Start Converting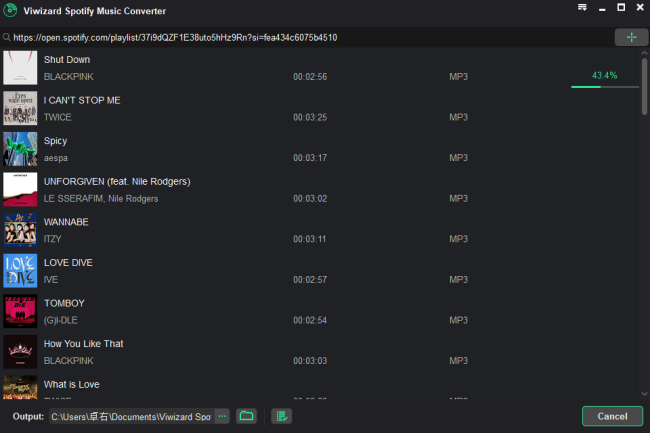 With format setting done, press the Convert button and ViWizard will start the conversion process. When it is done, you can find all your converted songs by clicking the Converted button. And then you can put them and play them anywhere you want.
Part 3. Comparable Table: Audacity vs. ViWizard Spotify Converter
It seems that Audacity and ViWizard are both reliable and powerful Spotify recorders. But which choice is more suitable for you? Here I conclude the features of them and produce a chart. Hope this will help you to make a considerate decision.
| | | |
| --- | --- | --- |
| | ViWizard | Audacity |
| Output quality | 100% lossless quality | Lossy quality |
| Speed | 5× or 1× | 1× |
| Bit rate | from 8kbps to 320kbps | × |
| Sample rate | from 8000 Hz to 48000 Hz | × |
| Output format | MP3, AAC, FLAC, WAV, M4A, M4B | MP3, WAV, FLAC, AIFF, AU, Ogg Vorbis |
| Supportive OS | Windows, Mac | Windows, Mac, Linux |
According to this chart, if you only have a Linux computer and prefer free tools, you need to record from Spotify with Audacity. However, Audacity is pretty complicated to use. And the recording quality is not very satisfying. If you value the quality of the recorded audio and want a fast and easy conversion, ViWizard Spotify downloader is a better choice, which is a professional and dedicated Spotify downloader. And you can find more useful features like editing ID3 tags in this tool.
The Bottom Line
Of course, you can't go wrong with the free Audacity software to record Spotify music, but if you're a rookie to professional audio editor and recorder, you could probably go wrong though. While the ViWizard Spotify Music Converter provides an ultra-fast method to help you complete downloading music from Spotify, just go and give it a try, you'll find the best way for yourself.