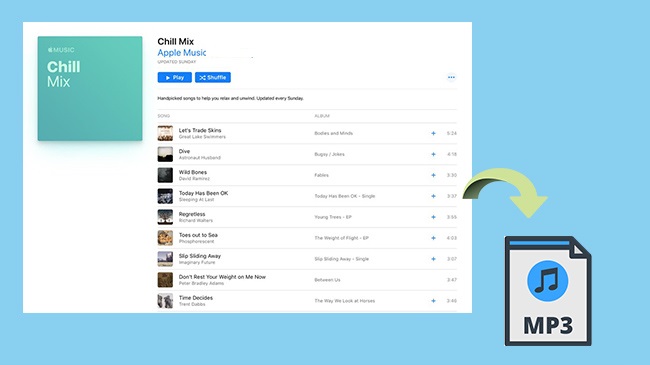 Apple Music, as a leading music streaming service, offers over 90 million songs, albums, and podcasts for its users. In contrast to other similar services, Apple puts the emphasis on manual curation. While there are some playlists created through algorithms, much of the content highlighted on Apple Music is done by Apple Music editors. This allows Apple Music users to get a more personalized approach to music recommendations.
Though these playlists are great, we can only enjoy them during the subscription. Is it possible to download Apple Music playlist to MP3? The answer is yes. Today we'll tell you the best way to convert Apple Music playlist to MP3 with a powerful audio converter.
Part 1.

Convert Apple Music Playlists to MP3 Online

Online downloaders provide a convenient way to convert and download your favorite Apple Music playlists into MP3 format without the need for any software installation. They are accessible and user-friendly, all within your web browser.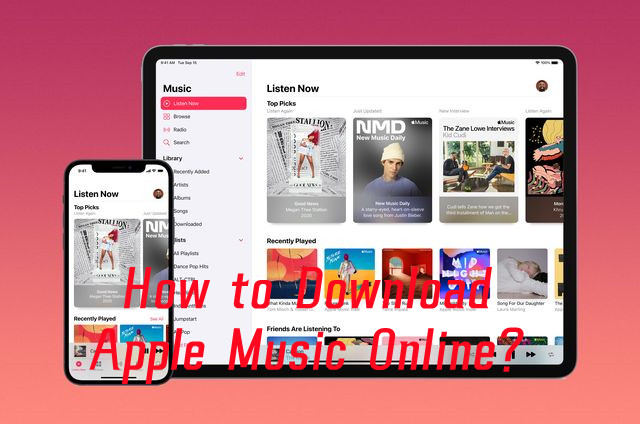 Converting your Apple Music playlists to MP3 using online downloaders is a straightforward process. You'll begin by copying the link to your Apple Music playlist from your music app. Then, simply paste this playlist link into the designated "URL" or "Search" box on the chosen online downloader's website. The online downloader will automatically identify and prepare to download the matching tracks in MP3 format by default.
Downloading Apple Music Playlists to MP3 with Online Downloaders:
There are several popular online Apple Music downloader websites available, including Soundloaders Apple Music Downloader, KeepVid Apple Music to MP3 Converter, and APPLmusicDownloader. (More details on these options will follow shortly.)
Ensure you have a stable internet connection and open the chosen online downloader's website.
Look for the designated search bar on the downloader's website.
In your Apple Music app, navigate to your playlist, right-click on it, select "Share," and then click "Copy link."

Return to the online downloader's website, and paste the copied playlist URL into the search bar.
Click the "Search" button to let the online downloader find the tracks within your playlist.
Click the "Download" button to begin downloading.
1. Soundloaders Apple Music Downloader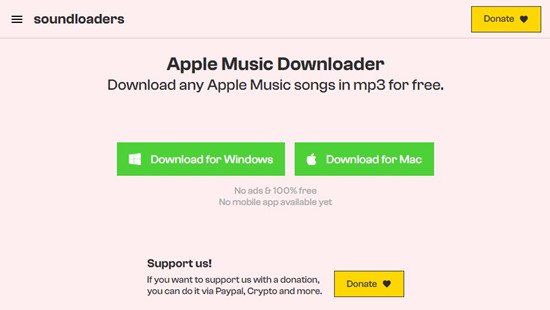 Soundloader's Apple Music Downloader works on both computers and mobile devices, automatically adding metadata like cover art and artist names to your MP3s. You can use it even without an Apple Music subscription.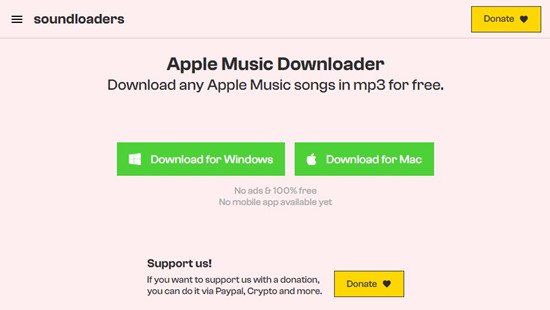 2. KeepVid Apple Music to MP3 Converter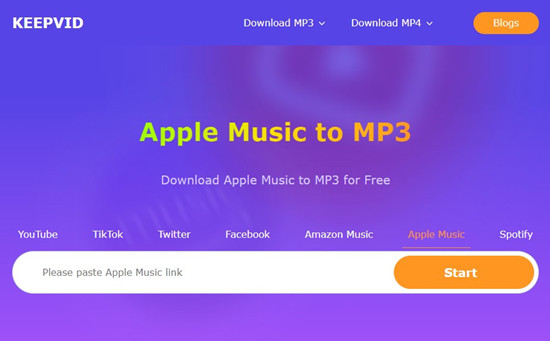 KeepVid Apple Music to MP3 Converter is a free, user-friendly online tool that supports batch conversion, delivering high-quality MP3s that retain the original audio's quality. It's secure, free from viruses or malware, and ensures data preservation.
3. AAPLmusicDownloader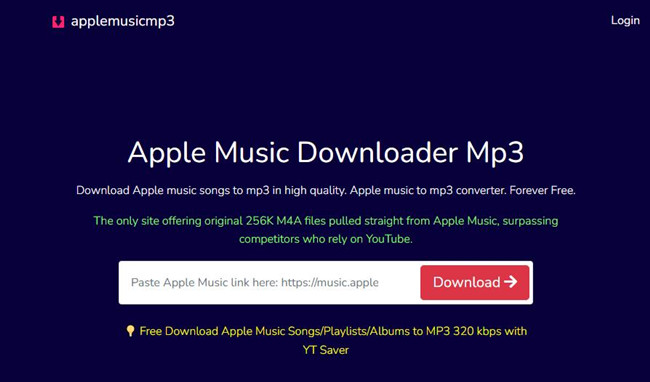 APPLmusicDownloader.com lets you download and save Apple Music playlists in MP3 format, making them accessible offline on your PC or mobile. All downloads include essential metadata.
Part 2.

Download Apple Music Playlists to MP3 on Windows/Mac

While Apple Music online downloaders come with obvious limitations, dedicated downloader applications offer an efficient and versatile solution. When it comes to downloading your Apple Music playlists as MP3, these applications seamlessly connect with your Apple Music library, removing the need to manually copy playlist links or visit web-based platforms. All you need is access to your Apple Music library associated with your account.

It can connect with your music library using the Apple Music desktop app. Once you sign in to your Apple Music account through the application, you gain direct access to your playlists. The best part? These dedicated apps offer a broader range of output file formats beyond just MP3 for your playlists, providing you with greater flexibility to choose the format that suits your preferences.

In comparison to online websites, dedicated downloader applications stand out as a safer and more stable option for your own personal use.
Best Apple Music Playlists to MP3 Downloader Application: ViWizard Apple Music Converter
ViWizard Apple Music Converter is a powerful tool tailored for users who manage their music collection through iTunes, blending their personal music files with Apple Music's vast catalog. With ViWizad, the process is straightforward - simply bring your favorite playlists to your iTunes library for conversion.
ViWizard not only offers MP3 conversions but also extends its support to a range of other audio formats, including M4A, M4B, AAC, WAV, and FLAC. It also goes beyond songs. It empowers you to download and convert various on-demand content stored in your music library, including iTunes files, music, podcasts, audiobooks, and even Audible audiobooks. For those looking to sync their Apple Music playlists to their iPhone as local files, ViWizard makes it effortless. Just upload the converted MP3 files to iTunes, and you're ready to sync with your iPhone.

Key Features of ViWizard Audio Converter
Free Trial
Free Trial
* Security verified. 5, 481,347 people have downloaded it.
Convert songs, albums, and playlists from Apple Music to MP3
Remove DRM protection from Apple Music, iTunes, and Audible
Save the converted audios with the original quality and ID3 tags
Support the conversion of up to 100 audio formats to others
Step 1

Load your favorite Apple Music playlists into the Converter

Start the ViWizard Audio Converter program. The iTunes app will be available in a few moments. To import your Apple Music library into ViWizard, select the Load in Library icon. To load the local Apple Music files, click the Add Files icon. You can also use the converter's user interface to drag and drop local Apple Music files.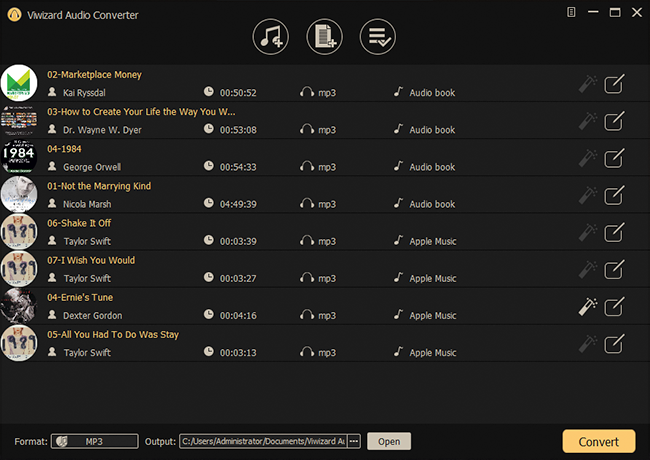 Step 2

Customize the Output Audio Parameters of Apple Music

Once you've added Apple Music to the converter, go to the Format section. To increase sound quality, ViWizard includes an audio editing tool that allows users to fine-tune numerous music settings such as audio channel, sample rate, and bit rate. Finally, press the OK button to save your selections. To pick the audio output location, simply click the Three-dot sign at the bottom.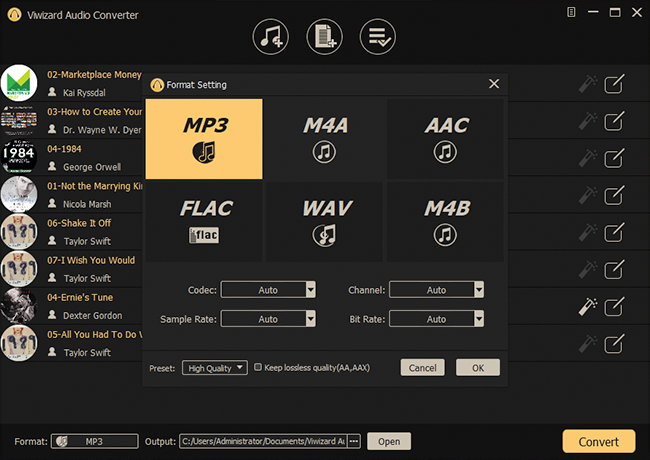 Step 3

Convert Apple Music Playlist to MP3 for Offline Playback

To begin the conversion, click the Convert button in the bottom-right corner. When the conversion is complete, click the Converted button in the upper-right corner of the window to view all converted Apple Music.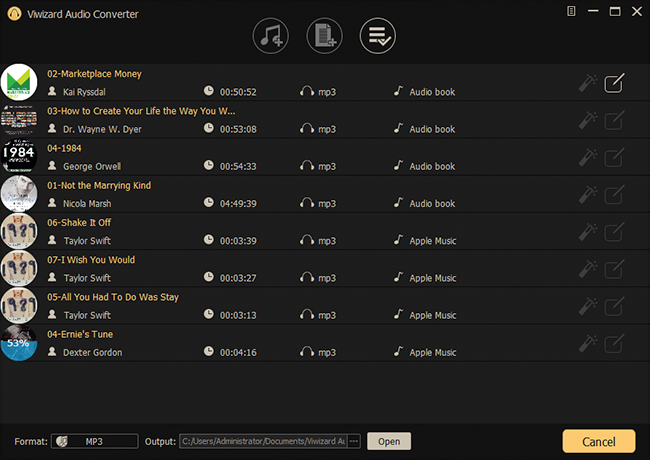 Part 3.

Convert iTunes Music Playlists to MP3 in iTunes

iTunes' built-in encoder offers various encoding options for users to convert the AAC format ripped from a CD, purchased from iTunes Store, or uploaded from other media sources. If your Apple Music playlists are comprised of iTunes purchases, you can conveniently convert them to MP3 format using iTunes' MP3 encoder. It's important to note that this method is suitable for iTunes purchases and local files uploaded to iTunes and is not applicable to streaming content from Apple Music.
Converting iTunes Playlists to MP3 with iTunes' MP3 Encoder:
Ensure that the tracks you want to convert are downloaded to your computer from your iTunes library. Streaming tracks can only be converted to MP3 using Apple Music downloader.
Launch iTunes on your computer if it's not already open.
In the "Edit" menu (Windows) or "iTunes" menu (macOS), select "Preferences."
In the Preferences window, click on the "General" tab, and then click the "Import Settings" button.

In the Import Settings dialog, locate the "Import Using" dropdown menu and choose "MP3 Encoder."

After configuring the MP3 settings, click "OK" to close the Import Settings dialog.
In your iTunes library, select the iTunes purchases tracks or playlists you want to convert to MP3. You may want to add the iTunes purchases tracks to a new playlist.
With your selection made, go to the "File" menu, choose "Convert," and then select "Create MP3 Version." iTunes will begin converting the selected tracks to MP3 format.

Once the conversion is complete, you'll find the newly created MP3 versions of your iTunes purchases in your iTunes library. You can access these files and move them to your preferred location on your computer.
Part 4.

Transfer Apple Music Playlists as MP3s to iPhone/Android

After successfully converting or downloading your favorite Apple Music playlists to MP3 format using the methods described earlier, you'll likely want to enjoy them on your mobile device, whether you have an iPhone or an Android device. Here's how you can transfer those MP3 files to your smartphone:
Transferring Apple Music Playlists as MP3 to iPhone/iPad:
Connect your iPhone to your computer using a USB cable.
Open iTunes (or Finder on macOS Catalina and later) and ensure you upload the converted MP3 files there. If you haven't already, in the "File" menu, select "Add file/folder to library" (Windows).
In iTunes, click on your device icon when it appears.
In the left sidebar, under "Settings," click on "Music."
Check the box for "Sync Music" and choose to sync your entire library or selected playlists.
Click "Apply" or "Sync" to transfer the MP3 files to your iPhone.
Transferring Apple Music Playlists as MP3 to Android:
Connect your Android device to your computer via a USB cable.
Access your Android's storage on your computer.
Copy and paste or drag and drop the MP3 files from your computer to your Android device's storage, typically in the "Music" folder.
Conclusion
Though you can't download Apple Music to MP3 with its app directly. But with ViWizard Audio Converter, you can convert Apple Music into MP3 format within simple clicks. And the audio quality also won't be lost while the conversion. Besides, this smart converter can also convert iTunes audiobooks and Audible audiobooks. After the conversion, you can save these converted Apple Music files on your device or upload them to Cloud, like Google Drive.