Apple Music, as a leading music streaming service, offers over 90 million songs, albums and podcasts for its users. In contrast to other similar services, Apple puts the emphasis on manual curation. While there are some playlists created through algorithms, much of the content highlighted on Apple Music is done by Apple Music editors. This allows Apple Music users to get a more personalized approach to music recommendations.
Though these playlists are great, we can only enjoy them during the subscription. Is it possible to download Apple Music playlist to MP3? The answer is yes. Today we'll tell you the best way to convert Apple Music playlist to MP3 with a powerful audio converter.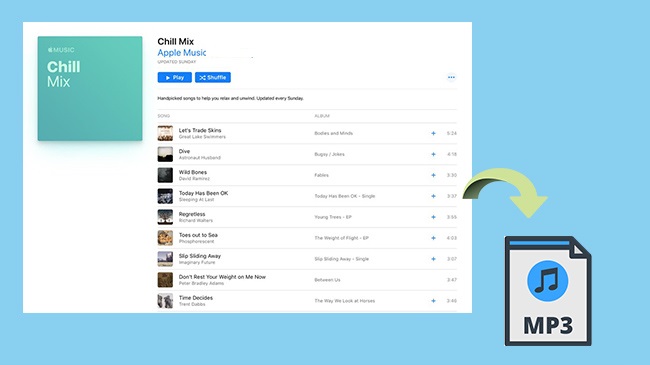 Part 1. Apple Music Playlists as MP3 - What You Need
Apple Music is a great music streaming platform where you can easily get the music you like. And you must have a large music library that contains all the personalized or curated playlists from Apple Music catalog. However, as you may know that those stored in your library have DRM-protection (expect for the iTunes purchases), which is only accessible on Apple-compatible devices in M4P format, so you'll want a much-popular format for them, such as MP3.
MP3s can be read by the most common media player and take a much-lower storage space on your device. For Apple Music, you may wonder how you can get your Apple Music playlists in MP3 format. Go ahead. We'd like to introduce all the best methods to you.
Part 2. How to Get MP3 Version from iTunes Purchases
You may know that the iTunes Store - one of the biggest digital marketplace - sells its own AAC audio file format and the average cost per album is $10. Technically iTunes Store doesn't sell MP3s, but if you have iTunes you can have the MP3 version for your purchases for free - iTunes' in-app audio converter helps create the MP3 version from iTunes purchases from the beginning of 2009.
The iTunes software is available on Windows PC or Mac computer that runs the MacOS 10.14.6 Mojave or earlier. If you have a playlist that's created based on your iTunes purchases in your iTunes library, don't hesitate to take advantage of the iTunes audio converter to have the .mp3 files for the purchased items.
Unfortunately, unlike the old iTunes, there's no way to buy or gift a whole playlist at once. If the playlist contains other items that you haven't purchased from iTunes, you may need to identify them and open the options menu for each and head to "Show in iTunes Store". Learn how to buy and download iTunes Music.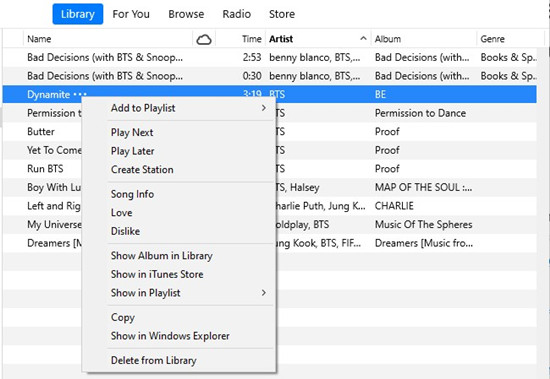 Once you find and locate the purchased items in your iTunes playlist, head to create the MP3 version for each.
How to create iTunes purchases to MP3 version in iTunes:
1. Open the iTunes software on your Windows PC or Mac computer.
2. Open the Apple Music Contents Menu and select the Music option.
3. Under Music Playlists in the side menu find and locate the playlist that contains the purchased items.
4. Highlight the purchased items and choose File from the top > Convert > Create MP3 Version.
5. The created MP3 version will show up under the original item.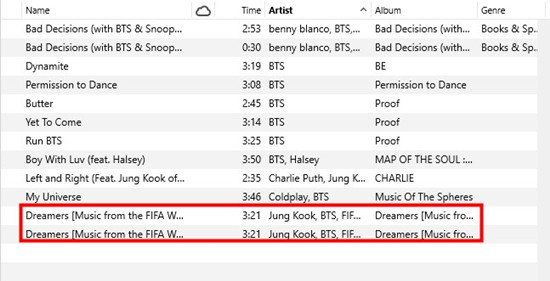 6. To access the .mp3 file, right-click on the create MP3 version > Show in Windows Explorer or drag & drop it to the desktop.
Buying digital music such as MP3s makes sense for a number of reaosns, but it's not convenient if you use Apple Music or iTunes. For starters your Apple Music subscription is essential to purchase from iTunes store. What's more, even you may now have a bunch of .mp3 files, but you won't get the full playlist in MP3.
From there we'd like to introduce how you can convert the Apple Music playlist that's created based on music from either local files or Apple Music catalog to MP3. That way, even you lose your Apple Music subscription, you still have the access to the .mp3 files of your favorite playlist songs on all your devices! All you need is a powerful Apple Music to MP3 converter called ViWizard Audio Converter. Go ahead. We'd like to tell how ViWizard works for you to download the full Apple Music playlist to MP3 or other supported file formats at any time.
Part 3. How to Download Apple Music Playlist to MP3 on Computer
ViWizard Audio Converter works best for those who use iTunes software to manage their own music collection that's combined with their own music files from local and the Apple Music catalog. With ViWizard, all you need to do is to bring your favorite playlists to your iTunes library to convert. In addition to the MP3 format, ViWizard also supports other audio formats such as M4A, M4B, AAC, WAV, and FLAC. Even you wish to sync your Apple Music playlists to iPhone as local files, you just need to upload the converted audio files in MP3, AAC or WAV to iTunes then.
Best On-Demand Apple Music Content Downloader - ViWizard Audio Converter
In addition to the playlist songs, you can also download and convert any on-demand contents from your iTunes library such as iTunes files, iTunes audiobooks and even Audible audiobooks. If you use the Apple Music app, for starters you should sync your Apple Music playlists to iTunes with your subscription and you're good to go.

ViWizard Audio Converter Key Features
Losslessly download Apple Music playlists in MP3
Convert Apple Music to MP3, AAC, WAV, etc.
30x high conversion speed
Customize the output parameters of the audios
Convert between DRM-free audio file formats
Now we'll show you how to convert Apple Music playlist to MP3 through ViWizard Audio Converter. You can click the downloading button above to install ViWizard on your desktop first.
Step 1

Load your favorite Apple Music playlists into the Converter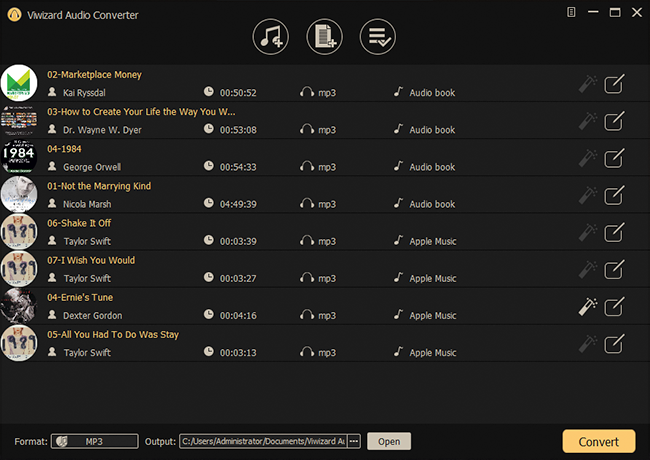 Start the ViWizard Audio Converter program. The iTunes app will be available in a few moments. To import your Apple Music library into ViWizard, select the Load in Library icon. To load the local Apple Music files, click the Add Files icon. You can also use the converter's user interface to drag and drop local Apple Music files.
Step 2

Customize the Output Audio Parameters of Apple Music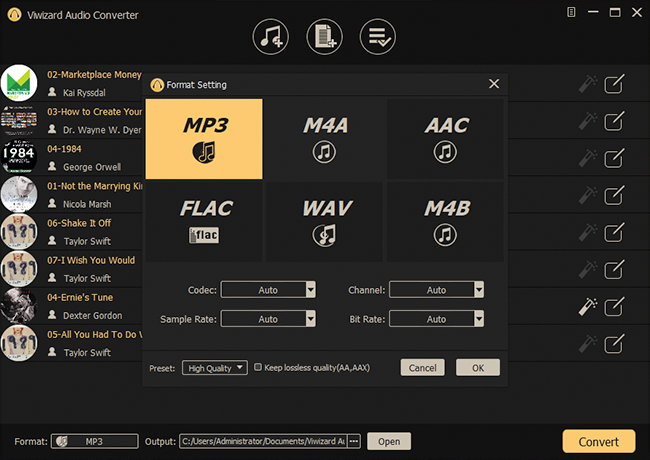 Once you've added Apple Music to the converter, go to the Format section. To increase sound quality, ViWizard includes an audio editing tool that allows users to fine-tune numerous music settings such as audio channel, sample rate, and bit rate. Finally, press the OK button to save your selections. To pick the audio output location, simply click the Three-dot sign at the bottom.
Step 3

Convert Apple Music Playlist to MP3 for Offline Playback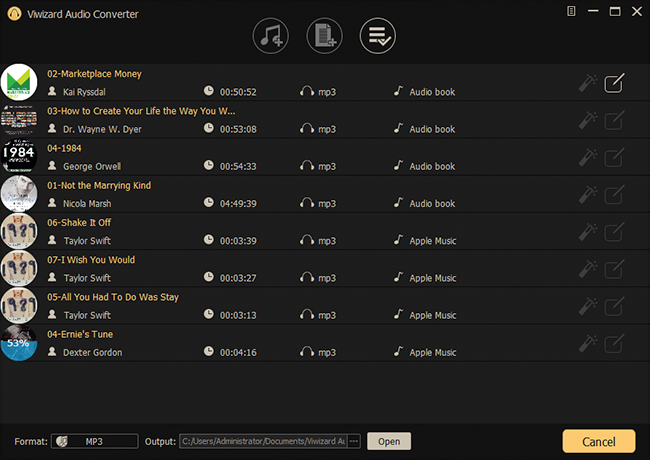 To begin the conversion, click the Convert button in the bottom-right corner. When the conversion is complete, click the Converted button in the upper-right corner of the window to view all converted Apple Music.
Part 4. How to Sync Apple Music Playlists as MP3s to the Music App [iPhone]
Once you got several folders that contain MP3s for your Apple Music playlists songs, you can choose to sync them to your iPhone so that you can access them under the Recently Added tab in the Music app. Or you can transfer the folders and files to your device manually to use with other media players. If you prefer playing them as local files in the Music app, for starters you may need to upload those MP3s to iTunes.
How to upload iTunes Playlists as MP3s to iTunes:
1. Open the iTunes software on Windows PC or Mac computer that stores your Apple Music playlists as MP3s.
2. Choose File from the top > Add File to Library or Add Folder to Library.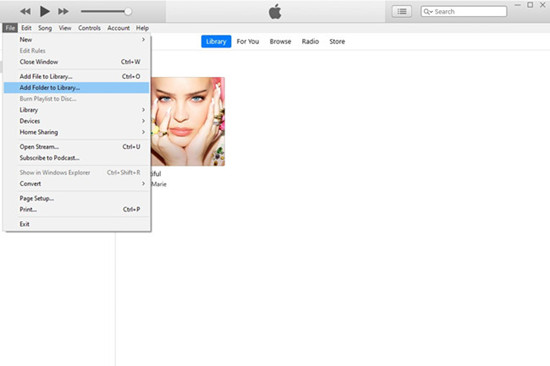 3. Navigate the computer to find and locate the music folder(s) or file(s) in Windows Explorer or Finder to select and open.
4. Now the items contained are added to the Recently Added tab under Library.
How to create iTunes Playlists based on MP3s in iTunes [Optional]:
From here you may need to create the same playlist based on the MP3s instead of the digital items from Apple Music catalog.
1. Select the original one under Music Playlists and make a screenshot.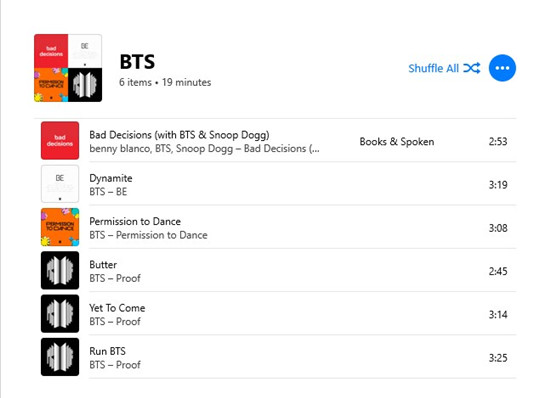 2. To create a new playlist for the matched items with MP3s, right-click on the blank zone under the Music Playlists tab > New Playlist.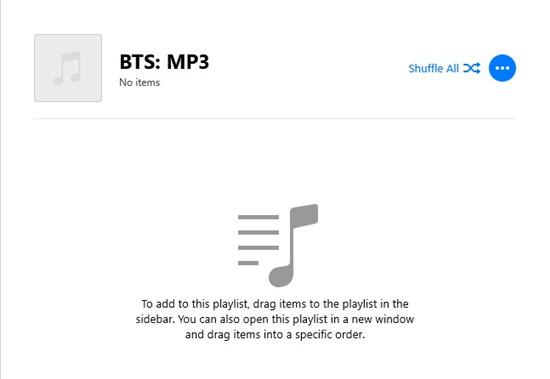 3. From here head to the Recently Added tab and find the matched items and select them in bulk. Right-click on the selection > Add to Playlist and then select the new playlists for those MP3s.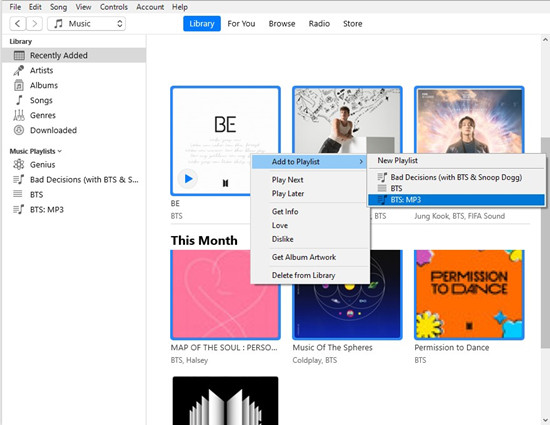 4. Once added, head to that playlist and check for the items.
How to sync iTunes Playlists as MP3s to iPhone:
Now it's time to sync that playlist to your iPhone. You may need to make sure that your iPhone is signed in with the same Apple ID that you use with the iTunes software. Just head to iPhone > Settings > Music > Sync Library, then make sure the Sync Library is turned on.
1. Connect the iPhone to Windows PC or Mac computer with the iTunes app. You'll need a portable USB cable to do so.
2. Once connected, head to iTunes > the device icon next to the Apple Music Contents Menu. Click on the device icon.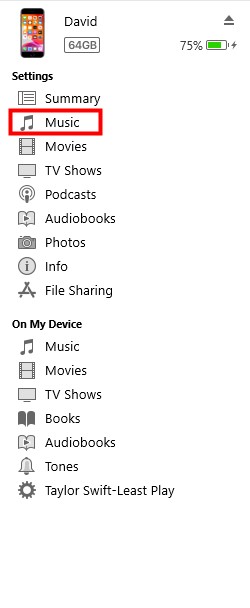 3. Under Settings section, select Music. This will open the Sync Music view on the right.
4. To sync your playlists to iPhone, under the Sync Music, check the "Selected playlists, artists, albums, and genres" box.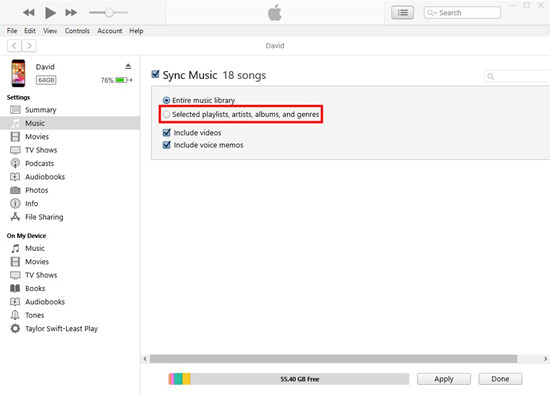 5. Under the Playlists section, find and locate the desired playlists and check the boxes.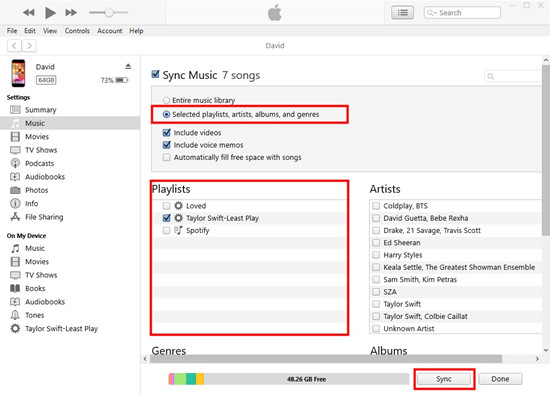 6. Select Sync at the bottom-right.
7. Once the transfer is finished, head to the On My Device section in the side menu to view your playlists. Select Done and disconnect your iPhone from the computer.
How to access iTunes Playlists as MP3s in the Music app:
Now you can open the Music app and access the synced Apple Music playlists as MP3s.
1. Open the Music app on your iPhone.
2. Choose the Library tab.
3. Scroll to the Recently Added section. The Apple Music playlists as MP3s are here.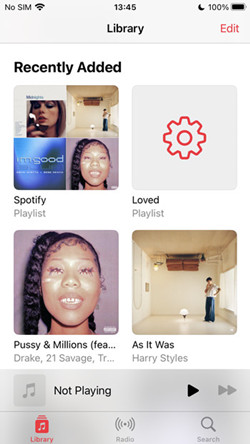 Conclusion
Though you can't download Apple Music to MP3 with its app directly. But with ViWizard Audio Converter, you can convert Apple Music into MP3 format within simple clicks. And the audio quality also won't be lost while the conversion. Besides, this smart converter can also convert iTunes audiobooks and Audible audiobooks. After the conversion, you can save these converted Apple Music files on your device or upload them to Cloud, like Google Drive.