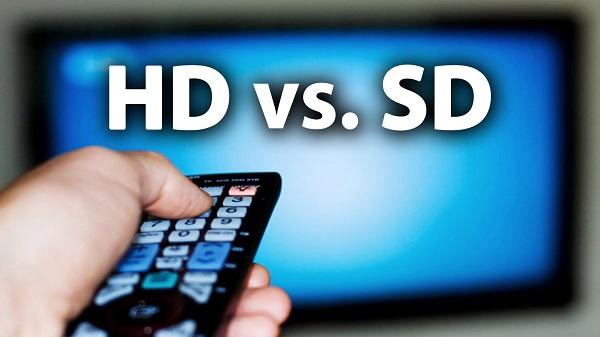 There are two types of movies with different definitions in iTunes Store, including the SD (480p) and HD (720p, 1080p) versions. In most cases, people like to choose the HD versions when purchasing iTunes movies as they are featuring better image quality with higher definition. However, some unexpected problems may occur when you are trying to sync the iTunes HD movies to computers that don't fully support HD. You'll be told that the device can't play the HD movies because it's not HD compatible. Then the HD iTunes movies will automatically change to SD version and you have to re-download the HD version from the purchase page if you like.
To help you know better about the iTunes SD and HD movies so that you can make better decision on which version you should buy, we'll compare the differences between the two, including price, system requirements, storage space, etc. while introducing you the ultimate solution to remove DRM protection from iTunes HD as well as SD movies.
iTunes HD vs. SD: Quality
The iTunes movies in HD is offered in either 720p or 1080p. 1080p HD simply means the video resolution of 1920x1080, while the 720p movie's resolution is 1280x720. On the other hand, iTunes SD movies are in 480p, that is, 854x480 resolution. The quality of the HD movies would be better than the SD movies due to the higher definition. And this kind of quality difference would be more distinct when playing the HD and SD movies on lager screen.
iTunes HD vs. SD: Price
It's acceptable that the iTunes HD movie should be more expensive than the SD version because it has higher definition and better image display. However, that's not true. As matter of fact, currently about half of the movies in iTunes Store are sold at the same price for HD and SD. For the other half of the movies, the price is different. Specifically speaking, for this part, the HD movie is sold at around $14.99 to $19.99 while the SD version is sold from $9.99 to $14.99. And as for the iTunes TV shows, the situation is the same. The whole season of some TV shows in HD version is sold at $24.99 while the SD version is $19.99 only.
iTunes HD vs. SD: File Size
Because of the different resolutions, the file size of iTunes HD and SD movies is also different. Specifically speaking, take the same movie in iTunes for example, the file size of the 480p SD version would be around 1.5GB or so, while the 720p HD version could reach to 4GB or more, at the same time, the 1080p HD version will be slightly larger than the 720p, approximately around 4.5GB. It's clearly that SD movies would save a lot of space as compared with the HD version.
iTunes HD vs. SD: System Requirements
Another major difference between iTunes HD and SD is that not all devices or computers support the HD movies. You should find out if your device can play 720p or 1080p HD movies from the following requirements.
System Requirements to Play iTunes HD Movies on Mac OS X
* Mac OS X 10.5 or later
* iTunes 10.6 or later
* 2.4 Ghz Intel Core 2 Duo or faster processor
* At least 2 GB of RAM
* A display that supports HDCP with a screen resolution of 1280 x 720 or higher
System Requirements to Play iTunes HD Movies on Windows
* 32 or 64-bit version of Windows 7, Windows 8 or Windows 10
* iTunes 10.6 or later
* 2.4 Ghz Intel Core 2 Duo or faster processor
* At least 2 GB of RAM
* A video driver that supports HDCP, such as an Intel GMA X4500HD, ATI Radeon HD 2400, Nvidia GeForce 8300 GS, or better (you may need to check with the manufacturer to determine if your video driver supports HDCP)
* A display that supports HDCP with a screen resolution of 1280 x 800 or higher with a digital connection (DVI, DisplayPort, or HDMI)
Apple Devices Compatible with iTunes HD Movies
Currently the iTunes HD movies are only supported by iPhone 4 or later, iPad, iPod touch 4 or later, and Apple TV.
Conclusion: Buy iTunes HD or SD?
If the iTunes movie or TV show you are going to purchase is one of your favorites and you'd keeping watching it repeatedly, then we suggest you should buy HD version as it provides better visual enjoyment and it's much prettier to look at. And of course, in this case, you need to confirm you have enough storage space to save those HD movies. However, if you are just buying a one-off episode to catch up on something you missed and you don't care much about the video quality, then SD version could be more cost-effective. Or if you don't have a HDCP port on your computer to play the HD movies or the space is not big enough, then the SD copy of the movie would be the only choice.
More Tips: How to Remove DRM from iTunes HD/SD Movies
No matter what version of the iTunes movies you'd like to buy, you should not ignore the fact that both HD and SD movies in iTunes are protected with Apple's FairPlay DRM and can only be played on Apple's devices. It's hard to sync those DRM-protected iTunes HD and SD movies to large TV screen for watching. It's even impossible to watch the iTunes movies on Android phones or tablets. Don't worry. Here you meet ViWizard DRM M4V Converter for Mac/Windows which will help you completely remove DRM lock from iTunes HD and SD movies with lossless quality. By using this smart iTunes DRM video converter, you can easily enjoy any iTunes SD and HD movie on any media device as you like without any limit. Now simply download the free trial version of the application according to your computer system and follow this guide: How to Remove DRM from iTunes Movies to see how it works in removing DRM from iTunes SD and HD movies.

Dave Henry is a long-time ViWizarder who loves all technological things. In his free time, he likes reading about science and technology, writing for his blog, watching sci-fi films, and meditating.