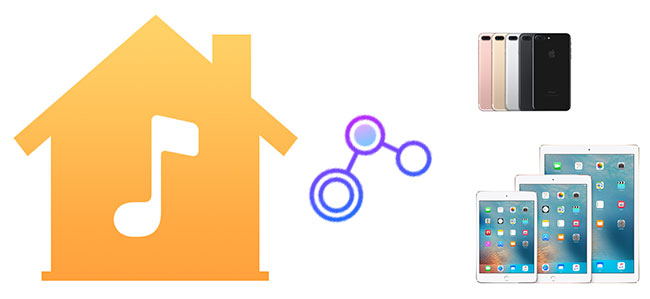 Living in the modern info technology age, it is common to have multiple cross-platform electronic products for everyone. If you are an Apple fan, you may have multiple Apple products like Mac computers, IOS mobile devices, Apple TVs. It is very comfortable to enjoy iTunes digital media contents on different devices. But it takes much time to transfer data across Apple devices usually. If you are still using the traditional way to sync media files manually, then it is time to try another easier way. With the Apple iTunes Home Sharing feature, you can now share and stream the media files like videos and music files to other Apple devices instantly without copying or redownloading.
How to Set Up Home Sharing Feature on Computers with iTunes
For the purpose of sharing iTunes media files, you have to turn on the Home Sharing feature and set the files which you want to share on a computer with iTunes first, either Windows or Mac. Please refer to the following instruction.
Turn on 'Home Sharing' on a computer
Please launch iTunes, then you can click 'File' menu > 'Home Sharing' > 'Turn on Home Sharing', it will prompt you to input the Apple account name and password to sign in and you can fill the info accordingly. After that, you will see a pop up a window 'Home Sharing is now on'.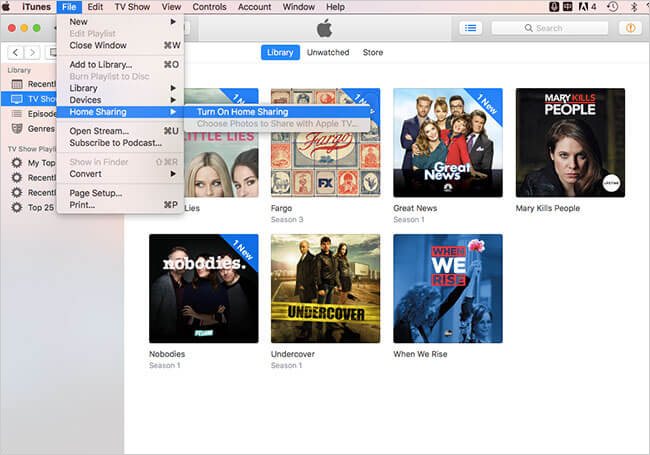 Choose your media files to share
After enabling the iTunes Home Sharing, there maybe still not any files on your shared library. Please click 'iTunes' > 'Preferences' on a Mac computer or 'Edit' > 'Preferences' on a Windows computer to go to the preferences Window. Then click 'Sharing' to get started to set the files which you want to share. In general, you can share any files you want such as movies, TV shows, music, radio, books etc. Please just select the file types you want or choose 'Share entire library'. At last, you can click 'OK' to confirm and apply the settings.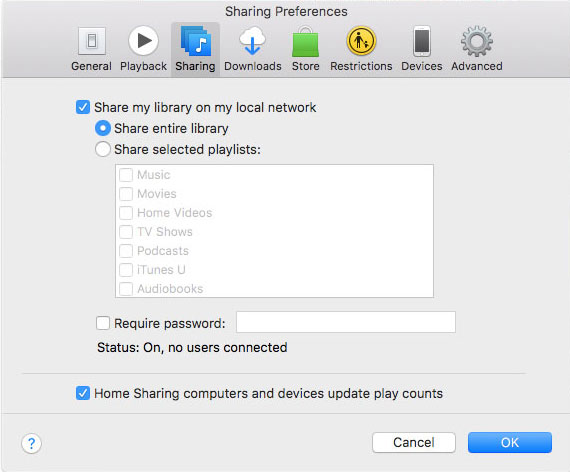 How to Use the Shared Videos and Music on iPhone, iPad and iPod Touch
After turning on the iTunes Home Sharing, you can use the sharing library within 5 Apple devices including computers, IOS devices and Apple TVs. Since it is relatively easy to access the library from computers and Apple TVs, I will not elaborate the guide on computers and Apple TVs but focus on how to access the media files from IOS mobile devices.
Mobile devices with IOS 4.3 or above support to stream the iTunes Home Sharing videos and music files on the same network. Please make sure the computer is awake and the iTunes is open which you used to share the library so that the mobile devices can detect it. Following are the three steps to stream the digital videos in iPhone. The instruction for iPad, iPod Touch is similar.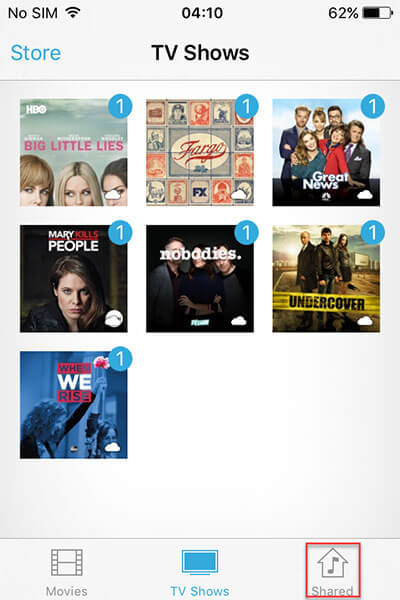 1. First, you should enable the Home Sharing on iPhone. Please open your iPhone and click 'Settings' > Locate the Video App and click it > Scroll down to find the Home Sharing > Log in with the same Apple ID.
2. Then you can exit the settings window and go back to the home screen. To enjoy the shared videos, please launch the Videos app > then click 'Shared' to open the sharing library.
3. Finally, you can press one of the shared videos to start to play by streaming.
Likewise, you can open the Music app and then tap 'Library' > 'Home Sharing' to find the music to play flawlessly.
Additional Tips: Share iTunes Videos and Music with Other Mobile Devices
From what we have talked above, you may find that this can only be done within the same Apple ID and you need to authorize the devices before you use the sharing files. What's more, this is only available within Apple devices. If you want to use the media files on other devices like Android mobile devices etc., you will be out of luck because iTunes media files are DRM protected. Fortunately, there is another way around. In order to use the iTunes videos on Android mobile devices, you might use ViWizard DRM M4V Converter for Windows/Mac to help removing FairPlay DRM from the purchased or rental movies. For music lovers, you can also use ViWizard Apple Music Converter for Windows/Mac to strip the Apple Music DRM restriction simply. All these software come with free trial versions, you can pick up the one you want to evaluate it.

Dave Henry is a long-time ViWizarder who loves all technological things. In his free time, he likes reading about science and technology, writing for his blog, watching sci-fi films, and meditating.