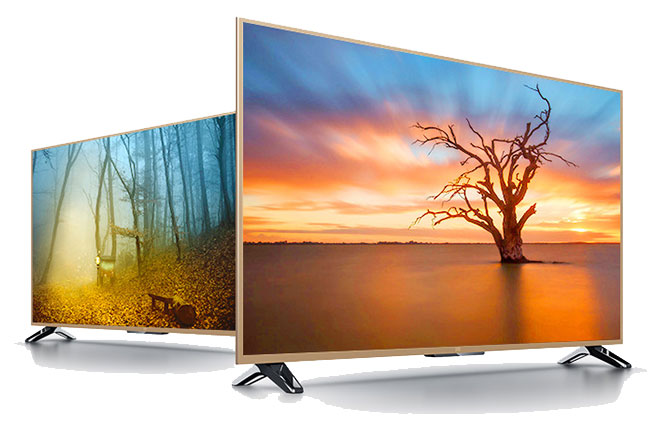 After the first 4K TV was introduced by LG in 2013, more and more companies like Samsung, Sony, Vizio, TCL, Sharp start to release 4K Televisions. Though 4K TV is magnificent in many aspects, it still haven't taken place of the 1080P TV yet, both 4K smart TV and 1080P smart TV have been on the market all along for years. Until now, many people may still feel hard to make up their mind on which smart TV to buy. If you are also thinking about getting or upgrading a new TV, you can follow this guide with me together to explore the difference between 1080P TV and 4K TV.
What is 4K Smart TV and 1080P Smart TV
4K smart TV, also known as UHD TV, represents the ultra high definition television with about 4000 horizontal pixels. In general, there are two resolutions, full aperture 4K(4096x3112 pixels) and academy 4K(3840x2160 pixels). 1080P TV stands for the high definition TV with the resolution 1920x1080 pixels. This means there are much more pixels in average for a 4K TV which is about 4 times the pixels of a 1080P device. Also 4K smart tv has wider gamut, higher refresh rate, color depth, color space, gamma correction etc in parameters. Besides this obvious spec difference, there are many other differences. It is highly recommended you to find out the differences before making a decision to buy a smart TV.
Difference between 4K Smart TV and 1080P Smart TV
Content availability: 1080P is one of the most common video resolution today and it has become a standard for video content creation for most organizations. Abundant of 1080P videos can be found anywhere from internet or local computers and hard disks. But when talking about 4K video resource, it is relatively barren and people are kind of difficult to find 4K videos despite it is growing at a rapid speed. Luckily as the development of 4k smart mobile and camera devices, people can start to create 4K contents and share them online like YouTube by themselves. And you may subscribe more 4k video resources from YouTube, Netflix, Vimeo, Amazon and Hollywood in a near future.
Watching experience: Due to the display technology, when playing the traditional naked eye 3D videos, the resolution will be reduced by half on a 1080P Television, so people are not able to enjoy real 3D videos actually on a 1080P smart TV. With a 4K TV, you can play any ultra high definition 4K videos including 3D resource videos in a clear ever resolution, the displaying picture will be sharp and vivid with great visual shock similar to theater, far better than the high definition 1080P television. Nevertheless, when playing 1080P or other lower resolution videos, there is almost no difference for different TVs.
Price: In general, 4K resolution is originally used in large size TV , so 4K TV is usually bigger than 50 inch and the price is more expensive compared to a similar 1080P TV. With the popularity of 4K devices, more smaller size of 4K TV has been released and the price difference has been narrowed as time goes. It has been affordable by most peoples today.
Conclusion
4K TV is not dominating in quantity compared to 1080P TVs and there are not many video contents nowadays, so even you buy a 4K smart TV today, you may still not able to enjoy 4K higher resolution videos most of the time, but as a new trend, 4K technology will surely be widespread as 1080P TV, it is worthy to buy a 4K video. If you are considering to get a device for long term use, a 4K smart TV will fit you better, you can buy one as your budget allows. On the other hand, if you only use the TV for short term like one year or you just want to use it in a small house, it would be OK to just get a 1080P TV or even a lower resolution 720P TV with smaller size temporarily and consider to upgrade to 4K smart TV in the future.
More Tips: How to play iTunes movies on smart TVs
Although you can choose various devices like computers, laptop, tablets, phones for entertainment , watching TV is still the best way to relax yourself at home. You can use it to watch many videos online. The only disadvantage is that it is not able to play the iTunes movies which are DRM protected. If you really want to watch iTunes movies on smart TV, you would need a DRM removal software to help you remove the DRM legally first, then the videos without copyright protection will be playable on any device including both 1080P and 4K smart TV. ViWizard DRM iTunes Movie Converter for Mac/Windows is a leading software which offers a quick solution to decrypt DRM like a magic. It stands out from all the other DRM software for its excellent quality with free trial version available. Would you like to give it a try? If yes, you can tap the following download link to get started and check if it works well for you.

Nick Orin is a review writer, software geek and Mac OS enthusiast. He spends all his free time in searching useful software and gadgets to share with others.