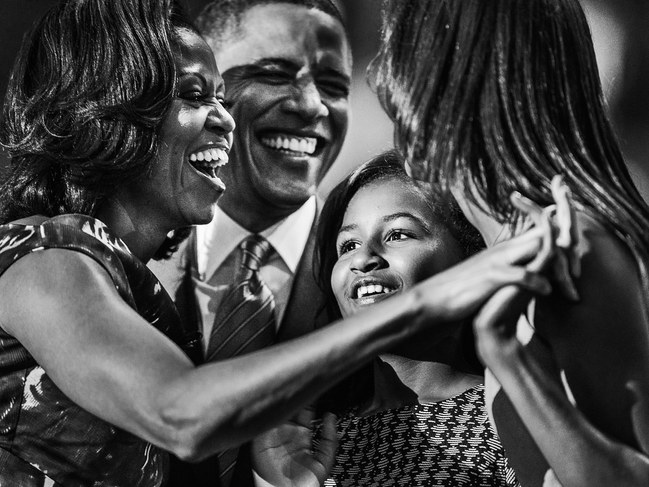 Michelle Obama's "Becoming" is on Track to Be One of the Best-Selling Memoirs Ever
The memoir "Becoming" wrote by the former First Lady Michelle Obama continues to smash records. The book has sold more than 10 million units world wide (a number that includes print, digital and audio), including 6.2 million copies in North America – in less than five months, which quickly broke the record of best first-week sales at various ranking lists and became the best-selling book of 2018.
The book has received lots of good comments from most of readers who have purchased the book. Otherwise, Thomas Rabe, the publisher of Michelle Obama's book "Becoming", said "we believe this could be the most successful memoir in history". From all aspects, it is not hard to see that Michelle Obama's "Becoming" is worthy to purchase for listening to.
Part One Reading Michelle Obama's "Becoming" as a Motherhood Memoir
"Becoming" is the memoir of former United States First Lady Michelle Obama published on November 12, 2018. The book is published by Crow and will be released in 24 languages. Among the whole sales amount, one million copies will be donated to First Book, an America nonprofit organization which provides books to children.
The book's 24 chapters (plus a preface and epilogue) are divided into three sections: Becoming Me, Becoming Us, and Becoming More. Become Me traces Obama's early life growing up on the South Side of Chicago, through her education at Princeton University and Harvard Law School, to her early career as a lawyer at the law firm Sidley Austin, where she met Barack Obama. Becoming Us departs from the beginning of their romantic relationship and follows their marriage, the beginning of his political career in the Illinois State Senate. The section ends with election night in 2008 when Barack Obama was elected President of the United States and Becoming More describes their life as First Family.
Part Two Purchase Audiobook "Becoming" from Audible
The book "Becoming" is now available on most audiobook platforms. If you are an Apple user, you can search it on iTunes and then buy it for listening to. If you have a Kindle or Audible account, you can download it from Audible after purchasing it. Whether you use a computer or other portable devices, you can purchase it from various platforms and then listen to it.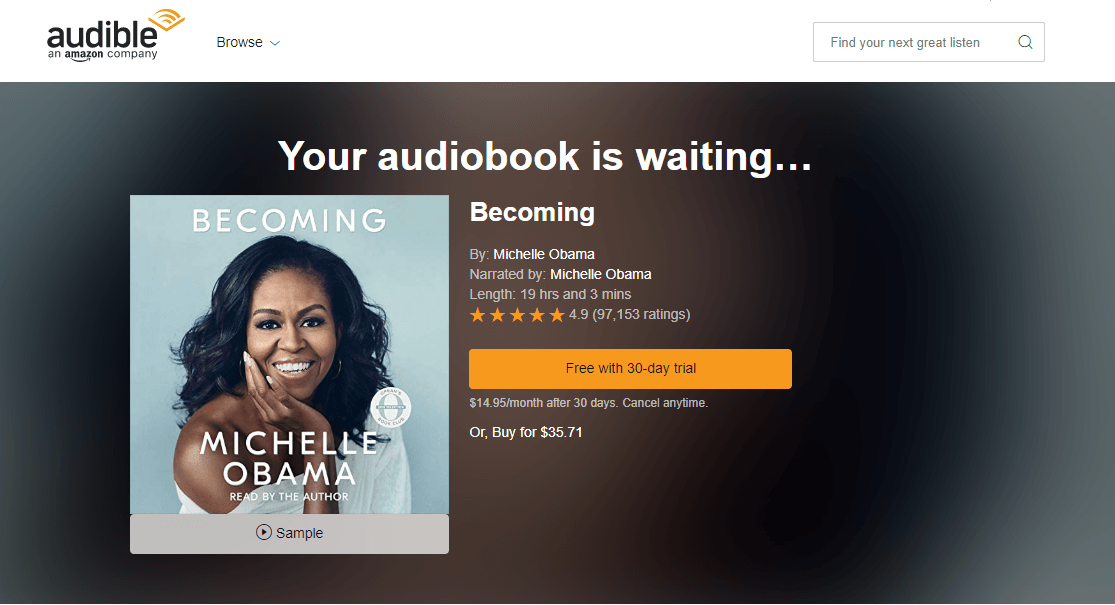 Here is the method to purchase "Becoming" on the Audible official website.
Step 1. Go to the Audible official website.
Step 2. Search "Becoming" Micelle Obama.
Step 3. Click the cover of the book to go to the description page.
Step 4. You can click the "Buy" button or "CLICK TO START FREE TRIAL".
Step 5. Follow the steps to input and confirm the payment info to complete the order.
Note that you can also purchase and download "Becoming" audiobook form iTunes or other audiobook apps for listening to.
Part Three Convert Michelle Obama's "Becoming" to Plain File Formats
All Audible audiobooks are encoded in the format of AA and AAX protected by digital right management (DRM). Therefore, all audiobooks purchased from Audible are only accessible through Audible by logging in an Amazon user name and password. So, you cannot listen to or read them on other devices without Audible app. However, we could remove DRM protection from Audible audiobooks and convert AAX to MP3 by virtue of Audible audiobook converter.
Professional Audible Audiobook Converter You'll Need
ViWizard Audible Audiobook Converter is a professional and wonderful software which specializes in removing DRM from Audible audiobooks without iTunes and account authorization and convert Audible audiobooks to other common formats like MP3, AAC and more, as well as customizing the parameter of all Audible audiobooks as you like. Meanwhile, a more experienced professional and technical personnel provide professional and high-quality service with all users to ensure the improper installation and smmoth operation.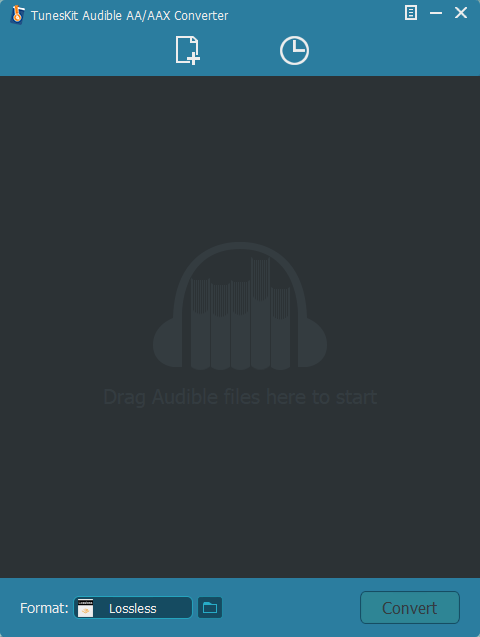 Here is the four steps to convert DRM-protected audiobooks and transfer DRM-free audiobooks to any other device without Audible.
1. Add AAX or AA audiobooks to ViWizard Audible Audibook Converter
2. Customize various parameter of the Output Audiobook
3. Start Converting all Audible Audiobooks You want
4. Transfer All Converted Audiobooks to Any Device without Audible
Part Four Know More about the Obamas from Their Books
Beyond all question, the Obamas are always popular among the folk according to their identity. There are also astounding numbers that happen to the sale amounts of books by Barack Obama whose 1995 memoir "Dreams From My Father" and 2006 campaign book "The Audacity of Hope" have sold 7.5 million collectively in the U.S. and Canada.
All books wrote by the Obamas can be accessed on all audiobook platforms. You can remove all DRM protection from Audible audiobook and then play them on any device as you like with the help of ViWizard Audible audiobook converter.

Nick Orin is a review writer, software geek and Mac OS enthusiast. He spends all his free time in searching useful software and gadgets to share with others.