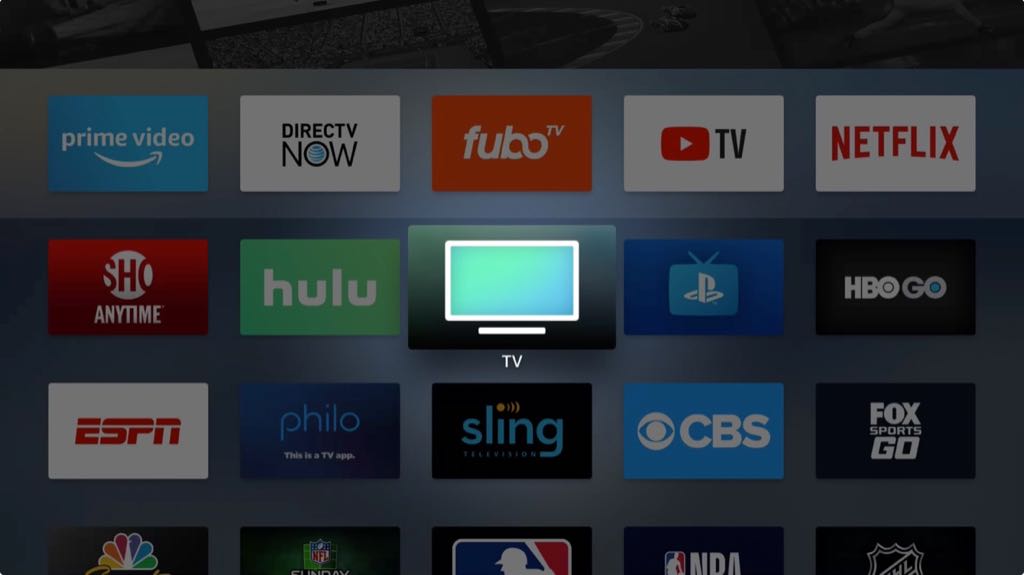 TV streaming service is a great alternative to cable TV for its flexibility and availability. By flexibility, I mean you can watch live TV on basically any devices (phone, tablet, smart TV and so on) rather than TV set only. Plus, the monthly subscription fee is way less than the cost of cable TV.
We apply different criteria from that of the streaming services with original programming when we trying to pick out the best streaming services with live TV. And finally, our choices go to the big five TV live streaming services (DirecTV Now, Hulu with Live TV, PlayStation Vue, Sling TV, and YouTube TV), fuboTV and Philo. We also have the best-selected streaming devices tips for you, check it out if you are interested in it.
| | | | | | | | |
| --- | --- | --- | --- | --- | --- | --- | --- |
| Live TV Streaming Services | Hulu with Live TV | DirecTV Now | PlayStation Vue | Sling TV | YouTube TV | fuboTV | Philo |
| Starting Price | $44.99/mo. | $50/mo. | $44.99/mo. | $25/mo. | $49.99/mo. | $54.99/mo. | $20/mo. |
| Simultaneous Streams | 2 | 2-3 | 5 | 1-3 | 3 | 2 | 3 |
| Free Trial Period | sign up | 7 days | 5 days | 7 days | 7 days | 7 days | 7 days |
| Channel Availability | 60+ channels | 155+ channels | 55+ channels | 30+ channels | 70+ channels | 95+ channels | 58 channels |
| Premium Channel | CINEMAX/HBO/SHOWTIME/STARZ | HBO included for a year | CINEMAX/HBO/SHOWTIME | CINEMAX/EPIX/SHOWTIME | SHOWTIME | - | - |
| Ads | Yes | Yes | Yes | Yes | Yes | Yes | Yes |
| First Months Discount | - | $15/mo. off for first 2 months | - | $25/mo. off for first month | - | - | - |
Hulu with Live TV – Best Overall
Hulu with Live TV defeats all the competitor by its channel availability. Hulu has an excellent number of channels you typically find on cable, the highest availability of live local networks (ABC, Fox, NBC, CBS, etc.) and a decent sports coverage. It also offers top-notch streaming quality, including DVR and parental controls. The best part about Hulu and the biggest difference between Hulu and other live TV streaming services is that Hulu also provides original content. You can get the combination at one price. Though its channel count is solid, Hulu has a very confusing interface and you can not skip ads in the standard DVR.
DirecTV Now – Best for HBO Fans
The greatest attraction of DirecTV Now is that you can have 1 year of HBO included in the Choice package without any extra fee. And it offers a discount of $15/mo. off for the first two months. However, since March, DirecTV Now became less appealing because the corporate owner AT&T not only raises the price by $10 per month but also cuts a bunch of key channels, including AMC, Discovery, and HGTV, from its base package. On top of that, its DVR and app are a step behind most competitors. DirecTV has 2 price plans, $50/mo. for "Plus" and $70/mo. for "Max".
PlayStation Vue – Best for PS4 Owner
PlayStation is best for PS4 owner while you don't really need a PlayStation 4 to watch it -- just like the others, Vue has apps for numerous streaming devices including Roku, Apple TV, and Fire TV, as well as phones and PCs -- but a PS4 is the only way to get its sweet multiscreen view.
PlayStation launch 4 price plans for different users. The monthly cost for plan of "Access", "Core", "Elite" and "Ultra" is $45, $50, $60, $80 respectively.Sony's PS Vue is an excellent, flexible option for streaming live video content and offers respectable DVR features, but it's base plan offers fewer channels than any other Big Five live TV streaming services.
Sling TV – Best for Saving Money
As a budget live TV streaming service, Sling TV is the cheapest multi-channel live TV streaming service aside from sports-free options Philo and AT&T Watch TV. It is an affordable and favorable solution to have a few local stations (ABC, CBS, Fox, NBC, and ESPN).
Sling TV provides two base packages, Orange and Blue. Orange doesn't support very few local stations and can only stream one device, while Blue has Fox and NBC but only in a handful of cities. That's why Sling makes a good complement to OTA antenna TV. You can get the "Orange + Blue" at $40/mo.
Sling's interface isn't much to look at, but it offers all of the options you need without cluttering the screen. The only real letdown is its arcane live pause and DVR exceptions (you can't record Disney-owned channels like ABC, for example).
YouTube TV – Best for Unlimited VDR
YouTube TV offers an excellent variety of channels, best DVR features, and solid performance. It's a top choice for cord cutters who want to replicate the cable TV experience. YouTube is best known for scads of free video, but with an April price hike, it is now one of the three most expensive options in our list (the other two is fuboTV and DirecTV Now). However, its price plan is quite simple: one package, one price, done.
YouTube has 70+ channels in total and more top channels in its base package than any competitor and its local channel coverage includes all four locals in most areas of the country. Its interface is intuitive and comprehensive, even drab, and yet it offers most of the features a cable service can give you.
fuboTV – Best for Sport Fans
Just as the name implies, fuboTV is a streaming service center around sports activities but it also offers a myriad of other channels including local OTA stations (except ABC) -- and more RSNs (regional sports networks) than any other service. Especially for fans of professional baseball, basketball and hockey teams, fubo might be the only way to watch regular-season games without cable. There's no ESPN, however, and a convoluted user interface and high price mean it's not the first service we'd choose.
Philo – Best for Entertainment
Another cheap service with no sports or local channels, Philo has bread-and-butter cable offerings like AMC, Comedy Channel, Nickelodeon, and BBC America. Unlike Watch AT&T, it includes a cloud DVR, but it lacks a big-name 24-hour news channel like CNN. You can get a fine 58 channel lineup at only $20 a month. Philo has a good iOS app while it doesn't have a native Android app. To sum up, Philo offers a good mix of entertainment and lifestyle channels at a reasonable price but has no Android app, sports, or news.

Nick Orin is a review writer, software geek and Mac OS enthusiast. He spends all his free time in searching useful software and gadgets to share with others.