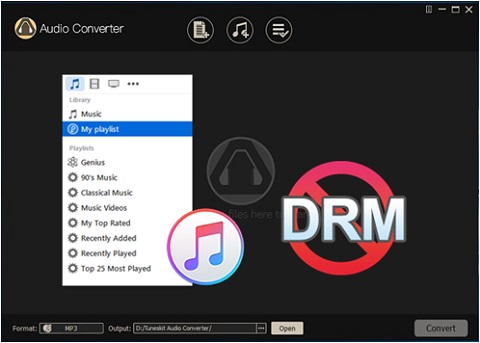 Audio, or in other words, music has already become one of the most important parts in our daily life. Playing songs in a phone or MP3 player is a popular way to get us relaxed. Therefore, audio file converters that are used to convert one type of audio file into another format begin to play a key role in our music world. For instance, sometimes you cannot play your favorite tracks on certain devices as you do with other audio files. That might be because the specific audios are encoded in a less popular format that your device doesn't support. Then in this case, it's necessary for you to convert the audio to a more widely used format with some third-party audio converting tools.
However, the fact is that there are two mainstream audio file types, namely common DRM-free audios, and DRM-protected audios. Currently in the market, most of the audio converters can only convert non-DRM audios or DRM-ed audios respectively. There are only few one-stop solutions that can deal with both kinds of audio files. Now ViWizard DRM Audio Converter comes to rescue. It's an ultimate and complete audio solution that can help you convert any audio, including common ones and locked ones, such as Apple Music, Audible audiobooks, iTunes songs, etc. so that you can manage all your audio files at the fingertips. In the following article, we'll review and test this powerful audio software by listing its key features, performance, problems, and so on.
Getting Started - What is ViWizard DRM Audio Converter
Overview
ViWizard DRM Audio Converter is specially designed to help audio users solve file conversion issues on both Mac and Windows platforms. It is one of the most complete audio solutions to convert all popular audio formats, including MP3, WAV, WMA, FLAC, AAC, OGG, M4A, M4R, AC3, AMR, APE, etc. as well as Apple Music M4P, iTunes tracks, M4A, M4B audiobooks, Audible AA, AAX to MP3, M4A, WAV, FLAC, M4B, AAC so that you can play the converted audio on almost any device and player.
User Interface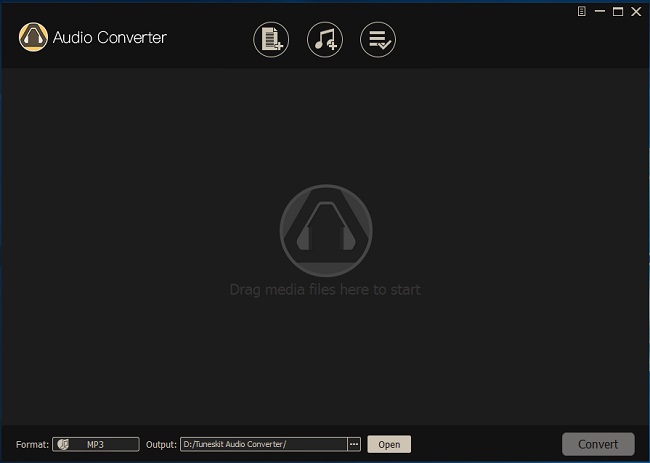 When you launch ViWizard Audio Converter, you'll find the user interface is well designed with simple and clean layouts. It's easy to operate even for every one even the beginners who are not technical to computers. Only with a few clicks, you can convert different types of audio files into the target format as you want without referring to the user manual at all.
System Requirements
The latest version of ViWizard DRM Audio Converter is now fully compatible with Mac OS X 10.8, 10.9, 10.10, 10.11, and macOS 10.12 Sierra, while the Windows version works perfectly on all Windows OS including XP, Vista, Win 7, Win 8 and Win 10. Till the time when we writing this review, it's perfectly compatible with the most up-to-date iTunes 12.7.
How It Performs in Converting DRM-ed and non-DRM Audios
Convert Apple Music, iTunes Music, Audible Audiobooks ...
As an one-stop audio tool to convert both DRM-ed and DRM-free audios, you'll find there are two "Add Files" buttons in ViWizard Audio Converter conversion interface. The first one is for importing the common non-DRM audios, while the second one is for DRM-protected audio files.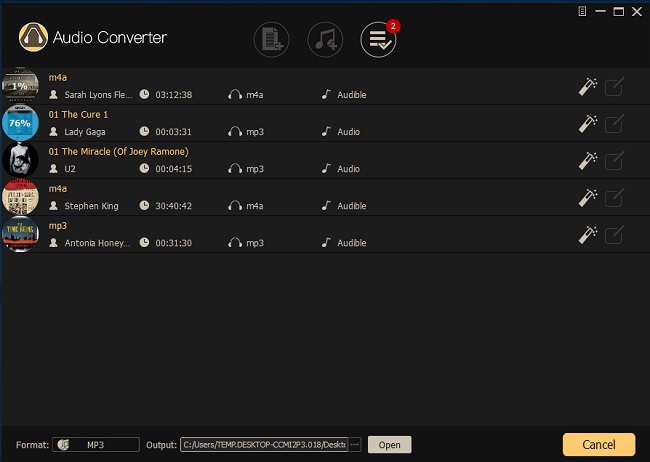 The whole process to convert all audios to other formats with ViWizard DRM Audio Converter can be simply done in three steps, including adding audios, adjusting output preferences, and converting the files. To be more specific, when you open ViWizard Audio Converter, you can directly drag the audio files, no matter they are DRM or non-DRM, from your computer drive to ViWizard conversion window. Alternatively, you can import the audio files via the "Add Files" button at the top center.
Then the next important step is to set the output audio preferences, including output format, codec, bit rate, sample rate, etc. Simply click the 'Editing" icon or the "Format" option and you'll be lead to the setting window. You can also split the large audio file into small segments by time or chapters there. If the original audios you are converting are Audible AA, AAX audiobooks, you can set it to preserve the 100% lossless audio quality for you.
When it comes to the last part, all you'll need to do is press the "Convert" button at the bottom right corner and ViWizard will begin to convert the audios to MP3, M4A, WAV, FLAC, M4B, AAC for you at up to 30X faster speed.
Conversion Speed & Audio Quality
You may have the misunderstanding that ViWizard Audio Converter is using audio recording technology when converting the DRM-ed audio files. That's definitely not the story. Unlike the other similar DRM audio converting software that uses real-time sound recording processor, ViWizard DRM Audio Converter has adopted a most advanced DRM decrypting method that can strip off the DRM lock from Apple Music, Audible audiobooks, iTunes M4P, etc. without touching the original audio tracks. Thus its conversion speed can reach to 30X or higher and you won't find any quality difference in audios converted by ViWizard. In addition, it provides you the flexibility to change the audio bit rate and sample rate in order to make the music more personalized as you wish.
Conclusion
To sum up, we are so happy to find out such a complete music tool for converting all popular types of audios, DRM and non-DRM. If you have the demand of converting both DRM and DRM-free audio files, ViWizard DRM Audio Converter for Mac/Windows is definitely your best choice for now, not only for the powerful features it has, but also for its stable performance in handling the fast converting process.
Pros:
* Easy-to-use and user-oriented interface
* Support both protected and unprotected audios
* Flexible audio customization provided
* Provide lossless output audio quality
* Very impressive 30X faster speed
* Powerful audio splitting function
Cons:
* More output formats are encouraged
The bottom line is that ViWizard DRM Audio Converter will be a great assistance for you if you have a large amount of audios for transforming. It will help you manage and enjoy your music life more easily. Give it a try and you'll finally find this smart app is well worth your $40 bucks.

Nick Orin is a review writer, software geek and Mac OS enthusiast. He spends all his free time in searching useful software and gadgets to share with others.