September 14, 2017 - TunesKit Software, the top leader in DRM removal field, officially launched the upgraded versions of its featured DRM removal products for Mac, including DRM Media Converter, DRM Audio Converter, DRM Audiobook Converter and Apple Music Converter by adding the complete support to iTunes 12.7 on macOS 10.12 Sierra or lower. Till now, all TunesKit DRM media converter for Mac and Windows would work perfectly with the new iTunes 12.7 when removing DRM protection from iTunes M4V videos, Audible audiobooks, as well as Apple Music songs, etc.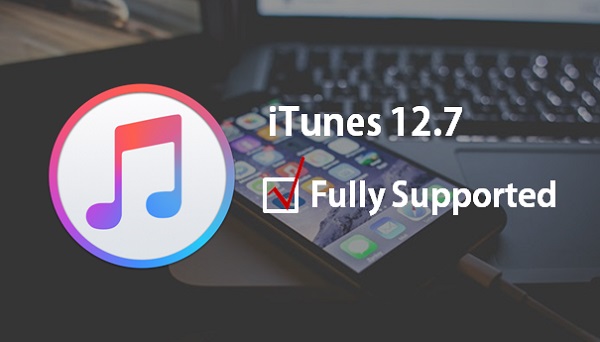 Along with other new world-shocking products like iPhone 8, iPhone X, Apple TV 4K, Apple also launched the new version of iTunes 12.7 on the occasion of its tenth anniversary. Once it's released, iTunes users can download the new upgrade for both Mac and Windows. However, TunesKit DRM removal product users, especially those using the Mac versions must have found that those tools can't work as expected once the iTunes was upgraded to v.12.7. As a professional and customer-oriented iTunes DRM removal solution provider in the world, TunesKit R&D team began to seek for the fix as soon as the error occurred. Thanks to persistent hard work and continuous tests, they finally made a breakthrough on this issue and found the ultimate solution, making TunesKit the first developer that fixed the iTunes 12.7 incompatibility error in DRM removal area.
"Apple has strengthened its DRM encryption method with the release of iTunes 12.7. Therefore the old decrypting core used by TunesKit DRM removers can't suppose to work any more.Fortunately, our programmers invented a new advanced DRM cracking technique completely different with the old one and it apparently turns out to working pretty well." said Lee, TunesKit R&D director. "We also received some customers' concern about converting the new 4K iTunes movie content with TunesKit. As a result, we'll keep testing the program on our end and try our best to support those 4K movies in the near future."
To sum up, no matter you are using the Mac or Windows version of TunesKit DRM media converting software, you can go ahead to upgrade your iTunes to 12.7 without worrying about the compatibility at all. However, Mac users should be well noted that the solution for iTunes 12.7 on macOS 10.13 High Sierra is still under development. Therefore those newly released TunesKit DRM removal products for Mac can only work well for iTunes 12.7 under macOS 10.12 or earlier.
To get the latest versions of the upgraded TunesKit Mac products, please either use the built-in auto upgrading or download the latest setup files from Download Center.
iTunes 12.7: What's New
There are quite a few changes in iTunes 12.7 that you might like to know.
Removal of the App store - The new iTunes is designed to focus solely on music, movies, TV shows, podcasts, and audiobooks. In result, the App Store has been entirely eliminated in iTunes 12.7, as has the ringtones section of iTunes. Now apps can only be downloaded on an iOS device using iOS App Store, and the same goes for ringtones.
No need to sync - In the update prompt, Apple mentions, "If you previously used iTunes to sync apps or ringtones on your iOS device, use the new App Store or Sounds Settings on iOS to redownload them without your Mac."

Dan Miners is the PR manager of TunesKit since 2012. He is in charge of all public relations, advertising, affiliate, etc for TunesKit.